---
Tropical Disturbance In Gulf Expected To Stay South Of Louisiana, But Heavy Rain Possible (Going Across Florida)p
NOLA.com ^ | 9-7-201 | CARLIE KOLLATH WELLS


Posted on 09/07/2021 6:26:17 AM PDT by blam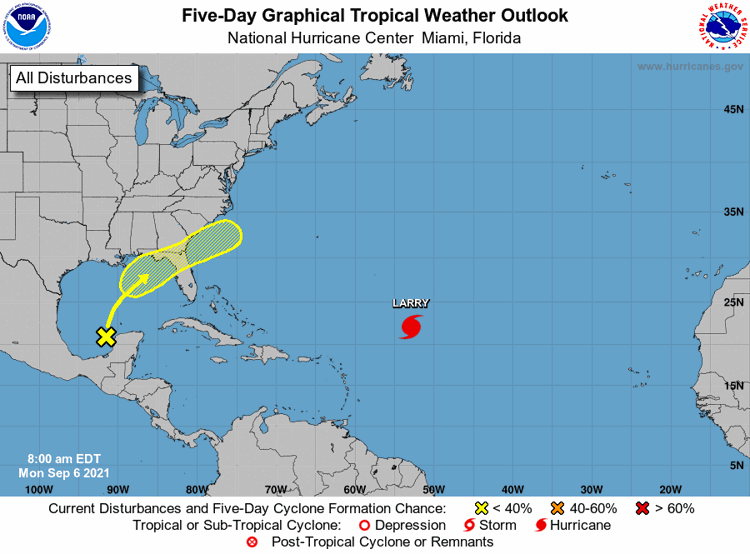 A tropical disturbance in the Gulf of Mexico is expected to stay south of Louisiana and head for Florida, hurricane forecasters said Monday.
However, it could still bring rain to Louisiana and the Gulf Coast toward the middle of the week. The heaviest rain is possible south of Interstate 10, according to the National Weather Service in Slidell.
Forecasters said the additional rain would be problematic because much of southeast Louisiana is still soaked from Hurricane Ida, which hit as a Category 4 storm a week ago. Any more rain could lead to flash flooding and slow down cleanup and restoration efforts.
Parts of southeast Louisiana are under a flash flood watch Monday related to another storm threat. And, there's a heat advisory in effect, with forecasters warning the "feels like" temperature could reach 105 degrees Monday. Thousands remain without power after Ida, complicating efforts to find relief from the heat.
Meanwhile in the Atlantic, Hurricane Larry has strengthened into a large Category 3 storm.
Here's what to know about the tropics as of 11 a.m. Monday.
Tropical disturbance heading for Gulf of Mexico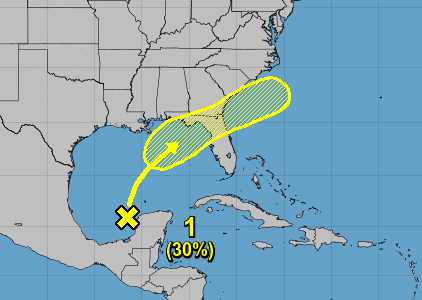 Gulf of Mexico disturbance 7am Sept 6, image via National Hurricane Center
Forecasters are tracking a disturbance over the Gulf of Mexico that's expected to head north toward the Gulf Coast.
It has a 30% chance of developing into at least a tropical depression within five days and will be named Mindy if it strengthens into a tropical storm.
As of 7 a.m., disorganized showers and thunderstorms associated with the system were over the northern portion of the Yucatan peninsula and the Gulf of Mexico.
(snip)

(Excerpt) Read more at nola.com ...
---
TOPICS: News/Current Events
KEYWORDS: hurricane; storm; tropical; weather
---
---
---
---
---
---
---
---
---
---
---
---