---
Northrop Grumman Gets $13.3 Billion Air Force Contract to Engineer New ICBMs
MIlitary.com ^ | 09/09/2020 | By Oriana Pawlyk


Posted on 09/09/2020 6:51:38 PM PDT by SeekAndFind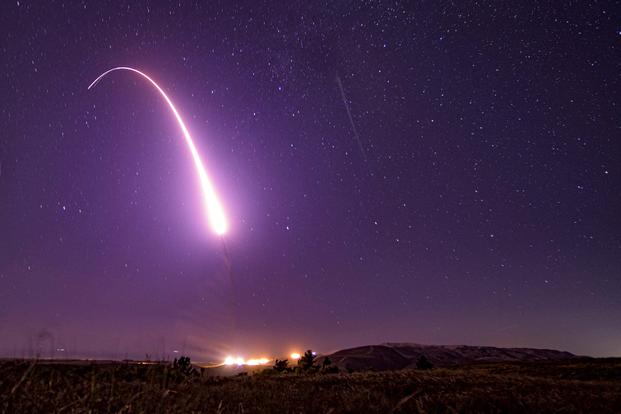 An unarmed Minuteman III intercontinental ballistic missile launches during an operational test at 1:13 a.m. Pacific Time Oct. 2, 2019, at Vandenberg Air Force Base, California. The Air Force has awarded Northrop Grumman a $13.3 billion contract to engineer and manufacture its next-generation intercontinental ballistic missile. (Air Force Photo by Staff Sgt. J.T. Armstrong)
---
The U.S. Air Force has awarded Northrop Grumman a $13.3 billion contract for the engineering and manufacturing development (EMD) phase of the service's next-generation intercontinental ballistic missiles to replace the aging Minuteman III ICBMs.
The service on Tuesday said the contract for the Ground Based Strategic Deterrent, known as GBSD, aims to replace the 1970s-era ICBMs by the late 2020s. Northrop Grumman was the sole bidder for the program after Boeing Co. dropped out of the running for the EMD contract last year.
"Modernizing the nuclear strategic triad is a top priority of our military," said Defense Secretary Mark Esper in a service news release. "It's key to our nation's defense. It provides that strategic nuclear deterrent that we depend on day after day -- that we've depended on decade after decade."
Gen. Tim Ray, head of Air Force Global Strike Command, concurred.
"I am fully confident in the evolutionary warfighting effectiveness GBSD will ensure," he said in the release. "The increased accuracy, extended range and improved reliability will provide the United States a broader array of options to address unforeseen contingencies, giving us the edge necessary to compete and win against any adversary."
The service is responsible for two of the three legs of the nuclear triad -- land-launched nuclear missiles and aircraft with nuclear bombs and missiles.

(Excerpt) Read more at military.com ...
---
TOPICS: Business/Economy; Foreign Affairs; Government; News/Current Events
KEYWORDS: airforce; icbm; ike; mic; northropgrumman
---
---
---
---
---
---
---
---
---
---
---
---
---
---
---
---
---
---