---
To: Jim Robinson
We really didn't need to hear this confession to know that hunter being on the board was what it appeared to be, nothing more or less than a bribe.
Buy hunter, get influence over joe and get Obama's tacit agreement.
The US gummint stayed away from the corruption in the gas company, because they were part of it.

16
posted on
10/20/2019 3:49:37 AM PDT
by
USS Alaska
(Nuke the terrorist mooselimb savages, today.)
---
To: USS Alaska
It would be interesting to follow the whole trail of this monthly "salary". After it went to Hunter, I wonder how it was disbursed after that. Joe? Hussein? Clinton Foundation? Inquiring minds want to know.
18
posted on
10/20/2019 4:00:27 AM PDT
by
MayflowerMadam
("I've read the back of The Book, and we win.")
---
To: All
SOURCE: https://www.bbc.com/news/blogs-echochambers-27403003
14 May 2014
Vice President Joe Biden's son joins Ukraine gas company
(BBC report) Burisma, a private oil and gas company in Ukraine, announced that it has appointed Hunter Biden, the youngest son of US Vice President Joe Biden, to its board of directors. The company, founded in 2002, is controlled by a former energy official in the government of deposed Ukrainian President Viktor Yanukovych.
The move has raised some eyebrows in the US, given the Obama administration's attempts to manage the ongoing crisis in Ukraine. "Joe Biden has been the White House's go-to guy during the Ukraine crisis, touring former Soviet republics and reassuring their concerned leaders," writes the National Journal's Marina Koren. "And now, he's not the only Biden involved in the region."She says that by appointing Hunter Biden head of its legal affairs unit, "Burisma is turning to US talent - and money and name recognition - for protection against Russia".
The younger Mr Biden isn't the only American with political ties to have joined Burisma's board. Devon Archer, onetime senior advisor to current SoS John Kerry's 2004 presidential campaign and a college roommate of Mr Kerry's stepson HJ Heinz, signed on in April.
Mr Biden and Mr Archer are also managing partners at Rosemont Seneca Partners, a Washington, DC-based investment company. Both Mr Biden and Mr Archer have not responded to requests from reporters for comment.
In Burisma's press release announcing his hiring, Hunter Biden says: "I believe that my assistance in consulting the company on matters of transparency, corporate governance and responsibility, international expansion and other priorities will contribute to the economy and benefit the people of Ukraine." All this could be explained simply as a foreign energy company looking to increase its visibility in the US and spur investment. State-controlled companies currently account for 90% of Ukraine's gas production, but this year Burisma became the nation's largest private producer.
The Federalist's Mollie Hemingway adds that there may be other, less savoury possibilities:
<><> most disturbing is attempting to curry favour with the US government
<><> enlisting the services of the close family friend of SoS Kerry and the son of the vice president.
<><> Biden/Archer pitches that their "relationship network" creates opportunities for portfolio companies compound to greater outcomes for all parties.
Hemingway concludes that this seems like a "cliched movie plot": "a shady foreign oil company
co-opts the vice president's son in order to capture lucrative foreign investment contracts".
The Obama White House emphasised that vice president Biden's son's new job will have no influence on US foreign policy. "Hunter Biden is a private citizen and a lawyer," said a spokeswoman for VP Biden in the Wall Street Journal. "VP Biden does not endorse any particular company and has no involvement with this company."
=================================================
Did Burisma include this pic in its corporate mailings?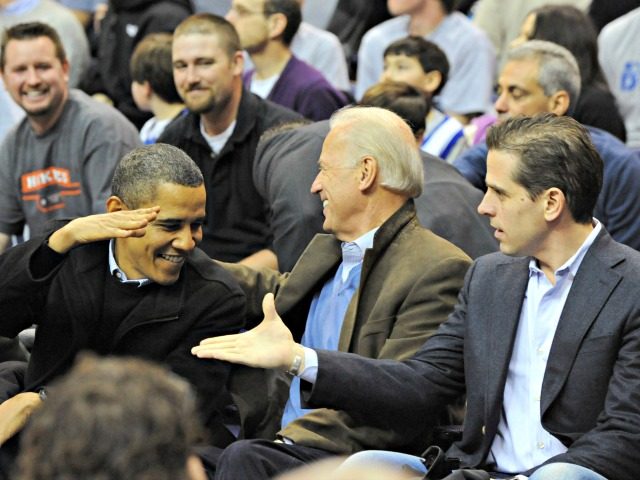 22
posted on
10/20/2019 4:17:48 AM PDT
by
Liz
( Our side has 8 trillion bullets; the other side doesn't know which bathroom to use.)
---
FreeRepublic.com is powered by software copyright 2000-2008 John Robinson