---
Al Qaeda's Inspire magazine confused with Esquire at Guantanamo hearing
Reuters ^
Posted on 06/21/2013 6:05:31 PM PDT by Sub-Driver
Al Qaeda's Inspire magazine confused with Esquire at Guantanamo hearing
By Jane Sutton
GUANTANAMO BAY U.S. NAVAL BASE, Cuba | Fri Jun 21, 2013 8:41pm EDT
(Reuters) - An Arabic-English interpreter confused the al Qaeda magazine Inspire with the gentlemen's magazine Esquire during a pretrial hearing in the Guantanamo war crimes tribunal on Friday.
The mix-up came in a hearing for five prisoners who could face execution if convicted of launching the September 11, 2001, hijacked plane attacks that killed 2,976 people and propelled the United States into a global war against al Qaeda.
A week-long hearing has focused on whether military and intelligence agents at the Guantanamo Bay U.S. Naval Base snooped into legal documents and attorney-client conversations that are supposed to be confidential. Defense attorneys said stringent restrictions on their communications had interfered with their attempts to prepare a defense.
The outgoing legal adviser for the Guantanamo detention operation, Navy Captain Thomas Welsh, testified that attorney-client mail was carefully screened to prevent the introduction of physical and informational contraband. He said the rules were tightened after a defense lawyer tried to send a copy of Inspire magazine to one of the defendants.
"I'm told that the translation is wrong," interrupted defense attorney Cheryl Bormann, who was not the source of the intercepted magazine.
She said the interpreter translating Welsh's testimony for the defendants had identified the contraband publication to them as Esquire. That magazine describes its focus as "beautiful women, men's fashion, best music, drink recipes."

(Excerpt) Read more at reuters.com ...
---
TOPICS: Political Humor/Cartoons
KEYWORDS: esquire; inspire

Oh brother.........

---
To: Sub-Driver
These days, there isn't much difference between them, politically.
---
To: Sub-Driver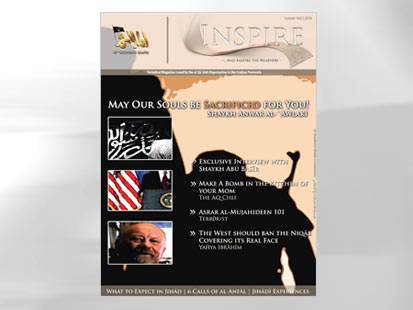 3
posted on
06/21/2013 6:12:32 PM PDT
by
JoeProBono
(Mille vocibus imago valet;-{)
---
FreeRepublic.com is powered by software copyright 2000-2008 John Robinson