---
A Flight of Eagles
http://www.rpvnetwork.org ^ | May 19,2010 | F.R. Newbrough


Posted on 05/19/2010 2:52:00 PM PDT by Maelstorm

Dear Patriot,

I am writing you to ask if you will join me in an expression of support for the principles of liberty and individual sovereignty upon which this country was founded. Too often it is easy for us to dismiss our role in the creation of our government. We feel powerless as those we elect continue to spend money we don't have and instead of serving us the citizen who works and pays the taxes instead heap rewards on those who contribute least to our country or in many cases wish to tear it and the traditions that made it great down.

We tell them we want them to stop spending and they craft trillions in bailouts most of it going to companies run by their big campaign contributors. We tell them we want more control over our health care, more choices, and lower cost and they restrict our choices through the creation of a huge government program that is expected to cause the cost of health care to rise and our choices to be limited. We tell them we want more domestic energy production through oil, natural gas, and nuclear and they stall and ignore us. We tell them we want them to enforce existing immigration laws to protect the integrity and sovereignty of our nation and they mock us and call us racists. We tell them we want more jobs and they instead create more jobs in Washington and raise the salaries of DC bureaucrats while the rest of America is taking pay cuts and and increasing numbers are unemployed.

They aren't listening. That is why it is so crucial that we do not look at this election year as if it is the same as in the past. We can not afford to elect soft politicians who will once they achieve power proceed to ignore us and snicker privately at how backward we are to believe in the sanctity of the Constitution while they spend like drunken madmen and build empires entirely to themselves . We need to elect principled men and women who have stood alone as beacons of truth to power. Who have stood with us on the issues mentioned above because they are one of us and our proud to be uniquely American.There is a wind of liberty blowing and we can choose to hide our heads and close our wings tight against us for fear of the heights of greatness we might fall from if we dare to spread them and soar or we can join the fight as if a flight of eagles set to lift up our nation on our backs and defend our liberty and the Constitution which guarantees it.

We have at this time the opportunity like at no other time before because we do not have to take up arms to bring about a revolution. We do not have to risk our lives on a battle field as our soldiers do. We can take up our county back for as little as the price of a fast-food meal, a nice dinner, or a round-trip plane ticket depending on what you can afford.

I hope you will join me today and support candidate Chuck DeVore for Senate. He is the one candidate in the race who has a record of standing up against reckless spending and defending the Constitution by supporting the principles on which this country was founded. Please join with me as a flight of eagles by donating to Chuck's campaign today before the fundraising deadline tonight. Thank you.

http://chuckdevore.com/donate/?code=Flight_Of_Eagles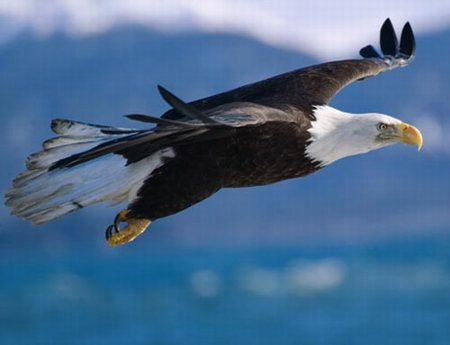 Isa 40:31
But they that wait upon the LORD shall renew their strength; they shall mount up with wings as eagles; they shall run, and not be weary; and they shall walk, and not faint.



---
TOPICS:
KEYWORDS: carlyfiorina; chuck; chuckdevore; devore; palinforfiorina; tomcampbell

Tonight is the fund-raising deadline for this quarter. Please give what you can and forward this to like minded friends. Join the flight of Eagles.

---
To: Maelstorm
We will not be defeated, one day soon we will recover and be proud again...
2
posted on
05/19/2010 3:54:31 PM PDT
by
jcsjcm
(American Patriot - follow the Constitution and in God we Trust - Laus Deo)
---
FreeRepublic.com is powered by software copyright 2000-2008 John Robinson