---
John McCain & Sarah Palin on Shattering the Glass Ceiling (People Mag. Interview Today)
People Magazine ^ | Friday, August 29, 2008 | Sandra Sobieraj Westfall


Posted on 08/29/2008 6:05:56 PM PDT by kristinn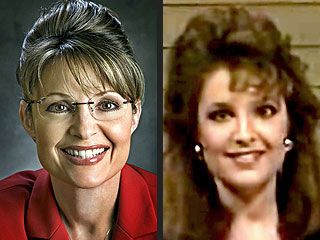 SNIP
As a new mom, how are you going to juggle all this? SARAH: I am thankful to be married to a man who loves being a dad as much as I love being a mom so he is my strength. And practically speaking, we have a great network of help with lots of grandparents and aunties and uncles all around us. We have a lot of help.
So will your husband be on leave now indefinitely to be Mr. Mom?
SARAH: I would say so, yes.
Gov. Palin, when you were 13 weeks pregnant, last December, you had an amniocentesis that determined Trig had Down syndrome.
SARAH: I was grateful to have all those months to prepare. I can't imagine the moms that are surprised at the end. I think they have it a lot harder.
SNIP
Mr. Palin, you have this tiny baby with special needs. Do you worry that people may wonder if she'll be giving short shrift to her family?
TODD: She's heard that her whole life – the challenges of being a female and mother in the work force. I remember the first time she ran for mayor one of her fellow council members told her you can't run because you've got three negatives: Track, Bristol and Willow. Those are the three kids we had at the time. So when you tell her that kind of stuff, she just gets fired up. We're an Alaska family that adapts.
SNIP

(Excerpt) Read more at people.com ...
---
TOPICS: Front Page News; News/Current Events; Politics/Elections
KEYWORDS: 2008veep; mccain; palin; peoplemag
---
Navigation: use the links below to view more comments.
first 1-20, 21-33 next last
---
---
---
---
---
---
---
---
---
---
---
---
---
---
---
---
---
---
---
---
---
Navigation: use the links below to view more comments.
first 1-20, 21-33 next last
---
---