---
Huma Abedin & Hillary Clinton flown to Aspen & wined and dined by infoUSA
FREE REPUBLIC WORLD EXCLUSIVE
Posted on 11/02/2007 1:33:11 PM PDT by KayEyeDoubleDee
Trips by
Huma Abedin
americanradioworks.publicradio.org
Total cost of 29 trips: $49,870.97
Trips traveled under the office of Hillary Clinton
Destination: ASPEN, CO
Sponsor: infoUSA.com Inc
Purpose: SPEECH
Date: Jul 17, 2004 (1 day)
Expense: $2,083.00
source
---
Find new prospects and grow your sales with our sales leads.
List of 14 Million Businesses
List of 210 Million Consumers
infousa.com
---
Richard Guthrie, 92, was tricked into giving banking data to telephone callers, who then stole money from his account, investigators say.
Bilking the Elderly, With a Corporate Assist
By CHARLES DUHIGG
May 20, 2007
nytimes.com
The thieves operated from small offices in Toronto and hangar-size rooms in India. Every night, working from lists of names and phone numbers, they called World War II veterans, retired schoolteachers and thousands of other elderly Americans and posed as government and insurance workers updating their files.
Then, the criminals emptied their victims' bank accounts.
Richard Guthrie, a 92-year-old Army veteran, was one of those victims. He ended up on scam artists' lists because his name, like millions of others, was sold by large companies to telemarketing criminals, who then turned to major banks to steal his life's savings.
Mr. Guthrie, who lives in Iowa, had entered a few sweepstakes that caused his name to appear in a database advertised by infoUSA, one of the largest compilers of consumer information. InfoUSA sold his name, and data on scores of other elderly Americans, to known lawbreakers, regulators say.
InfoUSA advertised lists of "Elderly Opportunity Seekers," 3.3 million older people "looking for ways to make money," and "Suffering Seniors," 4.7 million people with cancer or Alzheimer's disease. "Oldies but Goodies" contained 500,000 gamblers over 55 years old, for 8.5 cents apiece. One list said: "These people are gullible. They want to believe that their luck can change."
As Mr. Guthrie sat home alone — surrounded by his Purple Heart medal, photos of eight children and mementos of a wife who was buried nine years earlier — the telephone rang day and night. After criminals tricked him into revealing his banking information, they went to Wachovia, the nation's fourth-largest bank, and raided his account, according to banking records.
"I loved getting those calls," Mr. Guthrie said in an interview. "Since my wife passed away, I don't have many people to talk with. I didn't even know they were stealing from me until everything was gone."
Telemarketing fraud, once limited to small-time thieves, has become a global criminal enterprise preying upon millions of elderly and other Americans every year, authorities say. Vast databases of names and personal information, sold to thieves by large publicly traded companies, have put almost anyone within reach of fraudulent telemarketers. And major banks have made it possible for criminals to dip into victims' accounts without their authorization, according to court records...
---
Senator Hillary Rodham Clinton has used infoUSA's jet for campaign trips, but says she has followed ethics rules on accepting private air travel.
Suit Sheds Light on Clintons' Ties to a Benefactor
By MIKE McINTIRE
May 26, 2007
nytimes.com
When former President Bill Clinton and Senator Hillary Rodham Clinton took a family vacation in January 2002 to Acapulco, Mexico, one of their longtime supporters, Vinod Gupta, provided his company's private jet to fly them there.
The company, infoUSA, one of the nation's largest brokers of information on consumers, paid $146,866 to ferry the Clintons, Mr. Gupta and others to Acapulco and back, court records show. During the next four years, infoUSA paid Mr. Clinton more than $2 million for consulting services, and spent almost $900,000 to fly him around the world for his presidential foundation work and to fly Mrs. Clinton to campaign events.
Those expenses are cited in a lawsuit filed late last year in a Delaware court by angry shareholders of infoUSA, who assert that Mr. Gupta wasted the company's money trying "to ingratiate himself" with his high-profile guests.
The disclosure of the trips and the consulting fees is just a small part of a broader complaint about the way Mr. Gupta has managed his company. But for the former president, and for the senator who would become president, it offers significant new details about their relationship with an unusually generous benefactor whose business practices have lately come under scrutiny.
In addition to the shareholder accusations, The New York Times reported last Sunday that an investigation by the authorities in Iowa found that infoUSA sold consumer data several years ago to telemarketing criminals who used it to steal money from elderly Americans. It advertised call lists with titles like "Elderly Opportunity Seekers" or "Suffering Seniors," a compilation of people with cancer or Alzheimer's disease. The company called the episodes an aberration and pledged that it would not happen again...
---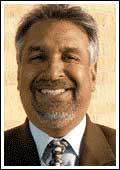 Vinod 'Vin' Gupta
NRI entrepreneur flays NYT over 'smear campaign'
Aziz Haniffa in Washington, DC
May 28, 2007 12:51 IST
rediff.com
Vinod 'Vin' Gupta, 60, the multi-millionaire chairman and CEO of infoUSA and focus of a major article in the New York Times in the Washington Post on May 26 regarding a lawsuit that brands his using the company's private jet to fly former President Bill Clinton and Senator Hillary Rodham Clinton on personal, business and campaign trips as a 'waste of corporate assets,' has said it's all an effort to embarrass Hillary Clinton's bid for the Democratic presidential nomination...
---
---
A screen grab from Vinod Gupta's personal Web site, no longer online, featuring Senator Hillary Rodham Clinton. A longtime Clinton supporter, Mr. Gupta now says he is no longer involved in her campaign.
Clinton Backer's Ties to Powerful Cut Both Ways
By MIKE McINTIRE
July 14, 2007
nytimes.com
Many wealthy people have raised money for Senator Hillary Rodham Clinton's presidential campaign. But only Vinod Gupta has named a school building in India after her.
The Hillary Rodham Clinton Mass Communication Center, when it is finished, will complement the William Jefferson Clinton Science and Technology Center, another Gupta project in India. A video of Mr. Clinton visiting there can be found on the Vin Gupta page at YouTube.com — not to be confused with vingupta .com, where until recently one could find photos of Mr. Gupta golfing with the former president in Scotland and socializing with Senator Clinton in Aspen, Colo.
Such images are trophies for Mr. Gupta, an Indian-American entrepreneur who has spent much of his professional life cultivating close ties to politicians, mostly Democrats, that have benefited him in ways large and small. For the Democrats, he became a valued rainmaker, contributing nearly $1 million to the Clintons and other candidates from the 1980s on...
---
Suit Advances Against Clinton Supporter
By RANDALL CHASE
08.14.07, 5:50 PM ET
forbes.com, VIA GOOGLE CACHE
forbes.com, VIA NOHILLARYCLINTON.COM
aol.forbes.com
DOVER, Del. - A Delaware judge has refused to dismiss a shareholder lawsuit alleging that the chief executive of data company InfoUSA Inc. misspent millions of dollars of corporate money, some of it on Bill and Hillary Clinton.
In a 79-page opinion handed down Monday, Chancellor William Chandler III dismissed some shareholder claims but kept others, including allegations that InfoUSA CEO Vinod Gupta tried to buy the company on the cheap in a sham going-private transaction in 2005.
Chandler refused to dismiss claims asserting that Gupta improperly awarded 100,000 share options to Bill Clinton without board approval, and that the company paid Gupta millions of dollars for personal expenses including jet travel, homes, a yacht and a collection of luxury automobiles that, in the judge's words, "would leave James Bond green with envy"...
---
VINOD GUPTA, TOP 50 CONTRIBUTIONS
130 records found in 0.2344 seconds.
Total for this search: $798,700
opensecrets.org
Contributor
Occupation
Date
Amount
Recipient
GUPTA, VINOD
LAS VEGAS,NV 89134
INFO USA
7/31/2000
$100,000
DNC/Non-Federal Individual
GUPTA, VINOD
OMAHA,NE 68127
INFOUSA
11/5/2002
$50,000
DNC/Non-Federal Individual
GUPTA, VINOD
OMAHA,NE 68127
10/11/1996
$50,000
DNC/Non-Federal Unincorporated Assn Acct
GUPTA, VINOD
OMAHA,NE 68114
8/17/1998
$40,000
DNC/Non-Federal Unincorporated Assn
GUPTA, VINOD
OMAHA,NE 68127
9/18/1996
$30,000
DNC/Non-Federal Individual
GUPTA, VINOD
ASPEN,CO 81611
INFO USA
4/8/1999
$25,000
DNC/Non-Federal Individual
GUPTA, VINOD
ASPEN,CO 81611
INFO USA
6/9/1999
$25,000
DNC/Non-Federal Individual
GUPTA, VINOD
OMAHA,NE 68127
INFOUSA
10/25/2000
$25,000
DSCC/Non-Federal Unicorp Assoc
GUPTA, VINOD MR
ASPEN,CO 81611
INFO USA
9/27/1999
$25,000
DNC/Non-Federal Individual
GUPTA, VINOD MR
ASPEN,CO 81611
INFO USA/CHAIRMAN/CEO
6/30/2003
$25,000
DNC Services Corp
GUPTA, VINOD MR
ASPEN,CO 81611
INFO USA/CHAIRMAN/CEO
4/30/2004
$25,000
DNC Services Corp
GUPTA, VINOD
OMAHA,NE 68127
INFOUSA/CEO
3/11/2005
$21,400
DNC Services Corp
GUPTA, VINOD
OMAHA,NE 68127
AMERICAN BUSINESS INFORMATION INC
9/30/1995
$20,000
Democratic Senatorial Campaign Cmte
GUPTA, VINOD
ASPEN,CO 81611
INFO USA
1/22/1999
$20,000
DNC/Non-Federal Individual
GUPTA, VINOD
OMAHA,NE 68127
AMERICAN BUSINESS INFORMATION INC
4/30/1998
$15,000
DSCC/Non-Federal Individuals
GUPTA, VINOD
OMAHA,NE 68127
AMERICAN BUSINESS INFORMATION INC
6/28/1996
$15,000
Democratic Senatorial Campaign Cmte
GUPTA, VINOD
OMAHA,NE 68127
INFO USA/CHAIRMAN
9/30/2007
$15,000
Democratic Congressional Campaign Cmte
GUPTA, VINOD
OMAHA,NE 68127
INFO USA/CHAIRMAN
12/30/2005
$15,000
Democratic Congressional Campaign Cmte
GUPTA, VINOD
OMAHA,NE 68127
INFOUSA/CEO
5/18/2007
$14,250
DNC Services Corp
GUPTA, VINOD
OMAHA,NE 68127
INFOUSA
7/12/2001
$12,500
Democratic Senatorial Campaign Cmte
GUPTA, VINOD
OMAHA,NE 68127
INFOUSA, INC./CHAIRMAN/CEO
10/6/2006
$10,500
Nelson, Ben
GUPTA, VINOD
OMAHA,NE 68127
INFO USA/CHAIRMAN
2/27/2007
$10,000
Democratic Congressional Campaign Cmte
GUPTA, VINOD
OMAHA,NE 68127
INFOUSA/CHAIRMAN & CEO
10/7/2005
$10,000
Democratic Senatorial Campaign Cmte
GUPTA, VINOD
OMAHA,NE 68127
INFOUSA/CHAIRMAN & CEO
1/17/2006
$10,000
Democratic Senatorial Campaign Cmte
GUPTA, VINOD
OMAHA,NE 68127
AMERICAN BUSINESS IN
9/19/1994
$10,000
DNC Services Corp
GUPTA, VINOD
OMAHA,NE 68114
7/20/1998
$10,000
DNC/Non-Federal Unincorporated Assn
GUPTA, VINOD
OMAHA,NE 68127
AMERICAN BUSINESS INFORMATION
11/16/1998
$10,000
DSCC/Non-Federal Mixed
GUPTA, VINOD
LAS VEGAS,NV 89134
INFO USA
9/29/2000
$10,000
DNC/Non-Federal Individual
GUPTA, VINOD
WADSWORTH,OH 44281
OHIO COAST PRODUCTS
8/28/2000
$10,000
DNC Services Corp
GUPTA, VINOD
OMAHA,NE 68114
INFOUSA/EXECUTIVE
10/27/2004
$7,000
Nebraska Democratic State Central Cmte
GUPTA, VINOD
OMAHA,NE 68114
AMERICAN BUSINESS IN
10/1/1998
$6,000
Democratic National Committee
GUPTA, VINOD
OMAHA,NE 68127
AMERICAN BUSINESS INFORMATION INC
7/10/1998
$5,000
Democratic Senatorial Campaign Cmte
GUPTA, VINOD
OMAHA,NE 68127
AMERICAN BUSINESS INFORMATION INC
1/27/1998
$5,000
Democratic Senatorial Campaign Cmte
GUPTA, VINOD
ASPEN,CO 81611
INFO USA
1/22/1999
$5,000
DNC/Non-Federal Individual
GUPTA, VINOD
OMAHA,NE 68127
AMERICAN BUSINESS INFORMATION INC
7/7/1997
$5,000
Democratic Senatorial Campaign Cmte
GUPTA, VINOD
OMAHA,NE 68127
AMERICAN BUSINESS INFORMATION INC
9/8/1997
$5,000
Democratic Senatorial Campaign Cmte
GUPTA, VINOD
OMAHA,NE 68127
AMERICAN BUSINESS INFORMATION INC
3/7/2000
$5,000
Democratic Senatorial Campaign Cmte
GUPTA, VINOD
OMAHA,NE 68127
INFOUSA
4/22/2004
$5,000
Democratic Senatorial Campaign Cmte
GUPTA, VINOD
OMAHA,NE 68127
EVEREST INVESTMENT MANAGEMENT/INVES
12/18/2006
$5,000
HILLPAC
GUPTA, VINOD
OMAHA,NE 68127
INFOUSA/OWNER
4/4/2002
$5,000
Nebraska Democratic State Central Cmte
GUPTA, VINOD
OMAHA,NE 68127
AMERICAN BUSINESS INFORMATION INC
1/10/1996
$5,000
Democratic Senatorial Campaign Cmte
GUPTA, VINOD
OMAHA,NE 68127
AMERICAN BUSINESS INFORMATION
8/7/1996
$5,000
Massachusetts Democratic State Cmte
GUPTA, VINOD MR
OMAHA,NE 68127
EVEREST INVESTMENT MANAGEMENT/INVES
7/20/2004
$5,000
HILLPAC
GUPTA, VINOD MR
WADSWORTH,OH 44281
TECHNOCAST INC
10/30/1998
$5,000
National Republican Senatorial Cmte
GUPTA, VINOD
OMAHA,NE 68114
INFOUSA/CEO
2/24/2004
$3,000
Nebraska Democratic State Central Cmte
GUPTA, VINOD
OMAHA,NE 68114
9/30/1996
$3,000
DNC/Non-Federal Individual
GUPTA, VINOD
OMAHA,NE 68127
EVEREST INVESTMENT MANAGEMENT/INVES
11/12/2001
$2,500
HILLPAC
GUPTA, VINOD
LAS VEGAS,NV 89134
INFO USA/CEO
4/12/2007
$2,300
Clinton, Hillary
GUPTA, VINOD
OMAHA,NE 68127
INFO USA/CEO
6/30/2007
$2,300
Reid, Harry
GUPTA, VINOD
OMAHA,NE 68127
INFO USA/CEO
6/30/2007
$2,300
Reid, Harry
---
TOPICS: Crime/Corruption; Extended News; News/Current Events; War on Terror
KEYWORDS: campaignfinance; cfr; cgi; cnnpollster; corruption; gupta; hillary; hillaryscandals; huma; humaabedin; infousa; vinodgupta
---
Navigation: use the links below to view more comments.
first 1-20, 21-40, 41-60, 61-74 next last
---
---
---
---
---
Comment #5 Removed by Moderator
---
---
---
---
---
---
---
---
---
---
---
---
---
---
---
---
Navigation: use the links below to view more comments.
first 1-20, 21-40, 41-60, 61-74 next last
---
---