Mr. Kay have you left he building???

Dutchman helped Saddam genocide - prosecutor
11/23/2005
Reuters
By Wendel Broere


Frans van Anraat
THE HAGUE (Reuters) - A Dutch businessman sold chemicals to Iraq knowing Saddam Hussein would use them to carry out poison gas attacks that killed thousands of people, prosecutors told the start of his trial on Monday.
Frans van Anraat, 63, is charged with complicity in war crimes and genocide for supplying agents for poison gas used by Iraq in the 1980-1988 war with Iran and against its own Kurdish population, including a 1988 attack on the town of Halabja.
"He is being accused of delivering raw materials necessary to build Saddam Hussein's chemical weapons. The use of those weapons by the regime in Baghdad led to death of thousands in Iraq and Iran," Prosecutor Fred Teeven told the court.
"He is complicit in serious international crimes."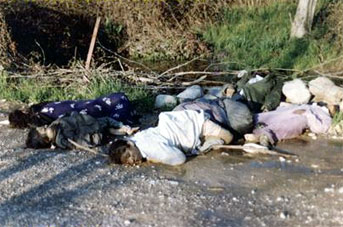 Halabja: Victims of 1998 chemical attack
The court, packed with relatives of Halabja victims and members of Kurdish organisations, overruled arguments by defence lawyers that the case was inadmissible as Saddam himself was on trial for war crimes in Baghdad. Saddam has denied all charges in his trial, which began in October.
Van Anraat, with a shock of white hair and wearing a dark blue cardigan and white shirt, sat impassively, arms crossed.
Asked by the presiding judge whether he wanted to comment, Van Anraat said: "I am leaving everything to my lawyer."
A small group outside the Hague court displayed photographs of Kurdish victims of chemical weapons and held a red banner reading "Genocide Never Again". The Halabja attack on March 16, 1988, killed an estimated 5,000 people.
"I hope he gets a life sentence," said Amir Gadir of Victims of Genocide Against Kurds in Halabja.
MIDDLEMAN?
Van Anraat said he did not know Iraq intended to use the raw materials he provided for chemical weapons, according to a statement he gave in December that was read out in court.
His lawyers said there was no convincing evidence linking material Van Anraat supplied to chemical weapons used by Iraq.
"The prosecution will have to prove the raw materials were used in weapons and that these weapons were used in the village to come to a conviction," lawyer Jan Peter van Schaik said.
United Nations weapons inspectors have said Van Anraat was an important middleman supplying Iraq with chemical agents.
The first Dutchman to be tried on genocide-related charges, Van Anraat faces up to life in prison if convicted. The trial is expected to last about three weeks. A verdict is due on December 23.
Iranian and Iraqi victims of chemical attacks plan to seek up to 10,000 euros (6,800 pounds) compensation each from the accused.
"Ten of my relatives died. My parents, sisters and brothers were wounded," said Danya Mohammad, 28, one of 16 Halabja victims who have launched a separate suit against Van Anraat.
Prosecutors accuse the Dutchman of shipping chemicals from the United States to Belgium, and from there to Iraq via Jordan.
A past criminal investigation by U.S. customs authorities based in Baltimore found Van Anraat had been involved in four shipments to Iraq of thiodiglycol, an industrial chemical which can be used to make mustard gas. It also has civilian uses.
Van Anraat was first detained in Milan in 1989 following a U.S. request but was released after two months. He then fled to Iraq, where it is thought he stayed until the 2003 U.S.-led invasion, when he returned to the Netherlands through Syria.
He was arrested by Dutch officials last December as he was preparing to leave the country.
"The images of the gas attack on the Kurdish city Halabja were a shock. But I did not give the order to do that," Van Anraat said in a 2003 interview with Dutch magazine Nieuwe Revu. "How many products such as bullets do we make in the Netherlands?"
The United States said Iraq's suspected weapons of mass destruction were one of its main reasons for going to war in 2003, but significant stockpiles of chemical and biological arms have not been found.
Source: Reuters