---
Human drama unfolds in Jewish Gaza, as residents confront authorities
Jewish World Review ^ | 8-15-05 | Michael Matza, Dion Nissenbaum and Martin Merzer


Posted on 08/16/2005 5:10:18 AM PDT by SJackson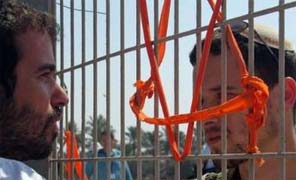 'I am not your enemy,' former soldier tells his Brig. Gen.
Day One of Israel's retreat
EVE DEKALIM — A day of angry shouts, tearful lamentations and burning tires ended Monday with Prime Minister Ariel Sharon attempting to soothe Israel as it moved toward the climax of its withdrawal from Gaza: forced evictions by soldiers.
"I understand the feelings, the pain and the cries of those who object," Sharon said during a nationally televised address. "However, we are one nation even when fighting and arguing."
His comments followed a scene once considered unimaginable: Israelis delivering to other Israelis eviction notices from a land Israel once hoped to absorb. Sharon, once a key backer of the movement to establish Jewish settlements in the Gaza Strip, has promoted the withdrawal from Gaza as a way to enhance Israeli security.
The first day of the nation's withdrawal from the overwhelmingly Palestinian territory unfolded in blistering heat with thousands of soldiers and police making their presence apparent, but bypassing some hotbeds of dissent and avoiding confrontation in others.

(Excerpt) Read more at jewishworldreview.com ...
---
TOPICS: Editorial; Foreign Affairs; Israel
KEYWORDS:
---
---
---
---
---
---
---
---
---
---
---