---
Norfolk officials seize dog wanted in Delaware attack
The Virginian-Pilot ^ | February 26, 2005 | Matthew Roy


Posted on 02/27/2005 4:22:51 AM PST by csvset
Norfolk officials seize dog wanted in Delaware attack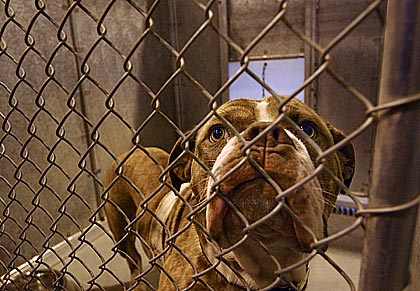 Sire, an 80-pound dog suspected of attacking a child in Delaware, was discovered in Norfolk with freshly stitched wounds, apparently from a bullet. A trooper at the attack scene had shot at the dogs responsible.
STEPHEN M. KATZ/THE VIRGINIAN-PILOT

By MATTHEW ROY, The Virginian-Pilot
© February 26, 2005
NORFOLK — A dog suspected in a gruesome attack in Delaware that tore up a 6-year-old boy's face and ripped his ear off has been seized here, authorities said.
Authorities said they believe the animal was brought to Norfolk so that he would not be impounded in Delaware. The brown and white dog, Sire, weighs about 80 pounds.
A city woman is facing charges related to the dog. Meanwhile, a week after the attack, the boy remains hospitalized at Johns Hopkins Hospital in Baltimore. He suffered multiple tearing wounds to his face, head and arms, and his ear was "ripped from his head," court records state. He was in fair condition, a hospital spokeswoman said.
Sire's breed was not clear, and he may be mixed, said Kasha Winston, animal services supervisor at the Norfolk Animal Management Center. That's where the dog was being held in quarantine. Sire had freshly stitched wounds, including an apparent bullet wound attributed to a Delaware trooper who responded to the attack call.
Sire was expected to be turned over to Delaware authorities.
Warrants have been issued charging Glorasteen White, 45, of the 800 block of Elkin St. in Norfolk, with harboring an animal to prevent quarantine, maintaining a vicious animal and failure to vaccinate for rabies, said officer Chris Amos, police spokesman.
Sire was seized Thursday night.
"We had no problem with him at the residence," said Deborah Michielson, a city humane officer.
It was unclear who owned the dogs. "We've got two or three different versions," said John Caldwell, director of the Delaware Society for the Prevention of Cruelty to Animals, which investigates dog attacks.
A Delaware state police news release said a 21-year-old man in Salisbury, Md., owned the dogs and kept them in a house near the boy. Delaware authorities plan to meet next week with prosecutors to determine who might be charged in the attack.
On Feb. 18, a boy in Delmar, Del. , near the Maryland line, was found lying face down in front of his house, after he'd been attacked by dogs.
His mother brought him into the house. A trooper shot two dogs that menaced medical personnel at the scene.
One dog died. The other scampered off with a bullet in its hindquarters and wasn't found.
An SPCA investigator uncovered information through a search warrant that led to Elkin Street. The investigator phoned veterinary clinics and discovered a dog that had been treated for a bullet wound, court records say.
City court records show that White has been fined in the past for failing to license or vaccinate pit bulls named Psycho and Red.
Ibram Rogers contributed to this report. Reach Matthew Roy at 446-2540 or matthew.roy@pilotonline.com.

---
TOPICS: News/Current Events; US: Delaware; US: Virginia
KEYWORDS: attack; destroy; dog; kill; maim; maul; rip; wound

Vicious dog captured!

---
To: ambrose
Pit Bull crime spree ping.
---
To: csvset
Pit bulls are a loaded gun, pointed in your direction.
---
FreeRepublic.com is powered by software copyright 2000-2008 John Robinson