---
To: rang1995
Ba'al worship is back. The pagan 'god' Ba'al that the Canaanites worshiped was offered their children as a human sacrifice, and another 'god' of those ancient days was Moloch who demanded their babies be roasted alive. These people once heated a bronze statue to glowing red and they threw their own children into its outstretched glowing arms!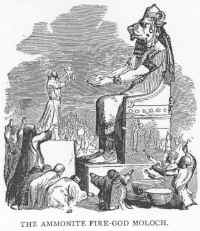 (And people wonder why God said to the Hebrews to wipe them out!)
I went to the Jerusalem Museum, one huge place, and found in one of the displays an entire Cannanite altar setup from an archaeological dig. Would you believe that the head altar stone where the sacrifices would take place had a large carving of the crescent moon like the Islamics worship with two hands on either side raised up to it?
It seems as time goes on the Islamics go farther back in time. Allah is like Kerry, one evil dude with a big PR campaign. Like Jesus said, when I leave false prophets will come dressed as sheep. But inwardly they are as ravening wolves. You will know them by their fruits.
Mohammad is such a false prophet. The religion of peace is a sheep suit for rabid wolves. Any one who chooses to follow such teachings is not trustworthy.
9
posted on
09/05/2004 10:02:06 PM PDT
by
American in Israel
(A wise man's heart directs him to the right, but the foolish mans heart directs him toward the left.)
---
A women's magazine!!? Where'd they learn to read?
---
FreeRepublic.com is powered by software copyright 2000-2008 John Robinson