---
KENYAN BORN! Why did the Houston based African Newspaper claim that Obama was Kenyan born.
www.usafricaonline.com/news.html | August 21, 2008 | Self


Posted on 08/21/2008 9:10:36 PM PDT by ncfool


Now that Phillip Berg has sued Obama in Federal court it might bring to light the headline topic that a African newspaper published back in the Early part of June 2008. I fortunatly kept a screen shot of the headline as it was very exciting to see somebody make this wild connection. Is it true or not only Barack and the US Federal Court System can determine that for sure. But thanks Phil Berg for filing your Law Suit.



You my friend are a true American!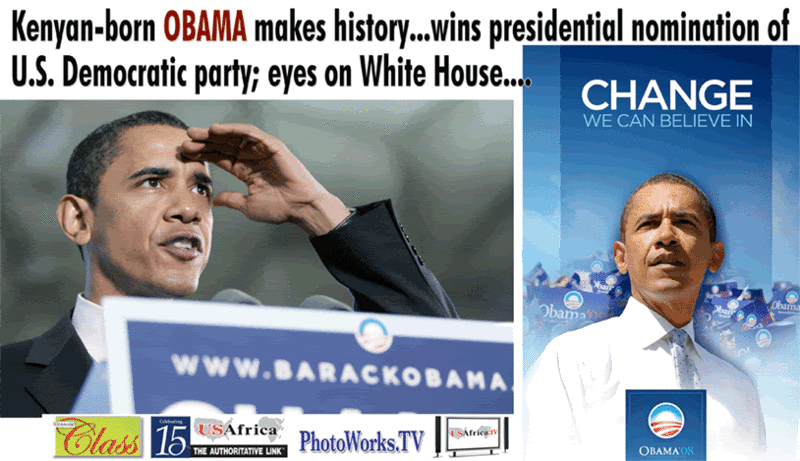 In the lawsuit, Berg states that Sen. Obama was born in Kenya, and not in Hawaii as the senator maintains. Before giving birth, according to the lawsuit, Obama's mother traveled to Kenya with his father but was prevented from flying back to Hawaii because of the late stage of her pregnancy, "apparently a normal restriction to avoid births during a flight." As Sen. Obama's own paternal grandmother, half-brother and half-sister have also claimed, Berg maintains that Stanley Ann Dunham--Obama's mother--gave birth to little Barack in Kenya and subsequently flew to Hawaii to register the birth.


Berg cites inconsistent accounts of Sen. Obama's birth, including reports that he was born at two separate hospitals--Kapiolani Hospital and Queens Hospital--in Honolulu, as well a profound lack of birthing records for Stanley Ann Dunham, though simple "registry of birth" records for Barack Obama are available in a Hawaiian public records office.


Should Sen. Obama truly have been born in Kenya, Berg writes, the laws on the books at the time of his birth hold that U.S. citizenship may only pass to a child born overseas to a U.S. citizen parent and non-citizen parent if the former was at least 19 years of age. Sen. Obama's mother was only 18 at the time. Therefore, because U.S. citizenship could not legally be passed on to him, Obama could not be registered as a "natural born" citizen and would therefore be ineligible to seek the presidency pursuant to Article II, Section 1 of the United States Constitution.



---
TOPICS: Conspiracy; Politics
KEYWORDS: barakobama; birth; certifigate; colbaquiddic; democrat; election; kenya; nobobama08; obama; obamacolb; obamatruthfile
---
Navigation: use the links below to view more comments.
first 1-20, 21-26 next last
---
---
---
---
---
---
---
---
---
---
---
---
---
---
---
---
---
---
---
---
---
Navigation: use the links below to view more comments.
first 1-20, 21-26 next last
---
---