Book report!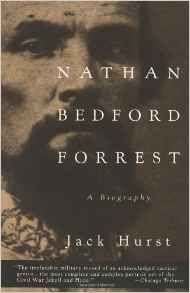 This biography has a different character than the others I have begun due to the fact that the historical record of Forrest's life is skimpier than the rest. The biographer had to rely on the public record, mostly composed of legal notices, to trace the future general's early life. That record is augmented by personal recollections of people who knew Forrest and had their memories recorded much later. Of course, there is also plenty of unverifiable legend surrounding this famous man. Jack Hurst has done a good job of sifting the available information and piecing together a picture of the origins of Nathan Bedford Forrest.
Forrest's early life resembles Abraham Lincoln's in the respect that both were born into harsh and primitive circumstances with families reliant upon subsistence farming for survival. Forrest, like Lincoln, received about 6 months of formal education. Unlike Lincoln, Forrest was fully satisfied with that and never yearned for more schooling. One result of that lack is that Forrest had no written correspondence with friends, relatives or business associates. That type of correspondence is a great source of material for biographers of more literary personalities.
Forrest was born July 13, 1821 and named for his paternal grandfather (Nathan) and the Tennessee county in which he was born (Bedford). A twin sister was also born, but she died young of typhoid fever, as did two other sisters and two of his eight younger brothers.
When he was a teen the family moved to Hernando, Mississippi. Like other people I have read about Forrest travelled south to take part in the Mexican War. In his case the effort came to naught because he did it in 1841, years before the war started. In order to earn return passage home he split rails. Around this time he began independent life by going into business selling agricultural products, such as seed and farm implements. This entailed becoming a slave trader in a small way. In 1852, seeing where the real money was to be made, he moved north to Memphis and went into the slave trading business full time.
The book then provides a good description of the sordid business of trafficking in human beings as it existed in the south in the first half of the nineteenth century. According to Forrest mythology he was especially humane to the slaves who passed through his hands, but Hurst shows that he probably was no better or worse than others in the trade. Forrest was a careful and thrifty businessman where his inventory was concerned. In connection with the slave business Forrest began to acquire farm lands as well as commercial property in Memphis. During slow times in the slave trading business he kept his stock productively occupied by raising cotton on his own property.
One way my knowledge is being enhanced during my reading – and this applies to all the books I have started – is that I am forced to refer to maps to understand the geography from the eastern mountains to the Mississippi Valley. The Mississippi River and other waterways play a vital role in the history we are covering and I find I don't know as much about their courses as I thought. This deficiency is slowly being corrected.
Other vital events in Forrest's pre-Civil War life were his marriage to Mary Ann Montgomery in 1845 and the death of a 6-year-old daughter, Fanny, in 1854. As Forrest becomes an increasingly prominent citizen of Memphis he will enter city politics, but that comes post-1856 and we will cover it later.
One part of the character of Nathan Bedford Forrest that became apparent even as a child is that he is not a person to be trifled with. Whether it is the panther that attacked and injured his mother when he was a boy or someone impugning his courage as a city councilman, he does not take injury sitting down.
I am only to page 67 of "Nathan Bedford Forrest: A Biography," but based on the quality of what I have read so far I would recommend it to other readers.