---
Rep Cantor (R-VA): Amnesty for Illegals - Yes; Alleviate Defense Cuts - No (Vanity)
6 Feb 13 | Self


Posted on 02/06/2013 4:57:20 AM PST by SkyPilot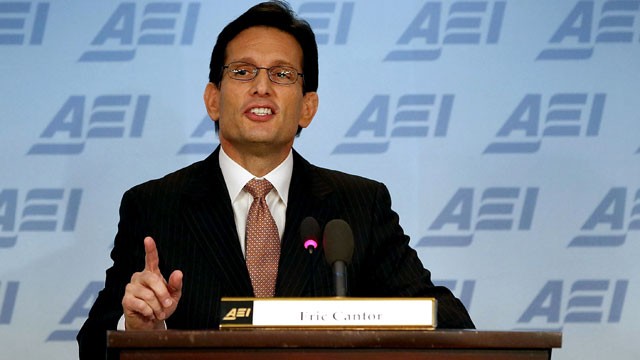 In one single day (5 Feb 13), Rep Eric Cantor endorsed amnesty for an estimated 1.2 million illegal between the ages of 18-30. These invaders have broken our laws, busted down our fences, overwhelmed our schools and hospitals, and have spit our America's sovereignty.
Eric Cantor Endorses Citizenship for DREAMers
Illegals cost this nation hundreds of Billions of dollars, and amnesty will cost us Trillions.
On that same day (5 Feb 13), a Fox News interviewer asked Cantor if he would endorse alleviating the looming Sequestration cuts that inordinately punish our Defense budget (Dept of Defense is 17% of the budget and takes 50% of the cuts, with the Defense Dept being a Constitutional agency). The Joint Chiefs have repeatedly pleaded to Congress to stop these cuts. They are our nation's experts in the military, and have said they would 'gut and hollow' the military.
Cantor smirked, and told Fox News: "Absolutely not!" on camera.
Rep. Cantor on looming sequestration cuts, GOP message (VIDEO)
There you have it so-called Conservatives. Amnesty = Good. Defense = Bad.
Someone explain to me why I should vote for Republicans again?

---
TOPICS: Your Opinion/Questions
KEYWORDS: cantor; defense; illegals; sequestration
---
---
---
---
---
---
---
---
---