---
Happy Clinton Impeachment Day 2012! Impeachment is Forever!
Wednesday, December 19, 2012 | Kristinn


Posted on 12/19/2012 5:33:26 AM PST by kristinn

It's been 14 years since President Bill Clinton was impeached. Free Republic played a key role.

On October 31, 1998, Free Republic held the first online-organized national protest to call for Clinton's impeachment and removal from office. The rally was broadcast live on C-SPAN for over four hours. Speakers included a who's who of the Vast Right Wing Conspiracy.

The rally can be viewed in its entirety online at C-SPAN

As the Senate trial drew to a close in Feburary 1999, FReepers came together online to design and fund a full page ad in the Washington Times urging the Senate to do its Constitutional duty by convicting and removing Clinton for committing perjury and obstruction of justice in office.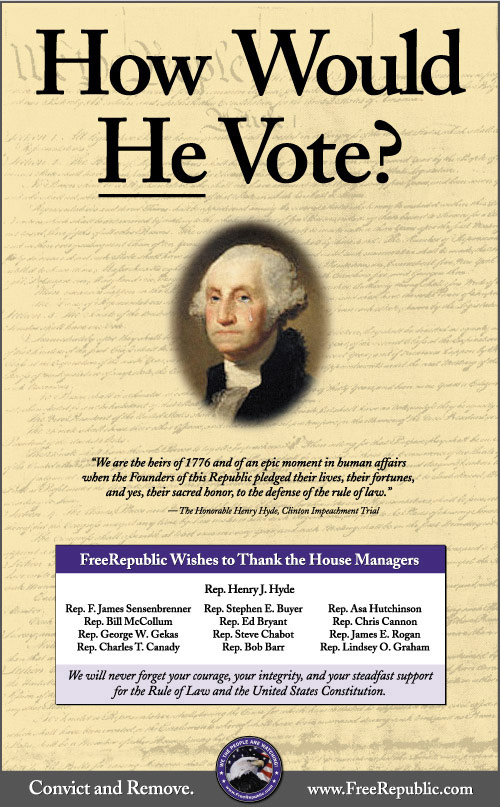 Thanks to Varmint Al for hosting the ad online..
More at the 2010 annual Impeachment Day post.

---
TOPICS: Breaking News; Free Republic
KEYWORDS: billclinton; clintonlegacy; cultureofcorruption; impeachedpresident; impeachmentday; presidents; x42
---
Navigation: use the links below to view more comments.
first previous 1-20, 21-40, 41-60, 61-67 next last
---
---
---
---
---
---
---
---
---
---
---
---
---
---
---
---
---
---
---
---
---
Navigation: use the links below to view more comments.
first previous 1-20, 21-40, 41-60, 61-67 next last
---
---