~ The FReeper Canteen Presents ~
~ Remembering Our Troops!! ~

Thank You For Your Service of 2011...
And We Wish You A Safe 2012!!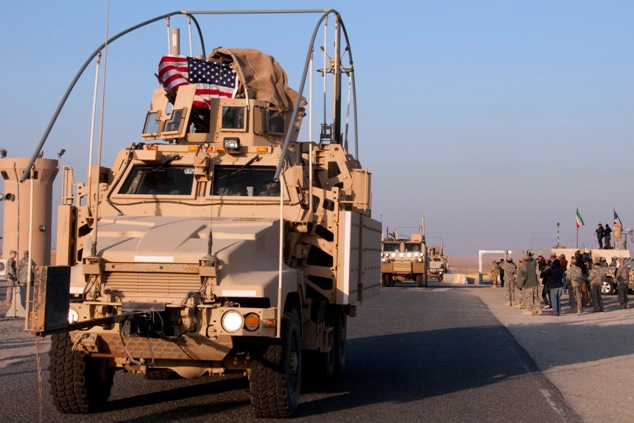 LAST CONVOY
A U.S. flag flies from a Mine Resistant Ambush Protected vehicle, part of the last convoy to leave Iraq, as it crosses over into Kuwait, Dec. 18, 2011, signaling the end of Operation New Dawn. Despite the final battalions' departure, the U.S. will continue to build and strengthen a mutually-beneficial partnership with Iraq. U.S. Army photo by Spc. Bradley Wancour







Canteen Mission Statement
Showing support and boosting the morale of
our military and our allies' military
and family members of the above.
Honoring those who have served before.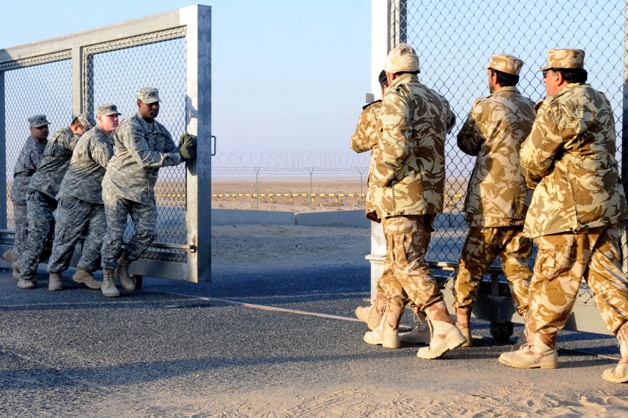 GATE CLOSURE
U.S. and Kuwaiti troops unite to close the gate between Kuwait and Iraq after the last military convoys passed through, Dec. 18, 2011, signaling the end of Operation New Dawn. U.S. Army photo by Cpl. Jordan Johnson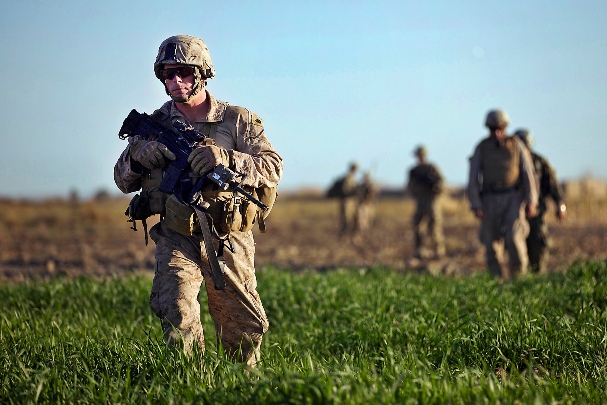 SECURITY PATROL
U.S. Marine Corps Staff Sgt. Christopher Ballance walks through a field during a security patrol in the Garmser District, Helmand province, Afghanistan, Dec. 2, 2011. Ballance is assigned to Weapons Company, 3rd Battalion, 3rd Marine Regiment. U.S. Marine Corps photo by Cpl. Reece Lodder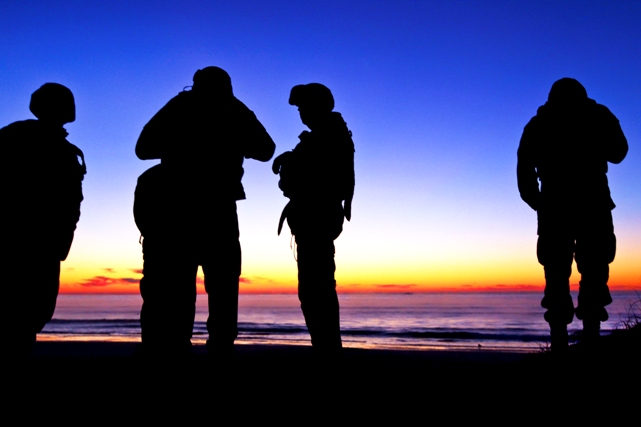 BEACH BUDDIES
U.S. Marines wait for transport to the USS Iwo Jima on Onslow Beach, Marine Corps Base Camp Lejeune, N.C., Dec. 19, 2011. The Marines are assigned to the Command Element, 24th Marine Expeditionary Unit. Transportation to and from the beach is part of the daily grind for Marines and sailors assigned to the unit and Amphibious Squadron 8. U.S. Marine Corps photo by Sgt. Richard Blumenstein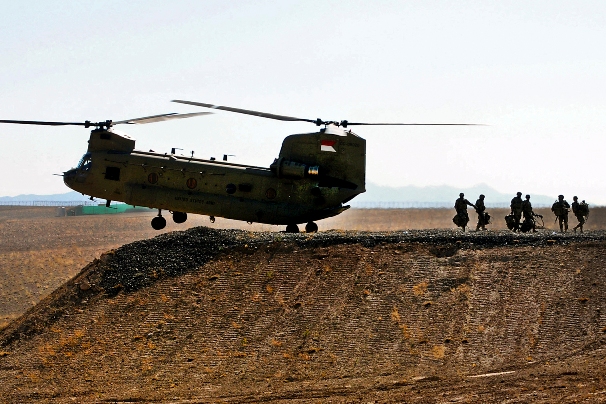 SPUR RIDE
U.S. Army soldiers depart a CH-47 Chinook helicopter during winter Spur Ride on Forward Operating Base Sharana, Paktika province, Afghanistan, Dec. 8, 2011. The soldiers are assigned to 1st Battalion, 227th Aviation Regiment. The Spur Ride is a tradition dating back to the beginning of the U.S. Cavalry, where troopers prove their tactical and technical skills, leadership, and teamwork over several days to earn the right to wear silver cavalry spurs. U.S. Army photo by Sgt. 1st Class Eric Pahon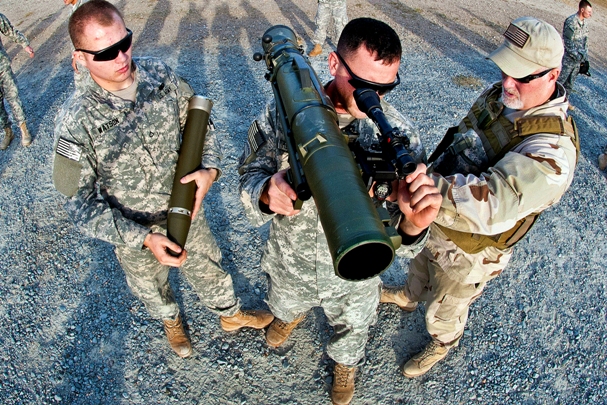 RECOILLESS RIFLE
A civilian instructor coaches two paratroopers on how to use a Carl Gustav M3 84mm recoilless rifle during a certification course on Fort Bragg, N.C., Dec. 6, 2011. The paratroopers are assigned to the 82nd Airborne Division's 1st Brigade Combat Team. The multi-role weapon consists of a light artillery tube that can be used against armor, fortifications and personnel. U.S. Army photo by Sgt. Michael J. MacLeod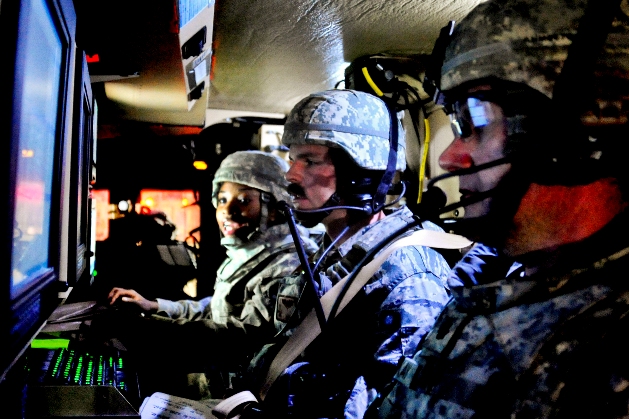 PROVIDING SUPPORT
U.S. Air Force Capt. Gabriel Lewis, center, U.S. Army Spc. Kendra Sanders and U.S. Army Lt. Col. Ron MacKay provide close air support while traveling with 110 military vehicles and 500 service members as they leave Iraq, Dec. 18, 2011. Lewis is a joint tactical air controller, Sanders is a Signal Corps communications specialist and MacKay is an operations officer assigned to the 1st Cavalry Division's 3rd Brigade Combat Team. U.S. Air Force photo by Master Sgt. Cecilio Ricardo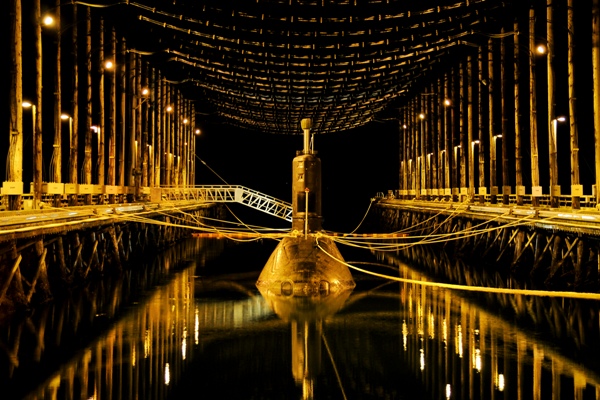 MAGNETIC REFLECTIONS
The Royal Canadian Navy submarine HMCS Victoria is moored in the Magnetic Silencing Facility at U.S. Naval Base Kitsap-Bangor, in Bangor, WA, Dec. 13, 2011, for a "deperming" treatment. Deperming reduces a ship's electromagnetic signature as it travels through the water. U.S. Navy photo by Lt. Ed Early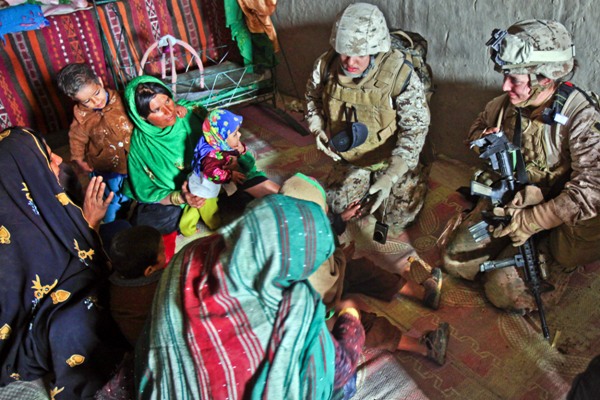 TUGHAY TALK
U.S. Navy Petty Officer 2nd Class Kimberly Ryan, right, visits with Afghan women at their home in Tughay village in the Sangin district of Afghanistan's Helmand province, Dec. 6, 2011. Ryan is a team member assigned to Female Engagement Team 8. U.S. Marine Corps photo by Cpl. Meredith Brown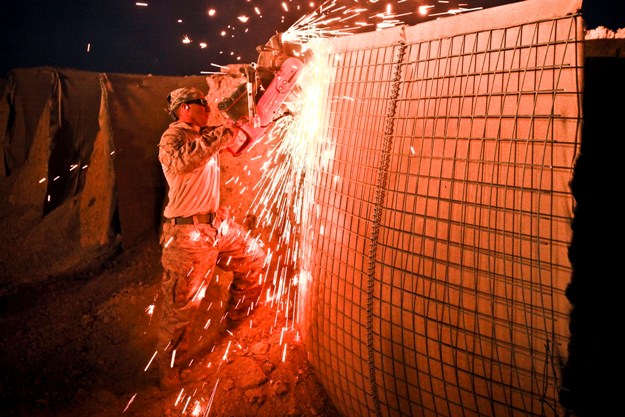 ELECTRIC BLUE
U.S. Marine Corps Cpl. James Hernandez uses an electric saw to dismantle a HESCO barrier on Firebase Saenz in Afghanistan's Helmand province, Dec. 13, 2011. Hernandez is a combat engineer assigned to Alpha Company, 9th Engineer Support Battalion. The firebase is the first of several patrol bases being demilitarized by the Marines. U.S. Marine Corps photo by Cpl. Bryan Nygaard

Please remember that The Canteen is here to support
and entertain our troops and veterans and their families,
and is family friendly.