---
Vanity: Is it just me or does Lisa Murkowski remind you of...
Vanity, Vanity, all is vanity | 30 September 2010 | Me


Posted on 09/30/2010 10:42:20 AM PDT by Mr. Silverback

It all clicked into place when I read that Murkowski is now running an ad attacking the Tea Party Express as "the organization from California* that did a half million in attack ads" thereby stealing the primary from her, and I imagined Princess Lisa saying "You were too stupid to think for yourselves so just vote for mke, you imbeciles! Now, I understand what's been bothering me about her the past few weeks.

Lisa Murkowski is Alaska's answer to Mom, the tycoon from the cartoon sitcom Futurama.

For those unfamiliar with Matt Groening's real masterpiece, Futurama is the saga of a slacker pizza delivery boy who is accidentally cryogenically frozen and wakes up in the year 3,000, where he gets a job working for his descendant, Professor Farnsworth, at Farnsworth's delivery company, Planet Express. One of Farnsworth's bitter enemies is a woman known simply as Mom, who owns many of the galaxy's biggest corporations (she is so powerful she even holds a trademark on the words "Mom," "Love" and "Screen Door"), including "Mom's Friendly Robot Company," which has a total monopoly in the robot manufacture market. Mom projects a folksy and sweet image, but in reality she is vicious, evil, thin-skinned, foul-mouthed and cringingly unattractive.

First, note the resemblance: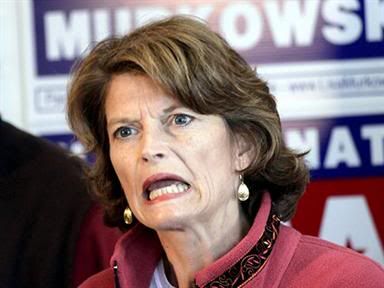 And really, after all the bitterness, all the derision aimed at GOP voters like they were too dumb to figure out whether they liked their own senator, and all the effort to make her seem folksy and caring about the down home Alaskans because the big bad Californians might hurt them, can't you imagine Murkowski walking into her office, closing the door and saying:
"Jerkwad Tea Party makes me sick to my ass! And if I see Joe Miller, I'll cram a squirrel in him!"
* Isn't that sort of like saying Alaskans shouldn't have believed Reagan because he was from California? just sayin...

---
TOPICS: Your Opinion/Questions
KEYWORDS: futurama; murkowski; notnews; silverback; teapartyexpress
---
Navigation: use the links below to view more comments.
first 1-20, 21-40, 41-60, 61-70 next last
---
---
---
---
---
---
---
---
---
---
---
---
---
---
---
---
---
---
---
---
---
Navigation: use the links below to view more comments.
first 1-20, 21-40, 41-60, 61-70 next last
---
---