---
Leadership America is Longing For (LTC Allen West)
Democracy Project ^ | August 3, 2008 | Phil Orenstein


Posted on 08/03/2008 9:52:26 PM PDT by Ooh-Ah

Leadership America is Longing For

Phil Orenstein • August 3, 2008 • Uncategorized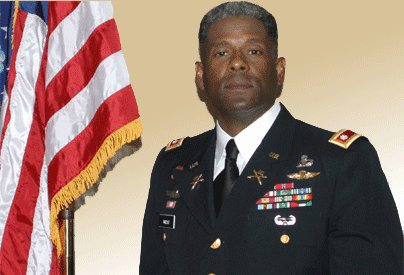 "Get to know him. Campaign for him. This is the leadership America is dying for," says political blogger Pamela Geller of Atlas Shrugs who has been so electrified by the candidacy of Lieutenant Colonel Allen B. West (US Army, Ret) that she has devoted an ongoing blog to the man and his message and to get Republicans and Conservatives from every corner of the country to focus on this race.
I too am very excited from what I've recently learned about this man of integrity and his candidacy. Ultimately, I am proud to support a man who sacrificed his military career, his honor and his rank to protect the lives of the men under his command. Col. Allen West is running for Congress in Florida's District 22 which hugs the Eastern shoreline from West Palm Beach to Boca Raton. I am supporting his candidacy to ensure that moral voices prevail in Congress not only to defend the honor of the brave young men and women who serve in our military forces, but to defend the honor of America as a nation.
In his more than twenty years of military service in the U.S. Army he faced down the world's most virulent terrorists in Operation Desert Storm and Operation Iraqi Freedom. In OIF, Col. West was commander of the 4th Infantry Division, responsible for the lives of 700 men and women, who were constant targets of Sunni terrorists after the fall of Baghdad. When suspicions arose that an Iraqi policeman was hiding information about a planned attack on his men, interrogators worked him over without success. Then Col. West took over the interrogation and fired his pistol over the policeman's head, which scared him into divulging the plans of the ambush, which saved the lives of his men. But instead of receiving the highest honors and praise for his valor, he was charged with assault and violating the Uniform Code of Military Justice. He was discharged and fined for misconduct and retired as a Lieutenant Colonel.
Never apologetic for his actions or bitter for being punished for the "crime" he never committed, he left his military career "with a sense of pride and honor." "I sacrificed my career for my soldiers and that's the bottom line," he said. "Nobody likes a whiner. You make the decision, you stand by it and take responsibility for it and you accept the consequences and you move on with your life." Later he returned to Afghanistan as an advisor to the Afghan army. After finishing the assignment in November 2007, he returned home to Broward County where he began his new career in politics. He saw there was a lot of work to be done, and proceeded to take on the challenge of a Congressional campaign as his next assignment.
Republicans have lost the moral high ground in Congress and as a result lost control of Congress. The Mark Foley sex scandal that led to his resignation just before the November 2006 elections was only the tip of the iceberg. Dennis Hastert's long reign as Speaker of the House and the Republicans who lost Congress, lost their principles of limited government and individual liberty as well as their vision for America long before the Foley scandal hit the national media.
Col. West, whose Congressional District 22 falls just south of former Rep. Foley's District 16, has a bold vision for America which he communicates effectively as he did in a recent speech to Broward County Republicans. Supporters in Florida who have heard him speak, say "he is a true American Hero with the charisma of Ronald Reagan and the intellect of Newt Gingrich."
His resume is one of action, and action speaks louder than words, but words followed by action make for an unbeatable combination. His speech at Broward County addressed the issue of vision. As battalion commander for the Army's 4th Infantry Division in Iraq, vision was the most important principle he tried to inculcate in his subordinates. When any unit, organization or country lacks vision, the people are lost, he explained. If our leaders had vision in 1975, we would have learned our lessons from the long lines at the gas pumps, and we would be energy independent today. We never learned the lessons of the failed 1986 amnesty program for millions of illegal aliens which today has exploded out of control simply because we lacked vision. The same lack of vision applies to the Panama Canal debacle, which we gave away to China, now drilling off our own shores. The same goes for our failure to stand by the Shah of Iran, when we couldn't envision the Islamic fundamentalist alternative that was 1000 times worse, or our failure to rewrite the tax code, and reduce taxes, or the failure to uphold fiscal conservative principles.
Excerpts from Col. West's August 2007 column on Atlas Shrugs, The Global Jihad and its Ramifications for America shows his grasp of domestic and international issues and his sweeping vision for the solutions to the global crises that confront us today:
This global jihad exploits our open borders and it does not take a genius to realize that this is a terrible gamble. It has become too simple to infiltrate the US from our porous borders, and as the Ft Dix incident showed us, we are walking a fine line….

The global jihad has penetrated our American cultural, educational, financial, and political systems in an attempt to desensitize us under the mantra of "multiculturalism". Our own constitutional rights are being used against us to foment hate and dissent right under our noses. Consistently we see subtle challenges to our rule of law seeking to create a gap of exploitation by which Sharia could be further promulgated. Our Middle Eastern studies programs in universities all across America are infested with those who openly speak against our republic. This was not the original intention of these educational programs. Even the attempt to open an American taxpayer funded Islamic school has to give one concern.

The financial and political impact in America of Saudi money is far-reaching. The energy bill recently passed by Congress did nothing to strengthen America's energy independence. We must cut the ties to the Middle East. As long as the petrodollars roll in, Wahabbism/Salafism will be exported out, and to our shores… this global jihad makes its intentions very clear. It is up to us to make a stand and turn it back, such as Charles Martel did in 748 AD at Tours and at Vienna in 1683…

Solutions?

Secure our borders and enforce the laws of the land on illegal immigration.
Make the hard calls on repairing our economy— cut taxes and curtail spending.
Reevaluate foreign aid spending and bring the American taxpayer funds back to the people.
Return social security to what it was intended to be: non-taxable, part of an independent trust fund, and give options to future generations.
Seek out our true energy independence; we have to wave goodbye to the Middle East and not be held hostage to a resource we possess in abundance.
Strike back hard at Islamic terrorist organizations in their sanctuaries— enemy-oriented, not terrain-oriented (as we are doing now), disrupting, interdicting, and isolating them and their support.

We must end the revisionist education theory and develop pride and skills in our young people. This is about our future.

Friends, there is much to be done, but that is why we are Americans!
This is the message that Americans need to hear. Col. West's message of vision, courage and responsibility is what inspires Americans of all political stripes. This is the message that will defeat Islamic terrorism. This is the true leadership that all Americans are longing for. This is the message that will win seats in Congress as well as restore the moral high ground. This Tuesday, August 5th he will be speaking at a fundraiser in New York City. Please visit the Col. Allen West for Congress site to help his campaign with donations and give him your generous support. Go West!

---
TOPICS: Editorial; News/Current Events; Politics/Elections; US: Florida
KEYWORDS: allenwest; congress; elections; vetscor
---
Navigation: use the links below to view more comments.
first 1-20, 21-24 next last
---
---
---
---
---
---
---
---
---
---
---
---
---
---
---
---
---
---
---
---
---
Navigation: use the links below to view more comments.
first 1-20, 21-24 next last
---
---