---
To: MtnClimber
550+ HP? 2200 lbs. empty? I WANT one......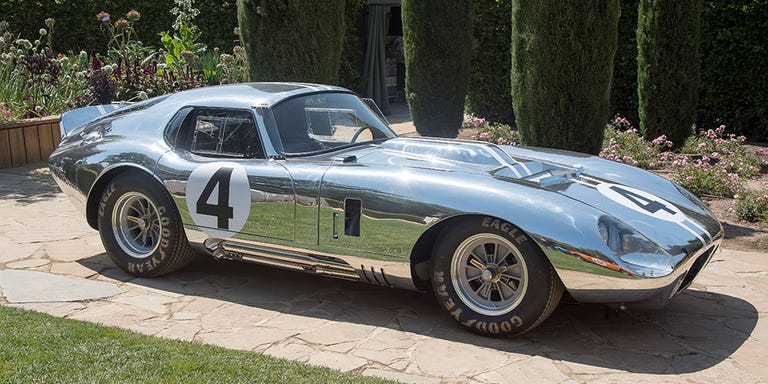 4
posted on
08/22/2017 5:01:22 PM PDT
by
Viking2002
("If you find yourself in a fair fight, your tactics suck." - John Steinbeck)
---
To: Viking2002
Good stuff.
I need one of those, a GT-40, a Boss 429 Mustang, Boss 351 Mustang, a 68 Camaro with 427, a 71 Corvette with 454, 72 Pantera, a 69 Firebird, a 70 Charger 440, a Challenger with 440 6 pack, a Hemi Cuda, some Shelby Mustangs and...
Oh yeah, no money.
9
posted on
08/22/2017 5:13:48 PM PDT
by
SaveFerris
(Luke 17:28 ... as it was in the days of Lot; they did eat, they drank, they bought, they sold ....)
---
To: Viking2002
That car seems to have a very long nose with the hood vents for radiator air even with the front wheels. That puts the engine entirely behind the front wheels, almost mid engine. I bet the car had incredible handling for 1964.
11
posted on
08/22/2017 5:16:07 PM PDT
by
MtnClimber
(For photos of Colorado scenery and wildlife, click on my screen name for my FR home page.)
---
To: Viking2002
I have a '69 Mustang, curb weight around 2800lbs and sporting 400 ponies (4:11 Detroit Locker rear). It is scarey fast! I haven't taken it out on rainy days yet because it's too hard to keep the wheels from spinning. Plus the front end is loosey-goosey.
The Daytona would be one wild ride!
---
To: Viking2002
Looks like a modified Kirkham Daytona body.
Kirkham does great work.
Someday perhaps...
---
FreeRepublic.com is powered by software copyright 2000-2008 John Robinson