Morning Kitteh Ping List: dakine; GOPJ; fanfan; coldone; cyber liberty; null and void; tax-chick; anoreth; monkey face; slings and arrows; nicknamedbob; darksheare; moose07; notoillegals; nocmpromiz; hkmk23; dead corpse; thomasthomas; argee; flotsam_jetsome; PROCON; scoutmaster; silentgypsy; skinkinthegrass; stephenjohnbanker; Not A Snowbird; libreoumort; harmlessteddybear; pax_et_bonum; geronl; shimmer1; a CA Guy; catherineofaragon; Gefn; Clinging Bitterly; owenkellogg; covenantor; trussell; dayglored; oddlane; mewzilla
Vivisepulture ping list: Scoutmaster; Darksheare; Pete from Shawnee Mission
Tax Chickadee #10! Kathleen Amelia, born 1/19/2012 (General Lee's birthday!), 8 lbs. 8 oz., 20"
As of October 1, Kathleen is 8-1/2 months old and weighs over 20 lbs. She can almost crawl. Oh, blarg, now she's 2. Tempus fugit.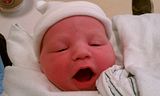 First week baby pictures of Kathleen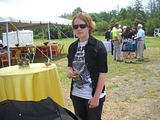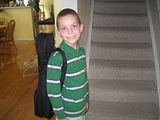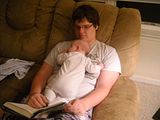 An array of Tax-chickadees, being themselves

Tax-chick and the [then] Complete Horde on the Battleship North Carolina, Sept. 2010. Anoreth, Sally, Bill, Tom, Pat, Frank, T-c, Vlad, Elen, James. It was hot.
Tax-Chickadee #9, Jonathan Francis "Frank" was born on May 27, 2009.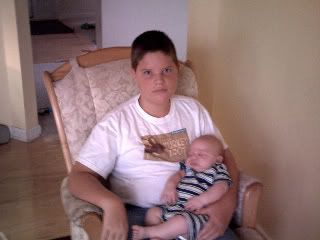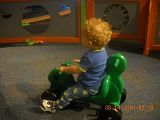 Left:9/27/09, 4 months, 17 lbs. Center: 9 weeks, with his Tom. Right, a good view of his curls, 8/14/10.
LATEST ANORETH NEWS: The GUNNER ANORETH ping list is on hiatus until Anoreth gets back on a Cutter and does something really exciting. May we all live that long!

Mr. Cheney and Bibi Netanyahu. THUD.

Left to right: Anoreth (18), Bill (15), Tom (12-1/2), Elen (11), Sally (9), Patrick (7-1/2), James (5-1/2), Vlad (3-1/2), Frank (1 day)

Anoreth with Ash, the retired greyhound. And Anoreth with Bill, setting off on the rest of her life. Anoreth is a member of the United States Coast Guard, as of 6/16/09! Ash has to stay home.

Left: Shannon, the elegant kitteh. Center: Jake, that other kitteh. Right: Paula, the panther chameleon, with Der Prinz, herpkeeper
Bill (15) and Tax-chick (42) with Frank (2-1/2 weeks)

My favorite picture of Vlad (at six months) with Bill (then 12).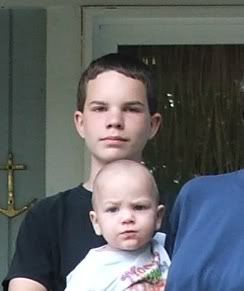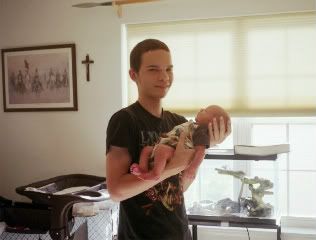 Left: The same two boys, 1-1/2 and 13-1/2. *** Right: Bill (15) with Frank (6 days)

Left: Wednesday, our Basement Cat. Wednesday left home May 20, 2009. (She never liked us much.) She came back July 19, very weak and sick, and went to sleep July 20. I'm sorry, Wednesday, we really tried to help you.
Right: Agnes, the late FReeping cat (1986? to 2005)


The Tax-chickadees and me at Lake Norman (NC), September 2007.
Back row: Anoreth (16), Tom (10), Bill (13), Vlad (19 mos.), Tax-chick (41)
Front row: Sally (7), James (3-1/2), Elen (9), Pat (5-1/2)
***James looking so cute it oughta be illegal.
***
"When the servant of the man of God rose early in the morning and went out, behold, an army with horses and chariots was round about the city. And the servant said, 'Alas, my master! What shall we do?' He said, 'Fear not, for those who are with us are more than those who are with them.' Then Elisha prayed, and said, 'O LORD, I pray thee, open his eyes that he may see.' So the LORD opened the eyes of the young man, and he saw; and behold, the mountain was full of horses and chariots of fire round about Elisha." (2 Kings 6:16-18)
"Without having seen him you love him; though you do not now see him you believe in him and rejoice with unutterable and exalted joy." (1 Peter 1:8)
*****
You can call me Cy, the original, unadulterated, polysyllabic, multiparous, redneck tax-chick! Trinity University (San Antonio, TX) graduate, 1989.
Notorious Nuclear Niceness Nazi, insinuator of the Molasses Miasma of Niceness, bearer of the Dread Words of Power, "Bless your bowels, honey! I just love your sense of humor!" and "Benedicere cor tuo! Quomodo cogis comas tuas sic videri?"
Married for 25 colorful years to Der Prinz auf Nerdz: computer networking wizard, gourmet cook and Latin guitarist, marathon competitor, Boy Scout leader and 4th Degree Knight of Columbus, USAF Veteran, University of Texas and University of Tennessee graduate (M.S.E.E.)
Mother of TEN Tax-chickadees: Four girls (27, 20, 18, 7) and six boys (24, 22, 17, 15, 13, p).
*****
Deo Vindice Christian School,"You may be whatever you resolve to be." ... a Catholic academy enrolling infants through 12th grade, with a 100% graduation/college admissions rate. Registered with the NC Division of Non-Public Schools
Former resident of: Missouri, California, Massachusetts, New Jersey, Rhode Island, Virginia, Texas, Tennessee, and Oklahoma, and currently in North Carolina ..."I guess anywhere you live is home!"
My Visited States Map. It's a little skewed!
I've also been to Mexico, Northern Ireland, England, and The Netherlands.

create your own visited states map
"Typso " ping list: Jaded; Ryan Spock; upchuck; TheMom; TChris; Xenalyte; Semper Vigilantis; georgiadevildog; Chad Fairbanks; Anoreth; fritzz; rrrod; Constitution Day; NYC GOP Chick; fiddlstix; Kevin OMalley; AntiBurr; RegulatorCountry; grey_whiskers; NCSteve; bwteim; clyde asbury; martin_fierro; famishus; hellinahandcart; ReignOfError; Turret Gunner A20; Still Thinking; PAR35; skepsel; Mrs. Don-o; DancesWithBolsheviks; Kevmo; Hegewisch Dupa; SoftwareEngineer
Also "No, You're Homophones!" and "my kingdom for a shift key"
"Names" ping list: Xenalyte; B-Chan; stands2reason; Moose4; bitt; Fierce Allegiance; ukie55; metmom; AnAmericanMother; hellinahandcart; Condor51; Clam Digger
Royal Watchers ping list: AxelPaulsenJr; Xenalyte; AnAmericanMother
The Substitute Ireland ping list, in honor of Irish_Thatcherite:mcshot;GSP.FAN ;neverdem;Colosis; Black Line; Cucullain; SomeguyfromIreland; Youngblood; Fergal; Cian; col kurz; Finnigan_Wakes; Free Willie; Potato Head Mick; Free_at_last_-2001; Irish Freeper; Irishmonk; Jeremy_Bentham; Kathy; Lydda13; mcollins; norn; thrace; TJ Harrington; Murtyo; Maeve; Siobhan; Incorrigible; aculeus; Mike Bates; Irish Tenor; Wild Irish Rogue; Dan from Michigan; slane; Lovely-Day-For-A-Guinness; elhombrelibre; Eireann go Brach; Emmett McCarthy; TJ Harrington; TradeSports; truththrulove; VleOnica; winslow; Cornpone; Tadhg Séamus; investigateworld; TattooedUSAFConservative; elc; MSM Hater; sicNotes; blackbird149; annie laurie; tuliptree76; Tax-Chick; fanfan; Harmless Teddy Bear; jla; Andyman; vimto; happygal; wideawake; ulsterdavy; ConservativeDude; Right Wing Assault; Vicomte13; grey_whiskers; dighton; RinaseaofDs; stoat; mgstarr; presidio9; seamusnh; ConorMacNessa; CT-Freeper; Lil'freeper; Primetimedonna ; hoppity; ncpatriot; warsaw44; grey_whiskers
Gunner Anoreth ping list: jrandomfreeper; kolokotronis; rabidralph; Tax-chick; johngrace; Mr. Silverback; Quix; sionnsar; nina0113; An American Mother; Mrs. Don-o; steve86; netmilsmom ; Campion; rrrod; Lee's Ghost; Rebelbase; wolfpat; sionnsar; LibreOuMort; Monkey Face; fanfan; Moose4; null and void; maryz; West Texas Chuck
"That's the Spirit!" ping list: Frank Sheed; pgkdan; trisham; Tax-chick; TradicalRC
Reptile ping list: skinkinthegrass; brytlea; MaryFromMichigan; salamander
http://www.freerepublic.com/focus/religion/2050162/posts?page=171#161
Pocket weasel
http://www.lib.unc.edu/dc/ncmaps/?CISOROOT=/ncmaps
http://www.junglewalk.com/