My apologies that this profile page is horrifically out of date. Some of the links are still good though in case you'd like a trip down memory lane! PLEASE NOTE: None of my ping lists are active. The LibertyRocks.us website is not longer active, but my old blog at Libertyrocks.wordpress.com is still up though some links in the old articles are dead.

Hello to old FRiends. Seeing as things are heating up at the moment and we are finally rid of the plague that was Obama as CIC I'll likely be around these parts a bit more again. Hope to see you on the threads!

"Just Say NO to Obama and Biden '08" Merchandise - CLICK HERE
(This is one of my cafe press stores...)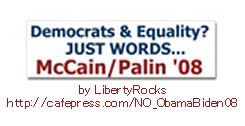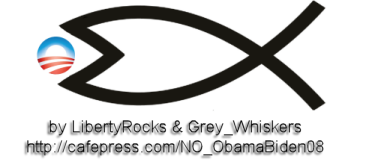 NOTE: I have 2 separate Ping Lists here at FR. If you would like on or off any of the following please send me a FReepmail; The LibertyRocks "News Links" List (see below in the section about my blog), and the OU Bombing Ping List.

About Me
I am the mother of 4 daughters. I have been happily married for almost 18 years to my wonderful husband.
We moved back to the mid-west (in Wisconsin this time), in 2004, after spending 7 1/2 years in and around Denver, CO. We are very glad to be back in the "Heartland" or maybe more appropriately - "America's Dairyland!". (Both my husband and I's families have farming in their background so we feel at home here in the "country".)
Politically, I believe in restoring the Constitution and the Bill of Rights so that my children (and grandchildren if and when we are blessed with them) can live in a free country, that is something to be proud of. I am a firm believer in questioning our government, and keeping an eye on our elected officials. If I had to label myself I guess I'd be an Anti-Socialist, Anti-Liberal, Anti-Democrat, Conservative, libertarian, Independent, voter.
I am fearful for what is in store for future generations of Americans if the Socialistic programs of both the democrats and republicans are allowed to continue and multiply.
For want of an educated populace, the beacon of liberty will be extinguished. Don't let it go out!
Liberty in OUR LIFETIMES!
For Freedom,
Michelle K. aka LibertyRocks


PERSONAL UPDATE: My husband and I celebrate our 25th Anniversary this year (2017). And we are the proud grandparents of a 3-year-old little boy.

Special thanks for the Welcome Graphic to Pat's Web Graphics: