Hello fellow FReepers...
My name is R. Glenn Kelly, or Ron to my FRiends and family.
I am a former MP in the Corps - Hence, the name Irishpennant
~Camp LeJeune 1983 to 1986, 2nd MarDiv
~Okinawa 1986 to 1987 (Camp Butler and MCAS Futenma), Customs & Immigration
~Law enforcement, federal defense contractor & security the remaining majority of my adult life...
...Until the loss of my sixteen year old son and only child, Jonathan, who passed in 2013 from a rare heart disease.
So regardless of who I have been, or who I will be, I am the father of Jonathan, and I am a grieving father.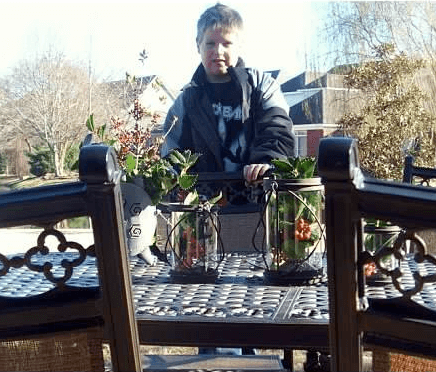 I am a limited government conservative. Yes, all of my firearms were lost in a nasty boating accident, too.
You will find sporadic postings here on FR over the years, with my apologies. I originally came on board with the screen name "BeltwayKnight" immediately after the tragic events of 9/11, but dropped out a few years later. In 2008, after again lurking here for news more than anything, and forgetting my screen name and password, I signed back up as Irishpennant, and posted frequently for several years until the passing of my son in 2013. I have been around since his passing, but my heart was not into doing anything other than taking advantage of FReepers for keeping abreast of the downward spiral of our country.
Regardless, I have also been living out the legacy that my son left behind for me. Without going into great detail, my journey after his loss now finds me as a renowned authority on male vs female emotions, especially as they relate to grief.
I am a Keynote and Public Speaker, Workshop Facilitator, Corporate Trainer, and award winning Author of three bereavement support books...

Sometimes I Cry in the Shower: A Grieving Father's Journey to Wholeness and Healing
The Griefcase: A Man's Guide to Healing and Moving Forward in Grief
Grief Healings 365: Daily Inspirations to Moving Forward to Your New Normal
These books are available in paperback at books store everywhere, or paperback or eBook at Amazon.com & Barnes & Noble:
Amazon.com
As a rare man who is willing to stand and talk about grief, I have had the privileged of speaking at big businesses, such as Delta Airlines in Atlanta, National and Regional Conferences, Colleges, Hospital, churches, and more.
As an aside, and for anyone interested in grief and bereavement support in the workplace, look to Delta Airlines as a company to applaud. Delta has formed an internal peer to peer grief support group known as "Wrenched Hearts," originated by an airline mechanic who had sadly lost a son.
During these fly-ins, I get the honor of being their only keynote speaker and workshop presenter each year...and for as long as I will accept the invitation.
I have also been awarded an honorary member of Delta Airlines and Wrenched Hearts. I love showing off this beautiful plaque I was honored with, handmade by the machine shop guys and gals on an actualy 737 window...forgive the show off please!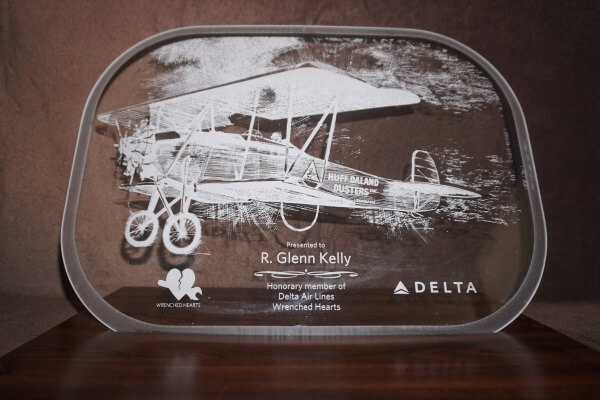 I am also proud to be a contributor to the magazine of TAPS, the Tragedy Assistance Program for Survivors. TAPS is solely dedicated to caring for the surviving members of our lost military members.
To find out more about TAPS, please go to TAPS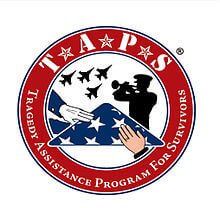 All that aside, if any FReeper who has experienced a loss and needs an understanding voice or conversation, I am here 24/7...and if you know someone with a profound loss you are concerned about, please have them feel free to reach out to me:
email: rglennkelly@rglennkelly.com
Call or text: (662) 420-1293
www.rglennkelly.com
LinkedIn
Facebook
When it comes to my grief support books, please know that if there are any FReepers who have been through the same fire I have, or have friends who have, and would like to see if my books might help, I will make the eBook version of each available for free...just contact me and I will forward to any email without using that email for a marketing list. I am here only to serve others who travel the same journey of healing as I do...we will certainly never heal fully from our loss, but we will live a life of peace and purpose!
On the same note, I am a very experienced public speaker...when it comes to male vs female grief support, I mix a little humor in with support and have the highest of reviews for any venue I have spoken in...please keep me in mind if the need arises.
Best to all fellow FReepers...and my sincere thanks for what you each do!
Ron
Below are a few of my keynote and media appearances: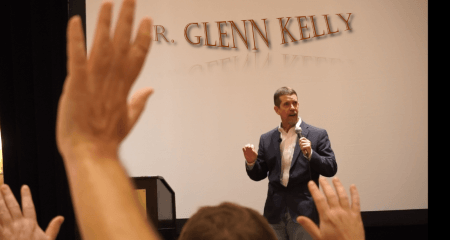 Keynote Dulles, VA 2017
CBS News - Live at 9
Trinity Broadcast Network
You can see more of my workshops, interviews, streaming media appearances, radio program archives, and more on my website media page: