"Obama sez; 'Nobody is suffering more than the Palestinians'."
There's an email floating around the ether somewhere that I saw a couple weeks ago. It contained a goodly number of photographs taken in Gaza. The photos blow your mind.
Folks think of Gaza and its inhabitants as some kind of desert enclave, its communities loaded with tightly-packed, slumlike labyrinths of clay....its residents impoverished, starving dogs roaming the streets, underfed babies in their mothers' arms, arid encampements a hair above concentration camps, teeming with the poor and desperate.
The photos in the email I saw show an entirely different Gaza strip. Modern cities, skyscrapers, active night life under glittering neon, gorgeous, lush beaches and parks loaded with families of all classes, modern infrastructure, etc. Although areas of tribal existence also are contained within the Palestinian borders, the actual state taken in its totality is 180 degrees different from the vision of Gaza we have been led to believe exists.
If anyone has these photos, I hope they can be posted here. It will be one of the biggest eye-openers ever to appear on this board.....I guarantee it.
Leni

Leni,
I read your post yesterday, but I hadn't time to answer then. Thus, my late reply. I don't know which blog (I bet it wasn't a MSM outlet that showed those photos) you read but both Carl in Jerusalem on the blog Israelmatzav and the blogger Elder of Ziyon have posted masses of photos thar give lie to the pevailing story of "Concentration Camp Gaza".
Below I post a few photos I found on IsraelMatzav with my comments. Good if people help to spread'em.
CiJ writes: A Palestinian smiles as he returns to Gaza with his new motorcycle, bought in Egypt, at the border between Egypt and Gaza, in Rafah, southern Gaza Strip, Friday, Jan. 25, 2008.
This is the same Gaza that just opened a sparkling new shopping mall that would not look out of place in any capital in Europe.
And an Olympic-sized swimming pool.
CiJ: Markets brimming with all manner of foods dot the landscape of Gaza, where Lauren Booth [Tony Blair's sister-in-law], journalist and "human rights activist," was pictured buying chocolate and luxurious items from a well-stocked supermarket before stating with a straight face that the "situation in Gaza is a humanitarian crisis on the scale of Darfur."
I must have missed it, but I never saw photos like this from Dafur. CiJ: "Two luxury hotels are opening in Gaza this month. Thousands of new cars are plying the roads. A second shopping mall — with escalators imported from Israel — will open next month. Hundreds of homes and two dozen schools are about to go up. A Hamas-run farm where Jewish settlements once stood is producing enough fruit that Israeli imports are tapering off."
Palestinians in Gaza invest $20m. in new resorts
Picture from Gaza's only Spa.
And a comment that must not be missed: "We have the highest quality services in the region," says Mohammed Faris, who launched the spa with his British wife in 1999.
"We had one customer, a woman who worked as an EU (European Union) advisor. She went to New York and called me from there and said she missed Rosy"
And before the spa, why not enjoy some riding: Poor, starving Gazan 'Palestinians' ride horses
But enough with frivolities when culture abounds: The Islamic Universiy at Gaza.
...and public libraries. (I wonder if Harry Potter is allowed? Maybe it is only prescient Sarah Palin who bans the wizard - years before it was written....)
There are more, much more, but let me finish with a couple of links and pictures from another blog:
The Hotel exterior
The lobby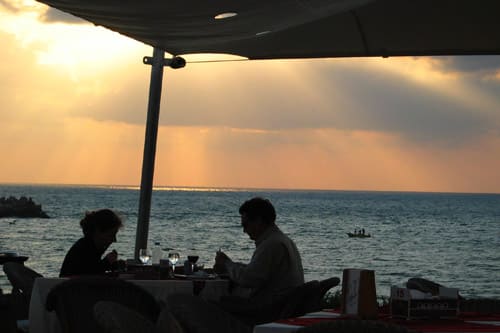 The restaurant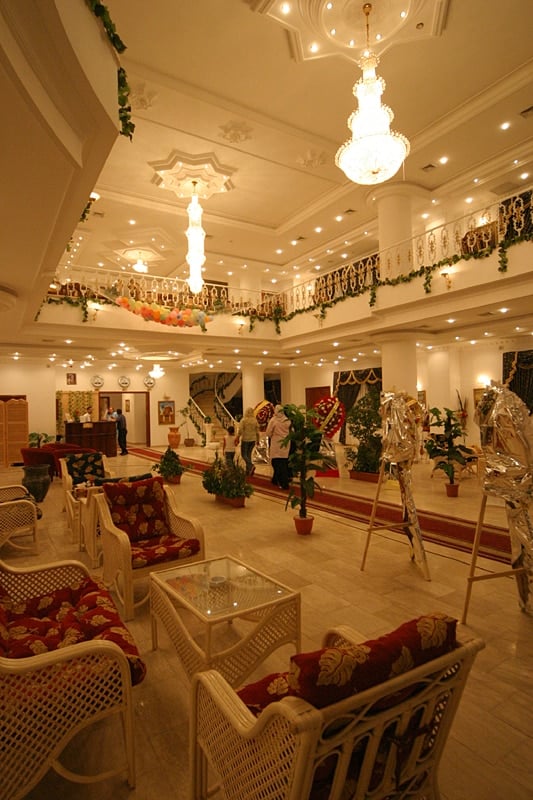 The lobby of Grand Palace Hotel, Gaza
Carl in Jerusalem writes on one of his posts "the truth is that there are only two places in the Middle East where 'Palestinians' are better off than they are in Gaza. One is Judea and Samaria, which has one of the fastest growing economies in the World. The place in the Middle East where 'Palestinians' are treated best? You guessed it: Israel. Their treatment in Arab countries is far worse - even than Gaza."
That may well be true, but just like the other Arab ruled countries Gaza is a third world hell hole, with a ruling elite that manages to (mis)appropriate all wordly goods, and a large part of the people poor and destitute. However, in the WB and possibly also Gaza the (non-existing according to liberal economists!?) trickle-down effect helps to create a middle-class whose standard of living is improving. All good and well, but whether you belong to the "fat cats" in Arafat's (now Abbas's) entourage or the Hamas, this development may not go too far. To remain in power these elites need masses of angry young men, born in poverty and raised up to relative wealth by the guns and bombs provided by the leaders of the terror organizations.
But this relative wealth in Gaza, is it unkown to the journalists and other commentators? Well, where do you think they stay when visiting Gaza?
Sometimes they even write about it, but of course in the end it is always Israel's fault.
In fact these intrepid reporters are no better than the foreign journalists in Africa portrayed by the English novelist Evelyn Waugh in such comic masterpieces as Black Mischief and Scoop. Staying (and drinking) in luxury hotels and only now and then doing some slumming to get the local colour. News were mostly gathered from gossiping barbers or bartenders (a well informed source).
And what about the "aid" workers and the foreign dignitaries descending on the Middle East in some peace making forray? Well, the question of the aid workers was answered above. You don't find Spa's in Dafur or the Sahel. And of course only the best would be good enough for our globe-trotting diplomats.
I don't remember where such hypocrits were thought to end-up in Dante's Hell, but would they really deserve anything but the worst punishments?