---
Obama says debt ceiling crisis hurt economy
Reuters ^ | 8-3-11


Posted on 08/03/2011 12:57:00 PM PDT by Justaham
---
Navigation: use the links below to view more comments.
first previous 1-50, 51-56 last
---
To: Justaham
The guy is so intellectually challenged he doesn't understand economics, and the fact his policies have scared investors away, have seriously scared the world, and the lack of an economic plan that's recognizable by any expert, will destroy this country.
51
posted on
08/03/2011 3:04:48 PM PDT
by
khenrich
(And people thought Jimmy Carter was our worst president........)
---
To: Justaham
No Obama ... you and the Dems hurt the economy!
---
To: RexBeach
No - He is offering us ... "World Peas"
The next time you see a can of sardines, check out the country of origin. Even American sardines may be caught by American fishermen , but processed through foreign companies who "own" the American fishery through "Catch Shares", promulgated through NOAA/ Dept. of Commerce.
The "debt crisis" was manufactured ~ and still another lie !
53
posted on
08/03/2011 4:18:32 PM PDT
by
Tilted Irish Kilt
(We need STATESMEN ,.. and not more flash-mob politicians !!)
---
To: Justaham
Everytime he opens his mouth he hurts my head, I'm suing like he's now suing Alabama for their illegal alien laws. Can all of us with anger and head aches from listennig to his lies sue him? Call it "Left Brained Pseudologia Fantastica Obamitis/severe."
54
posted on
08/03/2011 4:57:14 PM PDT
by
Karliner
("...It is not even the beginning of the end. But it is, perhaps, the end of the beginning." WC)
---
To: Justaham
The AnointedIdiot is truly a clueless idiot.
We should sue the libtard progressive Dems for a false bill of goods given they lied when they proclaimed that the AnointedIdiot was the smartest POTUS we ever had. =.=
---
To: Justaham
Obama... Wanna see what hurt the economy?
Take a good long look....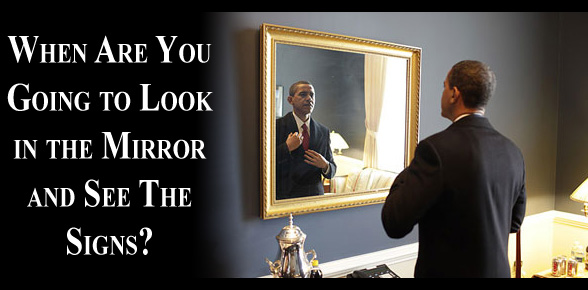 There it is....
It is YOU!

---
Navigation: use the links below to view more comments.
first previous 1-50, 51-56 last
---
---
FreeRepublic.com is powered by software copyright 2000-2008 John Robinson