---
To: conservative98
---
To: conservative98
---
To: conservative98
what no wait for an investigation to see if she was done by him? But but but I thought they said a woman should be believed.
F-IN hypocrites everything what happens is fake outragescircled in politics, along with their fake,lying news.
7
posted on
04/28/2020 10:46:45 AM PDT
by
manc
( If they want so called marriage equality then they should support polygamy too.)
---
To: conservative98
This is about as surprising as Mike Pence endorsing Donald Trump. The question, why did it take Herself so long?
All the other potential female VP choices have jumped in already to get their oaths of fealty to Joe known right away.
Joe has offered to reciprocate with his own version of "feelty". For some females of uncertain age, this is the best offer they got going.
18
posted on
04/28/2020 10:58:32 AM PDT
by
alloysteel
(Freedom is not a matter of life and death. It is much more serious than that..)
---
To: conservative98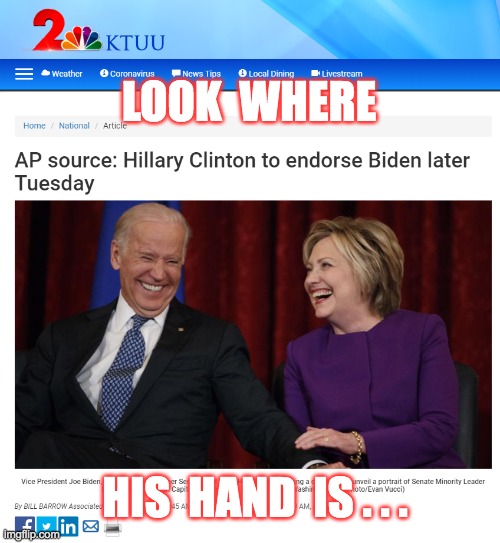 24
posted on
04/28/2020 11:12:53 AM PDT
by
grey_whiskers
(The opinions are solely those of the author and are subject to change with out notice.)
---
FreeRepublic.com is powered by software copyright 2000-2008 John Robinson