---
ACA Grace Period Rule Could Put Physicians at Financial Risk (obamacare)
Medscape ^ | March 20, 2014 | Mark Crane


Posted on 03/20/2014 2:39:09 PM PDT by Stoat
ACA Grace Period Rule Could Put Physicians at Financial Risk
Physician practices could be put at financial risk because of a little-known rule in the Affordable Care Act (ACA) that provides a 3-month grace period for consumers who do not pay their premiums on time, several national medical organizations have complained.
The rule, published by the Centers for Medicare & Medicaid Services (CMS), grants individuals who purchase subsidized coverage through the state insurance exchanges a 90-day grace period before their coverage is cancelled for nonpayment.
During the first 30 days of the grace period, insurance companies are required to pay for any claims submitted. However, insurers are allowed to "pend" any claims submitted during the second and third months of the grace period and may ultimately deny such claims if the consumer does not make the missed payment, the rule states.
Healthcare providers may not be aware that a patient is behind on premiums until after he or she is through the grace period, when the provider is responsible for the bill. Physicians could be on the hook if those claims are denied.
The American Medical Association, along with most national specialty societies and state medical organizations, recently sent a letter to CMS Administrator Marilyn Tavenner to raise concerns about the grace period's effect on physicians. The groups urged CMS to communicate clearly and in a timely manner with physicians when patients enter the first month of the grace period.
"Timely notification that patients have entered the grace period will enable physicians to educate patients about the importance of paying their monthly premiums, as well as help physicians anticipate or mitigate the effect of potential claim denials in months 2 and 3 of the grace period and better manage the financial aspect of the patient encounter," the letter states. "We recommend that CMS require issuers to provide grace period information as soon as a patient enters the first month of the grace period."
The AMA announced new resources to guide physicians on navigating the rule.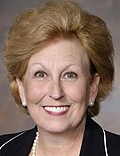 Dr. Ardis Dee Hoven, AMA President
"The grace period rule imposes a risk for uncompensated care on physicians, so the AMA has created resources to help medical practices navigate the key aspects of the rule to minimize its potential negative impact," said AMA President Ardis Dee Hoven, MD.
"Managing risk is typically a role for insurers, but the grace period rule transfers two thirds of that risk from the insurers to physicians and healthcare providers," Dr. Hoven said.
The resources outline key issues associated with the grace period and provide guidance on administrative policies, financial agreements, and communications with patients and insurers. A sample letter to patients is included.
---
TOPICS: Business/Economy; Culture/Society; Government; News/Current Events
KEYWORDS: democratcare; doctors; donkeycare; healthcare; jackasscare; medicine; obamacare; physicans; zerocare
---
---
---
---
---
---
---
---
---
---
---