---
Join Us in Saluting the Last Wounded Warrior Dinner Bus at Walter Reed On Friday, July 29, 2011!
July 1, 2011 | Kburi


Posted on 07/01/2011 10:50:22 AM PDT by kburi

On Friday, July 29, 2011, the Wounded Warrior Dinner Bus is scheduled to make its last run at Walter Reed. After this date, dinner buses will operate from Bethesda National Medical Center. The Aleethia Foundation has been running these Friday night dinner buses for seven years and will continue to do so.
As we get closer to Walter Reed's closing date, we will keep all of you informed of changes.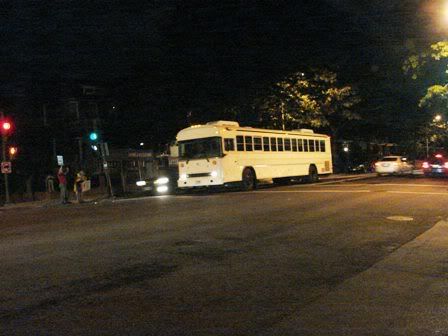 July / August Calendar

July 1st No Dinner Bus (This is the 4th of July weekend)

July 8, July 15, July 22, and July 29 Dinner Buses will operate.

The DC Chapter of Free Republic invites all who have participated over the past 6 ½ years to join us on any the above dates that you can. July 29th should be especially meaningful.

July 27 Closing Ceremony - Lowering of the Colors at Walter Reed

August 5, 12, 19, and 26 We will continue at the front gates until the last wounded warriors are moved to Bethesda.

It is possible that dinner buses may operate after July 29, until early August, but for those who want to be certain to be there when the dinner bus returns with the soldiers, please plan to join us in July.
The DC Chapter of Free Republic will be there to show support to our wounded warriors and their families and we ask you to join us at the front gates of Walter Reed, on Georgia Avenue during these final weeks.
---
TOPICS: Activism/Chapters; Announcements; US: Maryland
KEYWORDS: walterreed
---
---
---
---
---
---
---
---
---