---
Mitt Romney draws 18,000 to final Colorado campaign visit
Twitchy ^ | 11/3/12 | Brett Taylor


Posted on 11/03/2012 7:33:48 PM PDT by markomalley

Last night, Twitchy brought you updates from the #RomneyOhioMegaRally that drew 30,000 supporters to West Chester, Ohio to see the GOP candidate "lose ugly" and "close angry" in front of a "low energy" audience (according to Obama campaign staffers and an AP reporter, that is). Tonight, Romney appeared before a crowd of 18,000 in Englewood, Colo.
For what it's worth, Obama for America's Lis Smith rated Romney as "downcast" and "well short of confident."
.@MittRomney seems almost downcast at his CO event. Big contrast w/@BarackObama's positive energy in Milwaukee.—
Lis Smith (@Lis_Smith) November 03, 2012
.@MittRomney keeps mentioning "confidence" in his CO speech, but he seems well short of confident today…—
Lis Smith (@Lis_Smith) November 03, 2012
If so, Romney seemed to hide it well for the photos, at least. Maybe this is why he looks downcast.
Mitt Romney's eyes appear to tear up as he looks out at crowd in Englewood, Colo.—
Philip Rucker (@PhilipRucker) November 04, 2012
And yes, it was quite a crowd.
Great panorama shot of crowd. Just amazing how big and excited this Colorado crowd is. #RomneyRyan2012 http://t.co/fmi8Iipl—
Mitt's Body Man (@dgjackson) November 04, 2012

Big crowd for Romney @ Fiddler's Green in Colorado. http://t.co/UPVJGBG9—
Craig W Robbins (@crwrobbins) November 03, 2012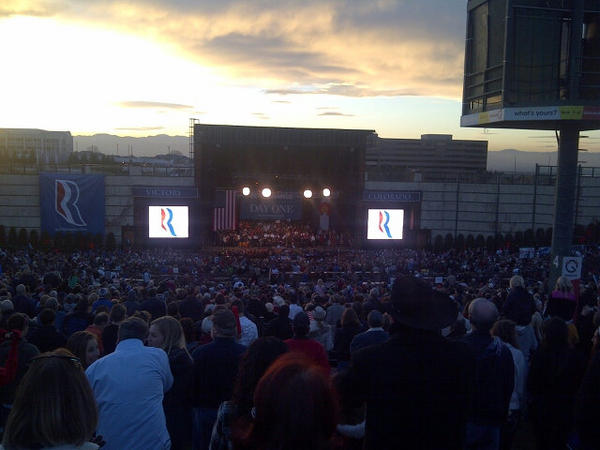 SNUGGLE: Ann Romney hugs Mitt onstage at campaign rally Englewood, Colo. via @AP http://t.co/CQAYCgJK—
Charles Dharapak (@CharlesDharapak) November 04, 2012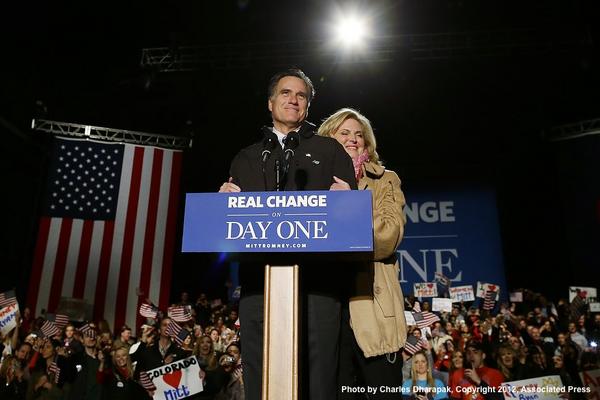 RT @dgjackson: Gov says hello to some Olympic athletes backstage in Colorado Springs. http://t.co/5I8qwQnX—
Sarah Huisenga (@SarahH_CBSNJ) November 04, 2012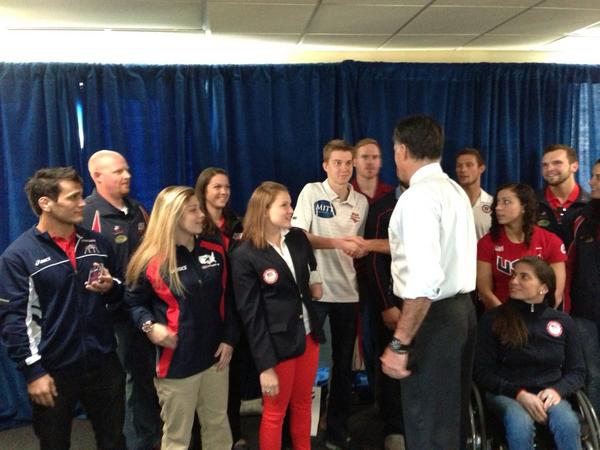 On Sunday, Romney will attend rallies in Iowa, Pennsylvania and Ohio.

---
TOPICS:
Politics
KEYWORDS:
---
---
---
---
---
---
---
---
---
---
---
---
---
---
---
---
---