I live in southern California (Port Hueneme), was born here (Garden Grove).
I am a Vietnam Veteran. I served on the Mekong Delta 1970 - 1971. Here are the medals that I earned:
National Defense Service Medal
Good Conduct Medal
Navy "E" Ribbon
Expert Pistol Shot Ribbon
Vietnam Service Medal
Republic of Vietnam Campaign Medal
Combat Action Ribbon
Meritorious Unit Commendation
Republic of Vietnam Gallantry Cross
I served on the Mekong Delta with PBR's like these for a year (1970 - 1971)
I enjoy Free Republic very much and appreciate meeting and having discussions with like minded (mostly) conservatives.
I am married with four children, 2 boys and 2 girls.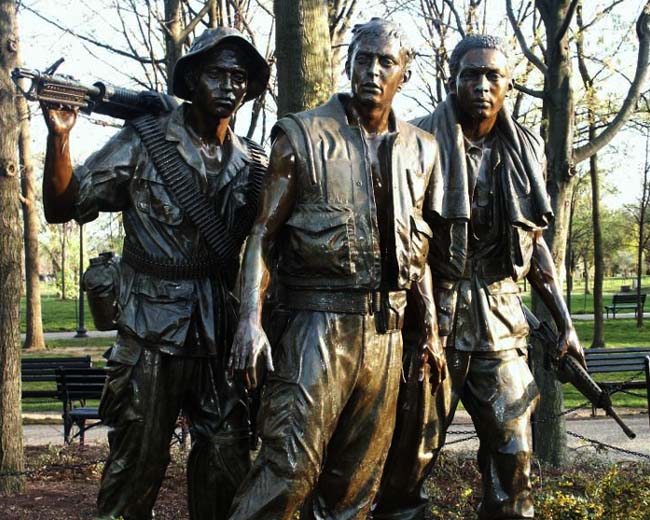 There are still, as of August 2004, one-thousand nine-hundred forty-seven (1,947) Missing In Action in Vietnam
I hope that John Kerry burns in hell for the harm that he did to honorable Veterans and POW's
This is where I live, Port Hueneme, California
Upon leaving Vietnam after a one year tour (unlike Kerry) I came back to Vietnam and spent a LONG nine-months off the coast of Vietnam (again un-like Kerry who only spent 5 weeks off the coast)aboard the USS Flint AE-32 pictured below. I am a Plank-Owner. I spent three years aboard the USS Flint.
I spent a year (1975) on isolated duty on an island called Diego Garcia. The below pictures show the island. I lived in a ply-wood hooch on the beach. It was one of the most beautiful places I have ever seen, however, a year is a long time to be isolated in such a small place.
This is a Coconut Crab in Diego Garcia. They would get as big as a small dog with pinchers strong enough to snap a broom handle. They could open a coconut husk and then the coconut, and get at the meat.
I also served 3 years in Guam working aboard the USS Proteus, a submarine tender, (pictured below). The Proteus was tied-up in Guam and performed maintenance on SSBN submarines.
In my 11 years of service in the United States Navy I have been to Hawaii, Guam, Wake Island, Japan, Bankock Tialand, Singapore, Tiawan, Vietnam, The Phillipens, Panama, Diego Garcia (BIOT), and some undiscolsed locations.
I have also been to Eruope and South America, and I can tell you from personal first-hand experience, the United States is the best country on the face of this planet. We owe it to our children and our children's children not to let the Liberal Socialists screw it up.