Teófilo

Since Feb 24, 2005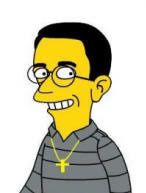 This is Teófilo greeting you, and this is a "Simpsonized" likeness of myself. Click here! if you want to find out more about me, o si hablas y lees en español, visita esta otra página.
Or, you may visit one or every one of my blogs:
Vivificat! - Flagship blog on News, Opinion, Commentary, and Reflections from a personal Catholic perspective.
Vivificat! en Español - Spanish edition of Vivificat, targeted to a Spanish-reading audience; it's content often does not mirror the English version.
Follow me on Facebook!
Check out my Google Plus Page or follow me on Twitter!
Read also the The Vivificat Daily Chronicle or any one of my six Flipboard magazines!
Check out also my Personal Mission Statement