My handle "SPUNKY" means "dogged courage".
Thats what I had "Spunk" when I took back my son's car from four Mexican males (probably illegals) who somehow had gotten possession of it without my son's permission. I drove all over town and finally spotted the car at a motel. I then rushed home and got the title to the car and went back to the motel and waited. After waiting awhile I saw four Mexican males come out of the motel and get into the car. I followed them to a local McDonalds.
With the car title in my hand I approached one of them while he was at the counter ordering. I placed the title to the car on the counter and said; "Give me the keys". He gave me the keys and then asked me to come outside to discuss this matter. I declined and stayed in the McDonalds drinking coffee until they had called someone and unloaded their stuff and left in another car. I was shaking like a leaf when I finally left, driving my sons car away from there as fast as I could.
The lesson they learned is don't mess with this "SPUNKY" Grandma..
THOSE WERE THE DAYS. (1955)
I live in the state of
WASHINGTON
THE STATE THAT ALLOWED FOUR YOUNG FIREFIGHTERS TO PERISH DUE TO THE
ENDANGERED SPECIES ACT
From Fox News Report Hannity and Colmes program,
William La Jeunesse said; "Shawn, what I want to say, this was brought under Section 7 of the Endangered Species Act. There was and amendment to the forest plan in the Pacific Northwest United States that applied to Washington, Oregon, Idaho. Not just this forest, and what it says and I am quoting right now "If helicopter operations must take place, quote, "within a Riperian habitat conservation area, (that is a stream,) AN EXEMPTION MUST BE GRANTED BY A RESOURCE ADVISOR, (thats a biologist,) with the advoidence of adverse effects to listed species as a primary goal."


JACKIE JOHNSTON / THE ASSOCIATED PRESS
Plumes of smoke and flame billow up from a fire in the Chewuch River Valley near Winthrop on July 11. The blaze, part of the Thirty Mile Fire, took the lives of four firefighters a day earlier. More than 10,000 acres have been consumed in the wildfire. It took until July 18 before emergency officials felt they had the upper hand in combating the blaze.
IN MEMORY
OF THOSE WHO PERISHED
(Click Here) Tom Craven, 30 yrs.
(Click Here) Jessica Johnson, 19 yrs.
(Click Here) Devin Weaver, 21 yrs.
(Click Here)Karen FitzPatrick, 18 yrs.
To have gained the mountain top
only to be unable to see the
sun come up in the morning
as it starts its race to
the western horizon
why then was I given the strength
to climb if not the ability
to enjoy the beauty after
I had arrived?
by R. Dieghton

Man has rights of being
so be they given to all
here and for the day after tomorrow
yesterday was the time and today
grows too late
if you have not
the mouth to speak
write
by R. Dieghton
For further information go to this site.
ENDANGERED SPECIES ACT may be RESPONSIBLE FOR THE DEATHS OF FOUR FIRE FIGHTERS
(THREAD II)
PEOPLE FIRST!
KILL THE ENDANGERED SPECIES ACT (click)
911 EMERGENCY AT WTC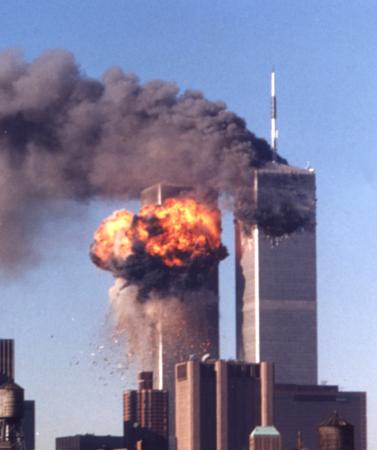 WE HAVE BEEN ATTACKED BY TERRORISTS
BUT, WE SHALL NOT BE AFRAID FOR,
"Fear is to warn us of danger, not make us afraid of it."

— David Abramovitz, "The Highlander".
"Tonight, we are a country awakened to danger and called to defend freedom. Our grief has turned to anger and anger to resolution. Whether we bring our enemies to justice or bring justice to our enemies, justice will be done." "We have suffered great loss. And in our grief and anger, we have found our mission and our moment. . . . We will not tire, we will not falter and we will not fail."
— President George W. Bush - 9/20/01
NEW YORK and OSLO, NORWAY
"When I take action, I'm not going to fire a $2 million missile at a $10 empty tent and hit a camel in the butt. It's going to be decisive."
President George W. Bush
"IT'S GOD'S RESPONSIBILITY TO FORGIVE BIN LADEN."
"IT'S OUR RESPONSIBILITY TO ARRANGE THE MEETING"
United States Marine Corps
"War is an ugly thing but not the ugliest of things; the decayed and degraded state of moral and patriotic feelings which thinks that nothing is worth war is much worse. A man who has nothing for which he is willing to fight, nothing which is more important than his own personal safety, is a miserable creature and has no chance of being free unless made and kept so by the exertions of better men than himself."
John Stuart Mill
President George W. Bush 3/6/03
"My job is to protect America, and that is exactly what I'm going to do. People can ascribe all kinds of intentions. I swore to protect and defend the Constitution; that's what I swore to do. I put my hand on the Bible and took that oath, and that's exactly what I am going to do."
President Bush addressed the nation at 8:00 p.m. ET on 3/17/03. He said Saddam had 48 hours to get out of Iraq.

BOOM!


First OSAMA BIN LADEN and now SADDAM HUSSIEN
SPLAT!!!!
"OPERATION IRAQI FREEDOM"starts as "SHOCK AND AWE" hits at 5:35 a.m. on 3/20/03 Baghdad Time
OPERATION RED DAWN
ON DECEMBER 14, 2003 SADDAM WAS FOUND IN HIS RAT HOLE
WE DID IT AGAIN!

BOOM!

Abu Musab Al-Zarqawi
June 7th, 2006
HE IS DEAD FOR SURE
911
WTC MURAL IN IRAQ found by coalition forces. They couldn't bear to look.
French Anti-war protesters vandalise WWI memorial 4/2/03
The memorial at Etaples, near Boulogne on the Channel coast, was daubed in red paint with slogans including "Rosbeefs [British] go home", "Saddam will win and he will make you bleed" and "Dig up your rubbish, it is contaminating our soil".Some 11,000 British servicemen and women are buried at the cemetery, most of whom died defending France in the first world war.
BAGHDAD, Iraq (April 7, 2003) -- U.S. forces in tanks and armored vehicles stormed into the center of Baghdad on Monday, seizing one of Saddam Hussein's palaces in a bold daylight raid aimed at demonstrating the Americans can come and go as they please.
Soldiers resting in Saddam's Palace
NOW SOMETHING ABOUT MY HOME TOWN
The Tri-Cities
Pasco, Kennewick, Richland, Washington
Where the Plutonium for the Atomic Bomb was made.
Where the 9,200 year old bones of Kennewick Man were discovered.
Where they have the Hydroplane races every July
Where the comet Hale-Bopp passed over.
And last but not least where then Govenor Bush came to visit
while campaigning for President of the United States in 2000
The Hanford Reach near the shut-down H Reactor across from White Bluffs.
With Clover Island in the foreground, a sunset casts a golden glow onto the cable bridge recently as storm clouds pass over the Tri-Cities, creating a rainbow.
Herald/Molly Van Wagner
A dusting of snow sparkles on Rattlesnake Mountain as a flock of Canada geese flies over the Columbia River. Rattlesnake Mountain is included in the Arid Lands Ecology Reserve at Hanford, which is one of five places in the state being considered for designation as a globally important bird area.
Herald/Richard Dickin
Motorists traveling on Interstate 182 near Road 100 in Pasco get a clear view of snowcapped Rattlesnake Mountain.
Herald Photo
I was homeschooling my grandson during the time Bush was campaigning for President so I took my grandson to see him. After Bush spoke and after almost all the people had left, I followed a small crowd down a corridor. We arrived at a blocked off area and was told we could not go past it. Bush was in a room speaking to the media and State representatives. We waited for about an hour and then Bush came out and I asked if he would take a picture with my grandson. As you can see he did. :-)
DEM BONES, DEM BONES, DEM OLD BONES
On July 29, 1996, 21 year old, Will Thomas, and 19 year old, Dave Deacy, were waiting for the Columbia Cup Hydroplane races to begin. Will was wading about 10 feet offshore, he hit something round with his foot. Jokingly he shouted to Dave; "Hey, we have a human head." He reached his hand about 1 1/2 feet underwater and grabbed what felt like a big rock. He pulled it out of the water. It was round. It was brown. "All of a sudden, I saw teeth," Will Thomas said. He then realized it was a skull. The hydroplane races were due to start so they laid the skull on the bank until the races were over. At the end of the races they notified the police.
AND THE REST IS HISTORY. (click)
Kennewick Man Virtual Interpretive Center (click)
MEET KENNEWICK MAN

Tom McClelland of Richland shows the skull casting of Kennewick Man. He and anthropologist Jim Chatters used to re-create the facial features of the 9,200-year-old discovery.
Herald/André Ranieri


An aerial view shows the area of Columbia Park where Kennewick Man was found in July 1996.
Herald/Bob Brawdy
This area is almost straight across the river from where I live in
Pasco, Washington


The site where Kennewick Man was discovered in July 1996 is overgrown with vegetation in July 1998, four months after the Army Corps of Engineers covered the area with dirt and burlap.
Herald/Bob Brawdy
Scientists wanted to be able to study the area further, before the Army Corp of Engineers covered the site over. So our Congressman, Doc Hastings entered a bill to put a stop to the Army Corps covering of the site. The bill passed in the House and in the Senate, but before the vote could be recorded the Army Corp of Engineers (by someones directive) went ahead and covered the site with rocks, burlap, and vegetation so that no one will ever be able to go in and study the site.
2005 Columbia Cup
Sunday, July 31,


Jean Theoret and the U-8 Llumar Window Film pass in front of
the Franklin County fans on the shores of the Columbia River
on Sunday.
Herald photo


Mike Weber leads the U-5 FormulaBoats.com down the Columbia River
with a curtain of roostertail in the background
Sunday during the final heat of the Columbia Cup.
Herald photo


Dave Villwock pops open the cockpit on the Miss Elam
on Sunday after winning the Columbia Cup for the fifth time.
It was his first for owner Erick Ellstrom.
Villwock won with the Miss Budweiser in 1998, 1999 and 2004.
He also in 1996, driving Fred Leland's PICO American Dream.
Herald photo




The Hale-Bopp comet is visible in the evening skies
My husband, myself, and our grandchildren took a drive out of town, where there were no lights, so we could watch this spectacular comet pass over.
Like so many things in life, it comes, leaves an impression, then is gone, never more to be seen by our eyes again.


HOPE YOU ENJOYED YOUR VISIT. COME AGAIN SOON. SPUNKY