Hi, folks welcome to my home page.
I used to host the Weekly Gardening Thread here on FR. I transfered the Weekly Garden thread over to FReeper JustaDumbBlonde because I was moving and did not know if I was going to be able to have a garden at my new location. She posts the thread every Friday morning.
I am just a newbie at gardening and not an expert in any way. That is why I restarted the Gardening thread, so I could learn and get advice from the many expert gardeners here at FR. There are gardeners who are just starting out to expert Master Gardeners who contribute to the thread every week. Stop by every once in a while and enjoy the thread.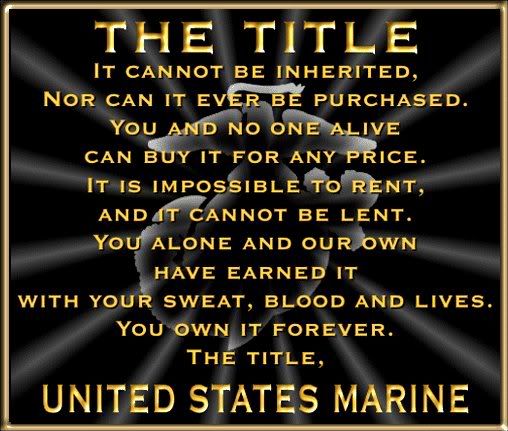 Just your normal Viet Vet (Danang), VMFA 232 (Red Devils), Phantom Phixer (F4-J)
The Red Devils are the oldest and most decorated fighter squadron in the Marine Corps. The Squadron first stood up on September 1, 1925 at Naval Air Station, San Diego. Over the years, the squadron designation varied, the aircraft became newer and more capable, and home bases changed. But the spirit of the Red Devils carries on.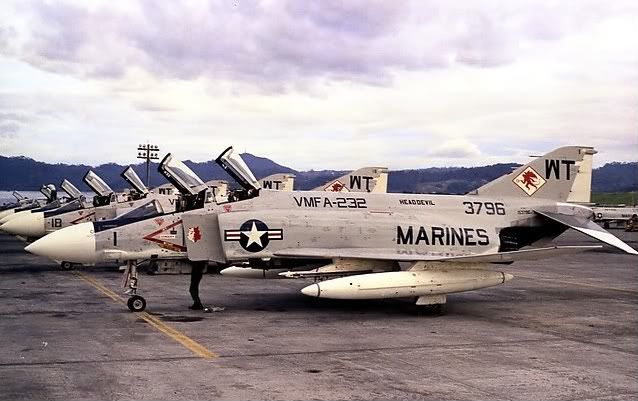 Smithsonian National Air and Space Museum has one my Squadron's Phantom IIs on display (below). Sure is beautiful all polished and dressed up, compared to its work clothes above.
I thought I would add a few pictures of my Father. He is the reason I became a Marine. He was a career Marine for 25 years. He retired in 1963 because he was recruited by a former commanding officer to join the the U.S. State Dept. (USAID) to go to Laos and and help supply/advise the Laotian Army and Air Force. He spent the next ten years (with his family) in Laos. 35 years serving this country during WWII, Korea and the Vietnam. He had three brothers who were all either career Air Force, Navy or Marine. They have all passed away, my Father was 89 in 2006 when he died. My Wife says he was the kindest person she ever met. I agree.
My Mother was out of the same type of mold. When we were living in Laos I was sent back to the States to go to school and I returned to Laos during the summers (until I graduated and joined the Marines). At one point when I was complaining about my situation she told me that her place and duty was to be with my Father and that I needed to grow up. She said it was time to cut the apron strings. She was right.
1940 Treasure Island - My Father is on the right. My Mother and Father when they were dating - San Francisco. She was a Telephone Operator.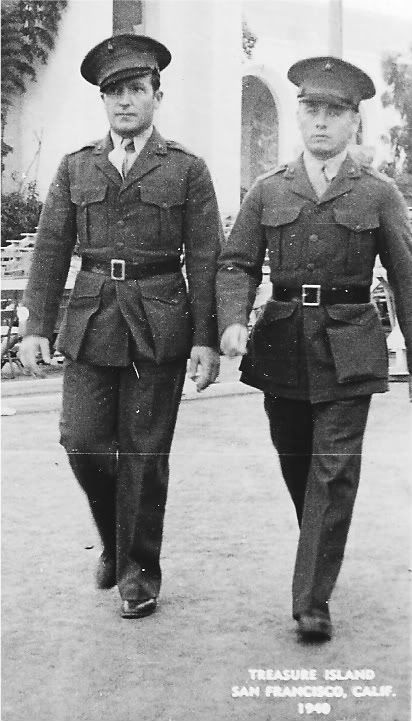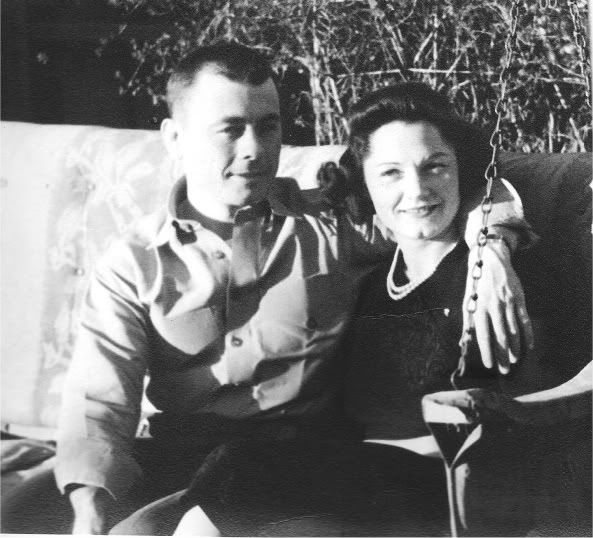 My Father (right) and his youngest Brother during a reunion. They
met up on a Pacific island during WWII. His brother had been wounded
and was recuperating.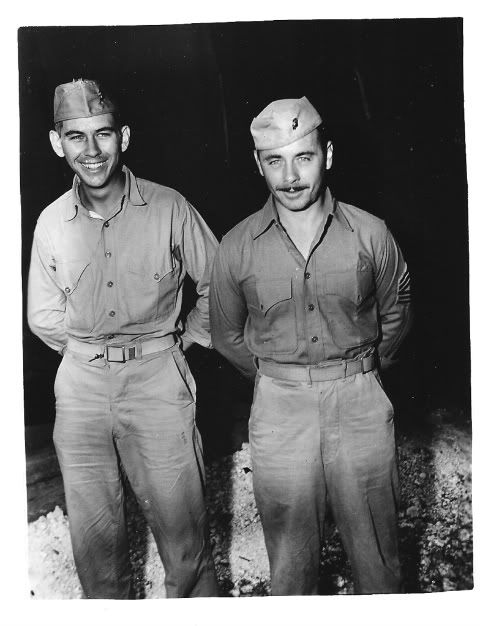 My Father. I am not sure of the location but think it was Korea.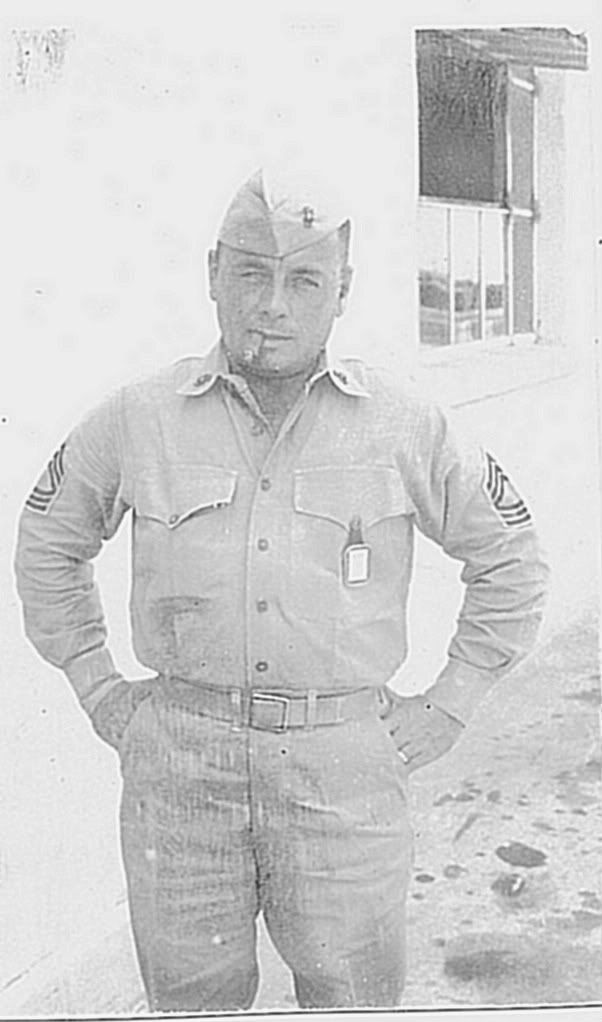 This is my Mother holding me in one of her favorite places to visit, her Aunt Dale's garden somewhere near Placerville Ca. Aunt Dale had the most amazing place full of every plant you can imagine - vegetables to flowers.
I remember visiting Aunt Dale's place when I was a little older - the place was always full of bees! Sorry about the quality of the photos - they are scanned from Kodachrome slides.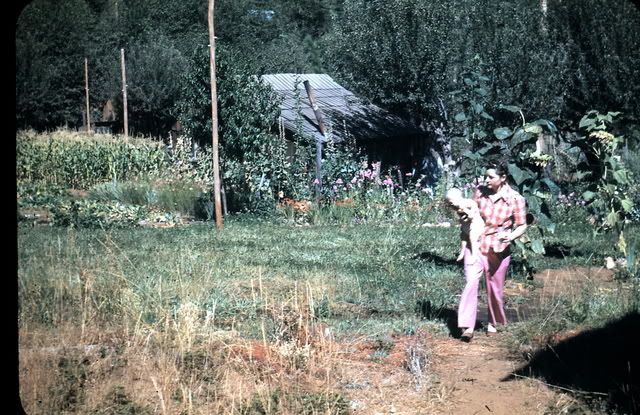 Another view of my Great Aunt Dale's homestead - Stuff just growing every where she decided to plant it!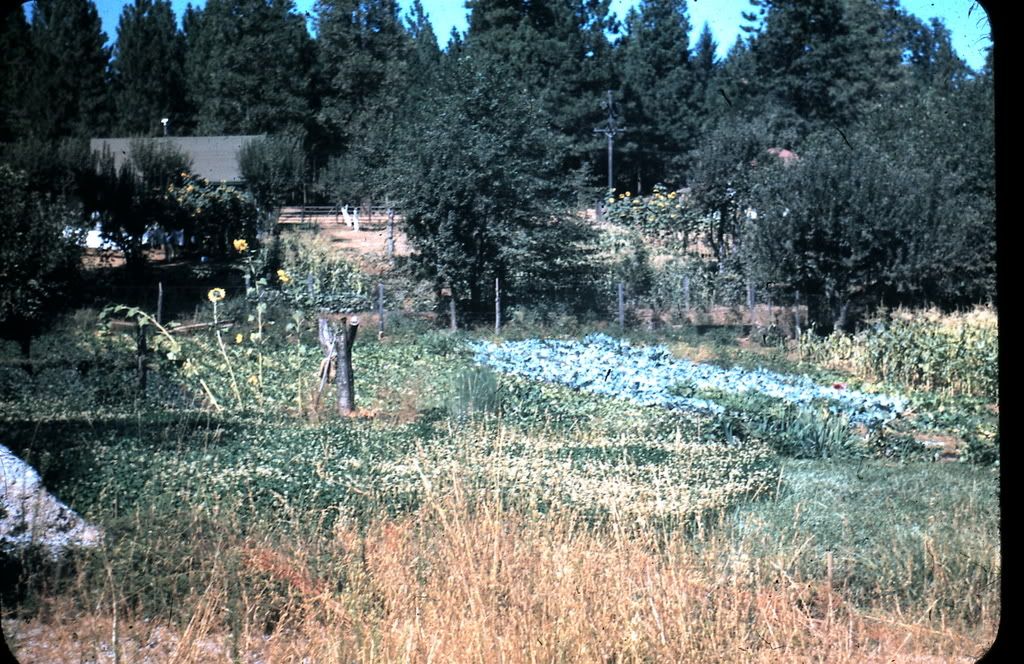 Me (right) in front of our sandbag bunker in Da Nang.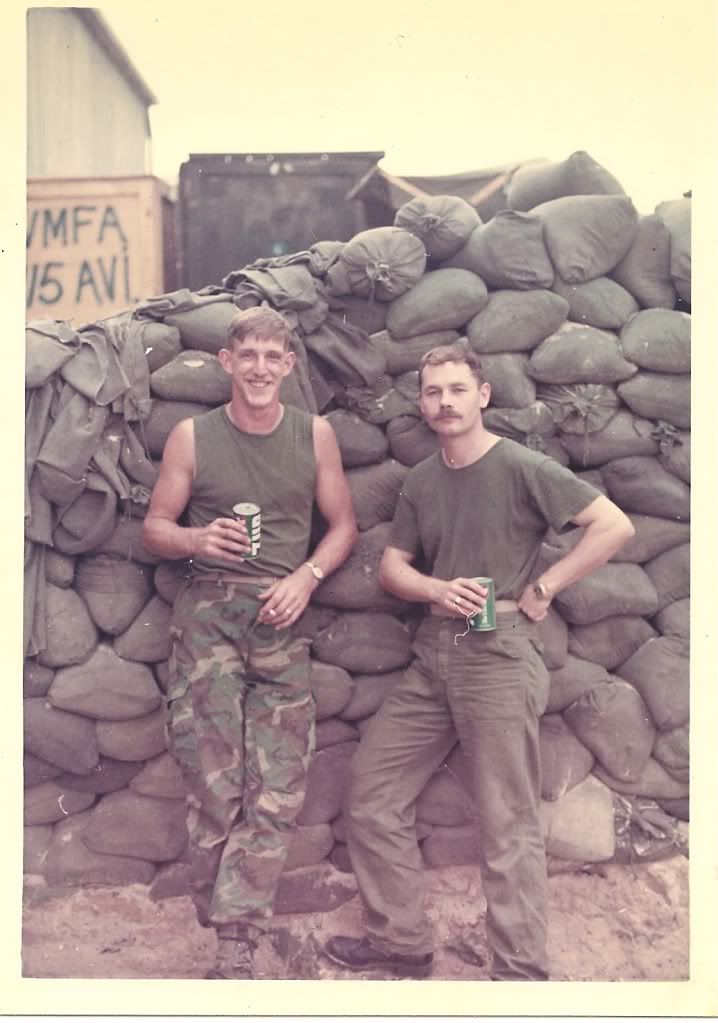 My wife, me and our two Irish Setter pups in 2004. I am holding Aladdin (male) and she is holding Cashmere (female).
The pups are litter mates ... Aladdin weighs in at 125 lbs and Cashmere is 85 lbs now (2008).
My Expanded 2009 Small Garden - 20 ft. x 36 ft. fenced area. (Last years garden pictures are below this set of pictures for comparison)

This year I decided to expand my garden and do a little experimentation with drip irrigation using PVC pipe. I also decided to use Landscape Fabric over the entire cultivated area. I decided to use the landscape fabric after seeing pictures of FReeper JustaDumbBlonde 's garden and her suggestion on where to purchase.
To do the first breaking up of the sod and hard ground I rented a commercial type tiller, which was worth the $38. I could have done it with my little tiller but it would have been a very rough week of work. With the rented tiller it was just a rough day of work! The rest of the tilling I did with my tiller. I think I completely tilled the area four times before I added my compost pile. This took me about a month to do because of rains and such. In the back ground you can see my compost pile. I started it last October with fall leaves and grass clippings.
This photo was taken on 3-9-09. It is after I had already tilled with the rental tiller, what a brut, and once with my tiller. I was raking all the grass and roots out after each tilling. I got 2 wheelbarrows loads after the rental tilling and each time I tilled with my tiller I got another wheelbarrow load of roots and grass.
This picture was taken on 04-10-09 after much raking and after the fourth tilling and before adding the compost.
The compost pile is seen at the back. My little tiller is on the right.
My compost pile that I started last Oct. The majority was tilled into the garden area and about 3 wheelbarrow loads were tilled into my watermelon patch. The light colored section on the left was not ready and is part of my new compost pile started this spring. The dark nice looking compost area is about 11 ft. long and 5 ft. wide at the base and is about 3 ft. high. That is a lot of good stuff for my garden!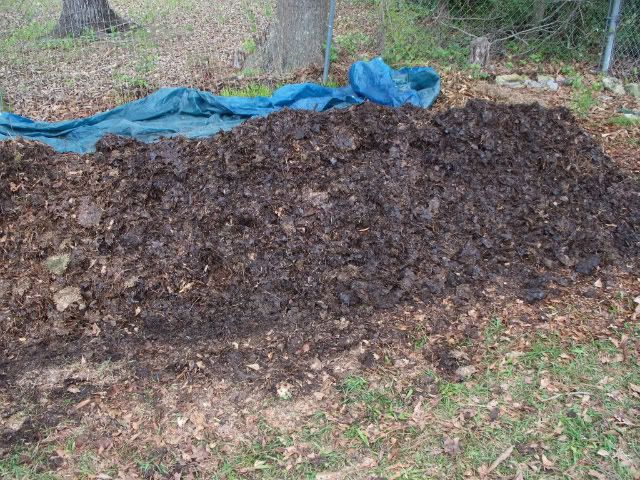 This is after I tilled in my compost and installed my PVC drip irrigation system. Each of the areas is basically a 15x15 ft. square.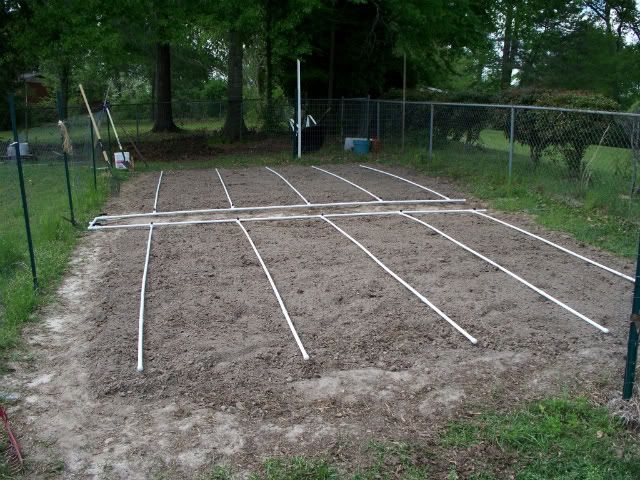 The two main supply lines are 3/4" PVC. These lines and valves are glued. The side feeder lines are 1/2 PVC spaced 3 ft. apart. They are just dry fitted into each valve so that I can remove or switch around spacing of the drip holes depending on plant spacing. All the valves allow me to deliver water amounts depending on the plants in each row.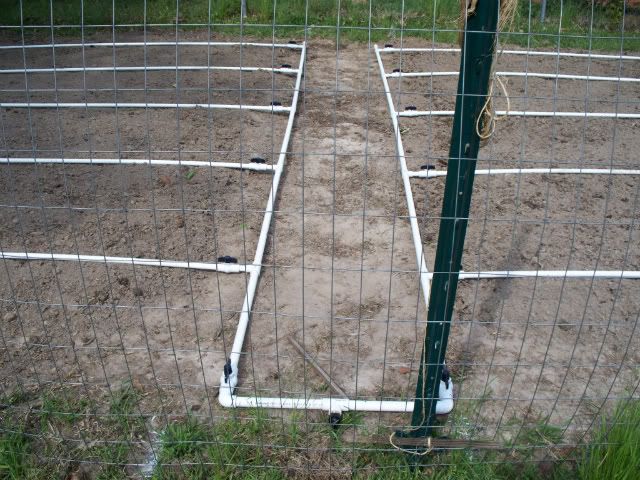 This is my first test of the drip system. I ran the water for about 5 min. just to make sure each side feeder and drip hole location was working properly. The first two lines on the left have drip holes spaced at 2 ft. this is for my hot peppers. The three on the right have drip hole spacing of 3 ft. for my tomatoes. There are 3 holes at each location spaced 3 inches apart. The holes are drilled with a 1/16 drill bit. One good thing about the drip system is I don't have to create raised rows and with furrows in-between. I can leave the garden flat.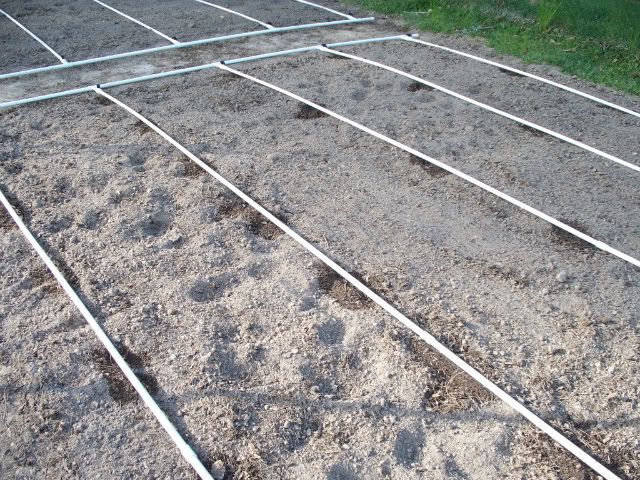 Showing the Landscape Fabric installed and all of my plants in place. The mist from a light morning fog was just lifting. I will be putting a mulch over the fabric. I started one part of the mulch to show how it will look. In the foreground you can see a pile of 8 ft. long stakes I will use for my tomatoes. A good friend had cut down a wind damaged poplar tree last year and cut the tree up for lumber. He and I cut the stakes out of the left over scraps (culled bark area). In the back you can see the start of my new compost pile.
Hey, JustaDumbBlonde, I was going to use rebar for the new tomato stakes like you posted of your garden but darn the rebar was almost $7 for a ten foot section and would have cost me over $150 after taxes. I opted for the free stakes my friend offered.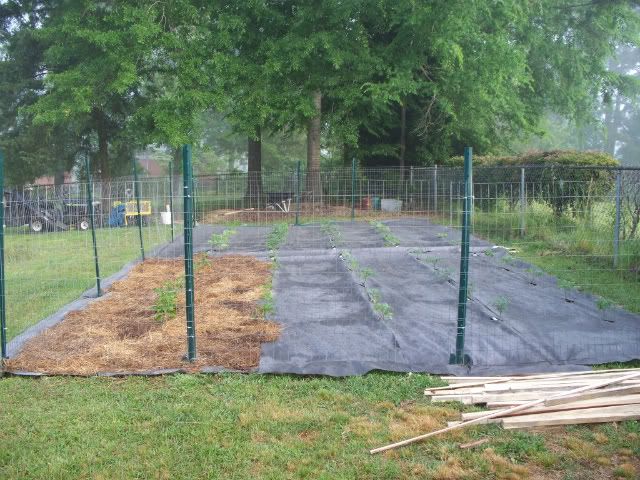 Another view of the installed Landscape Fabric and plants. I used large holes where the plants are planted so I can easily check the water delivery through the drip irrigation system.
The Moisture on the fabric is from the morning dew.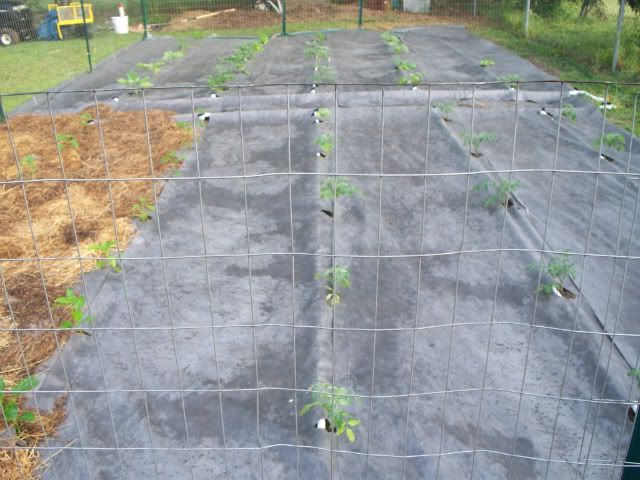 The obligatory picture of Cashmere. She has been constantly by my side during all this garden work. She enjoyed digging in the tilled garden, while the fence was down, and planting her Milk Bones. Now she and Aladdin are fenced out. Sad. Once the garden gets going and the plants are big enough Cashmere and Aladdin will be allowed in when I am there.
Wide View Of New Garden Area (from down the hill. Same view as the one of my 2008 garden).
And of course Cashmere. She was just walking around and when she saw the camera she sat down and posed!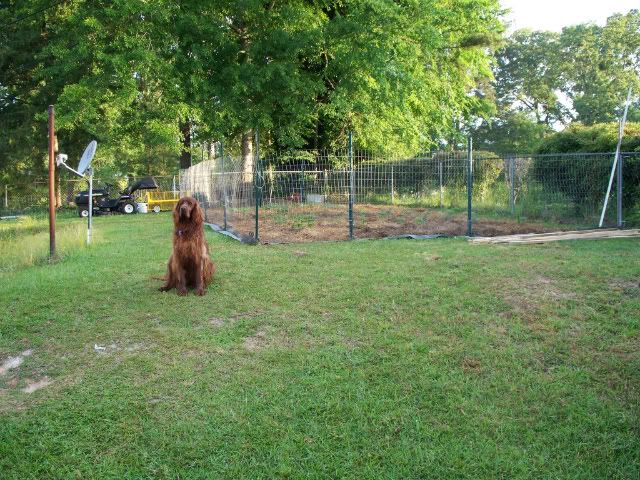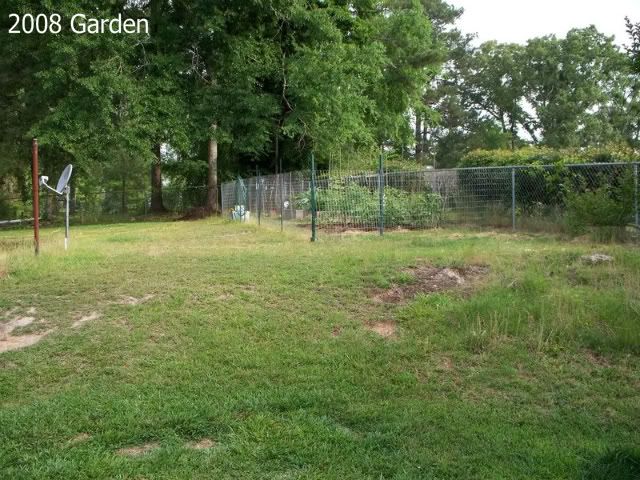 Here are a couple of links to information on how the PVC Drip Irrigation System works and ideas on how to designe one. The video is not very high quality but it shows all the basics.
Video of how a PVC drip irrigation system is constructed and how it works
PDF File on how the system can be set up for different situations


This is 7 days (May 4, 09) after the pictures above. Everything is looking good.
The zukes and cukes have flowers as do most all the other plants.
The only one not blooming are the eggplants and a couple of the hot peppers

Compost Tea - Two 5 gallon buckets bubbling away on day 3. I will be applying this to the root area of all my plants.
The pictures below were taken June 16, 2009. On the left is a wide view of the garden. The one on the right is of my row of Marion tomatoes.


A picture of what I harvested that morning. There are 4 different peppers - everything is sitting on mess of Jalapenos on top are Anaheims, Cayennes and Habaneros. The Romas are the first tomatoes to have ripened there is also a cucumber and a zucchini. On the right is a picture of one of my Eggplants. These will be about the right size for me in about a week.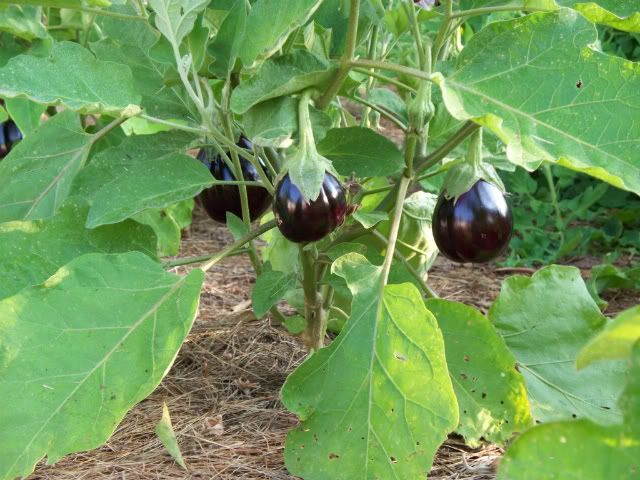 A picture (right) of the tomatoes and Habanero Peppers I harvested from Sunday, 5 July until this morning Tuesday 7 July. For the most part the older tomatoes are to the back of each row. The ripe ones in the back get canned today! From left to right Roma, Marion, Early Girl, (gulp) Habanero peppers, and wonderful pink Arkansas Travelers. In the center is a very ripe Marion Tomato sitting on an 8 ounce container of sour cream (to show size) - man these guys are prolific and very tasty. Nice slicers!
On the right is a picture of the garden - peppers are in the row on the left, then Marion - Early Girl - and Arkansas Traveler tomatoes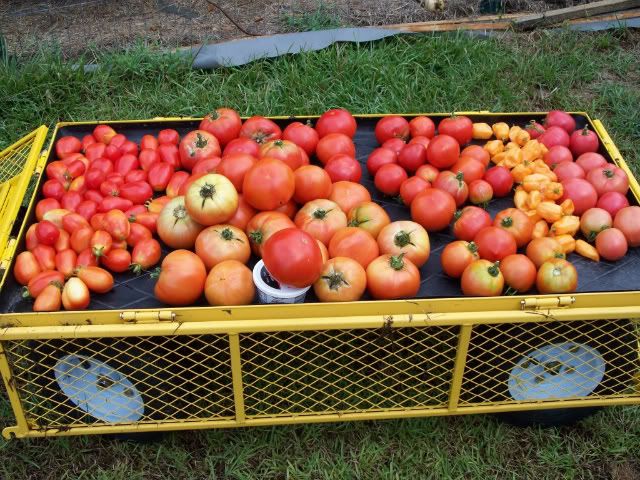 A picture of my Tabasco Peppers on the left And the dreaded Habanero Pepper - what do I do with these guys?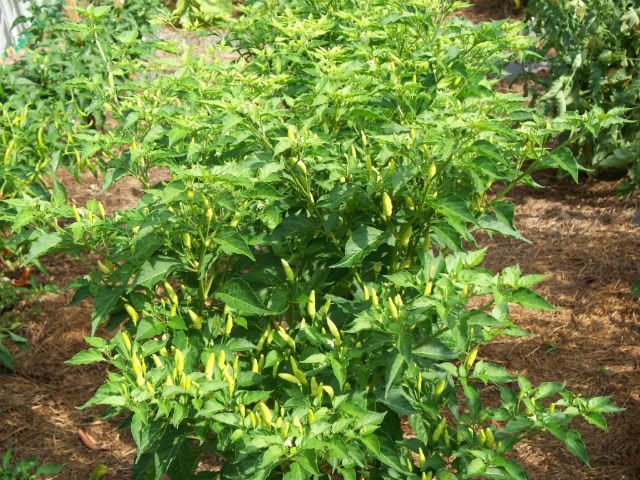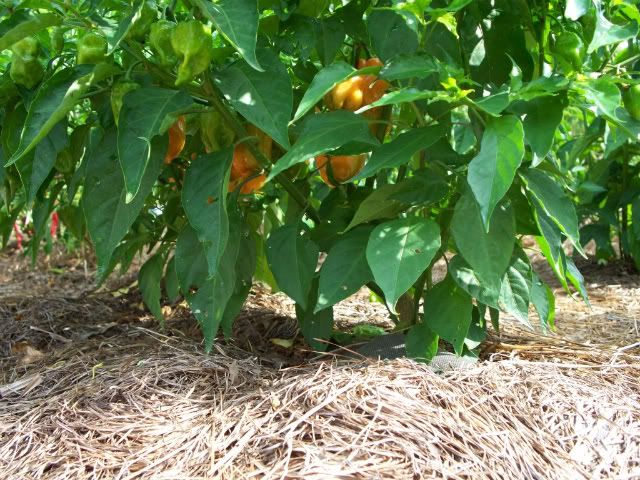 Pear Trees - Two of my pear trees bloomed in very early spring. They have fruit now.
The one on the left is a Pineapple pear and on the right is a Baldwin.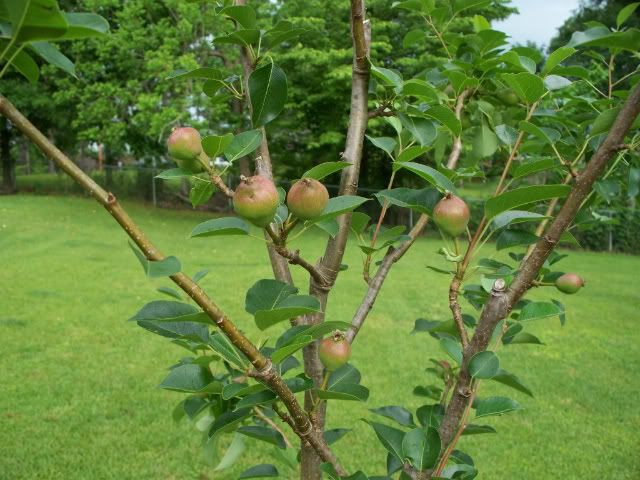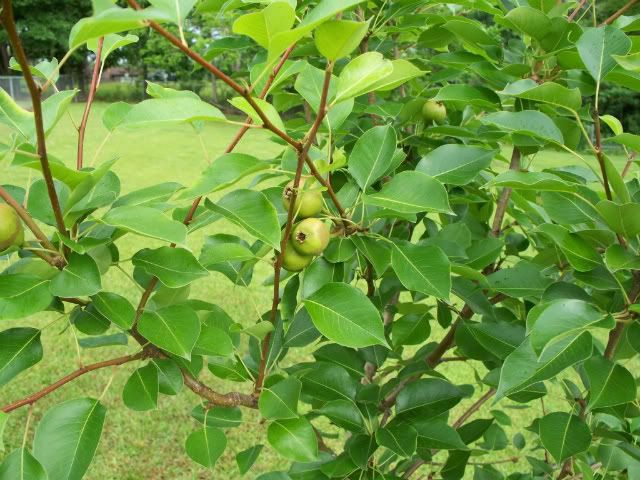 My Fig trees did not survive the winter and heavy rains. Whoa! The picture on the left was taken May 4. I thought I had lost my Figs. Look what the picture, taken May 22, on the right shows! New growth! Yeah! My other fig trees are doing the same!
The Pictures Below Are Of My 2008 Garden, Fig and Pear Trees, and Irish Setters. 5-14-08
Aladdin (Big Guy) and Cashmere. Aladdin did not want to be there and he was ready to bolt! Aladdin is the rugged unkempt type ... he hates baths and combs and this spot I sat him in is where we take them to give them baths. Cashmere loves baths and brushes and combs ... but she rules the roost! You should see her running ... poetry! Aladdin just lopes along, kinda like he is saying, "I will get there when I get there".
Cashmere who now has a Fig tree named after her.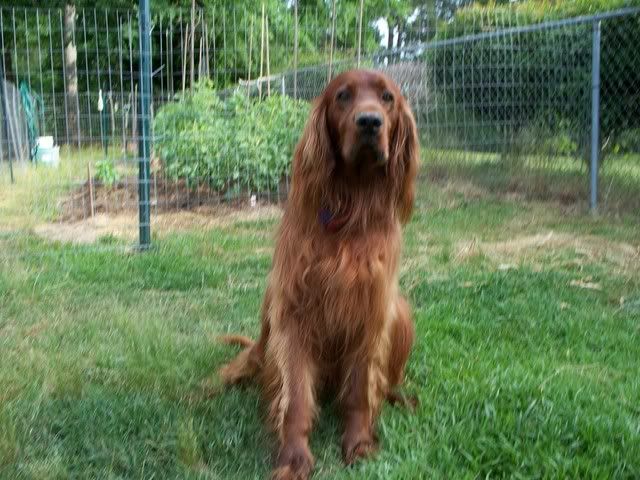 Wide View Of My Small Garden Area (from down the hill)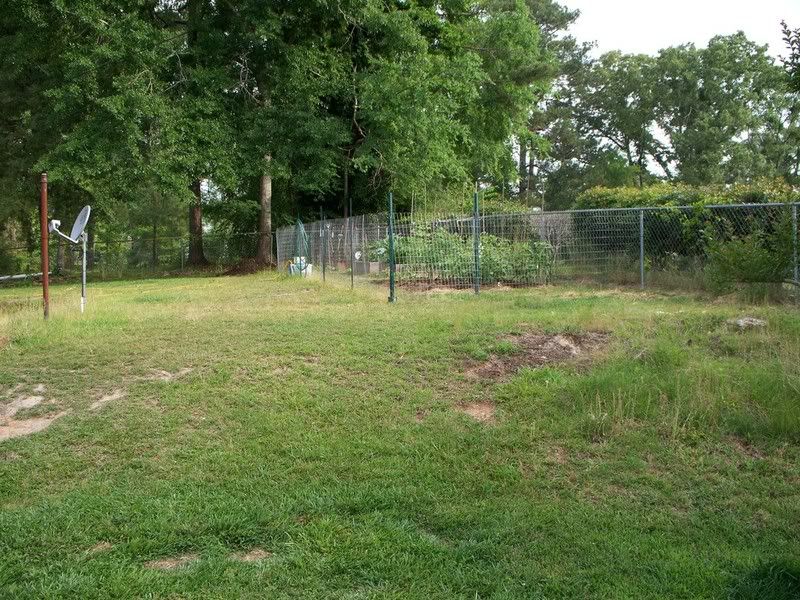 View Of The Garden From The Fence Two rows of tomatoes. Three each of Roma, Arkansas Traveler, Early Girl and Big Boy. One row of hot peppers, jalapeno(4), Sorrano(3) and Cayenne(4). I sware the rows are straight! The way the Roma Tomatoes are leaning makes it look like I can't make a row straight!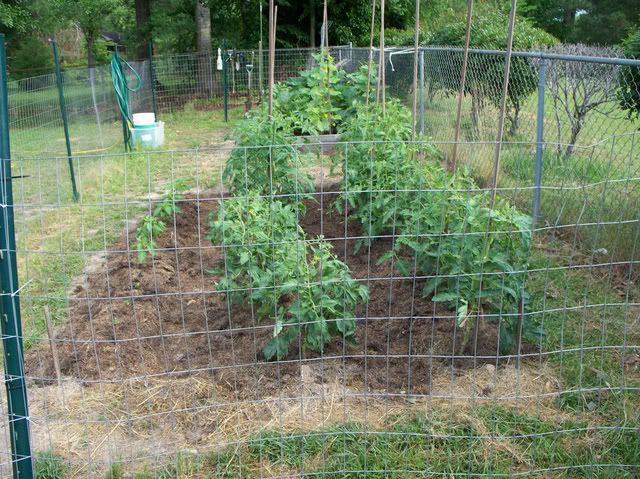 Another View Of The Tomatoes

A Few Early Girl Tomatoes THEY WILL BE READY SOON!

My Raised Beds This year they are filled with cucumbers and eggplants (front) and zucchini and bell pepper (back). Last year these raised beds were all I had for my tomatoes and peppers and basil.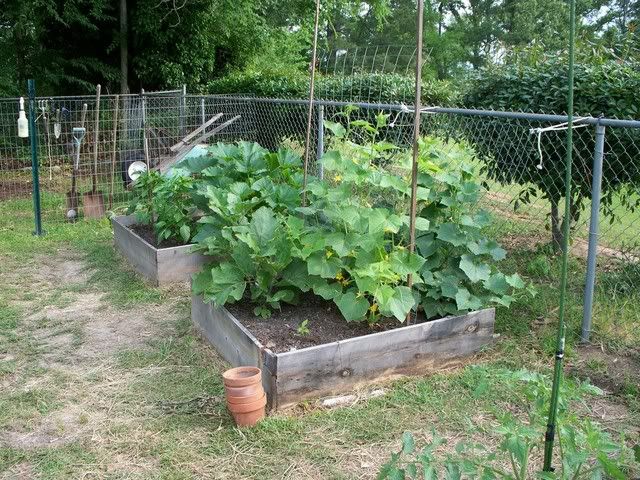 Cucumber and Eggplant Bed There are two types of cucumbers. The ones on the right are salad type. The ones on the left are pickling. Both are being run up a trllis made from wire fencing. Two Eggplants are in the front and obscured.

A Cucumber Ready To Pick I have picked 4-5 aleady (about 6 inches).

Zucchini and Bell Pepper Bed There are three Zucchini in the back and two Bell Pepper plants at each corner in the front and a Cowhorn pepper between the Bells.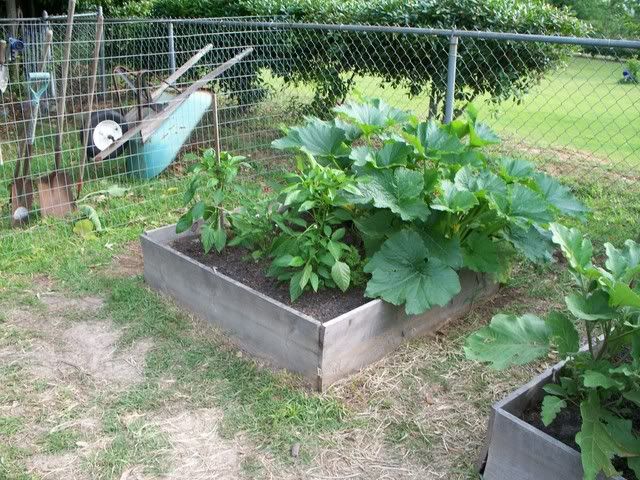 Zucchini Flowers We have eaten a few zucchini (grilled because that is the way my wife likes them). I can't wait for the tomatoes to ripen and then slice the zucchini and tomatoes in half, salt, pepper, olive oil and baked together in one casserole with a sprinkle of Parmezan at the end! A side of rice and it could be a meal!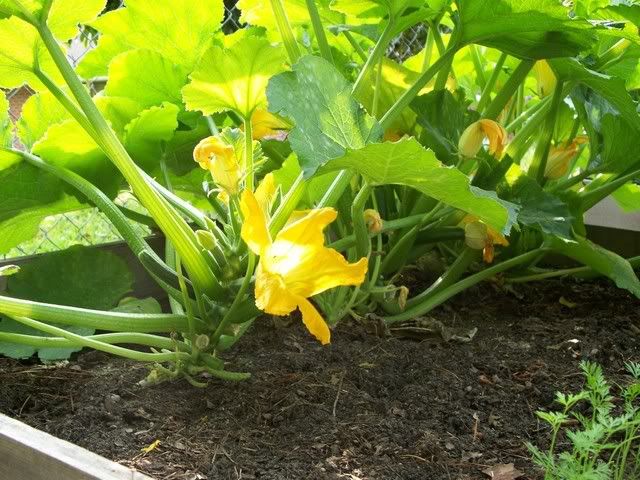 My Sugar Baby Watermelon Patch There are two plants. They are fenced in (because of Aladdin and Cashmere) and the bed is coverd with composted grass clippings.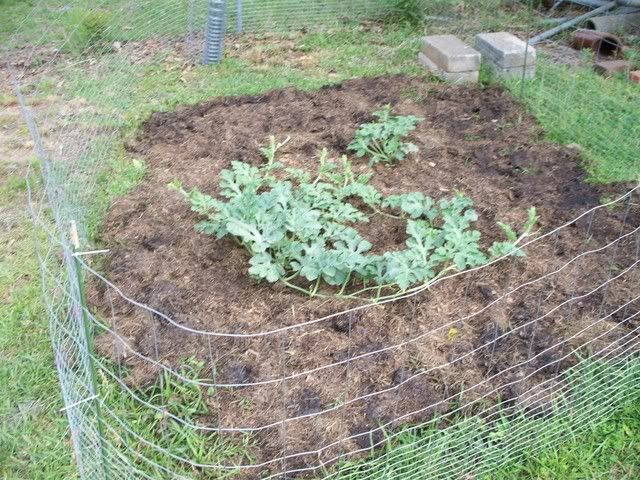 Now We Move On To The Fig And Pear Trees There are three Pear Trees; a Hood, a Pineapple, and a Baldwin and three Figs Trees; a Black Jack a Celestial (Cashmere's Tree) and one Fig Tree I am not sure of what type it is. A fellow Freeper sent it to me (Gardengirl) because my Brown Turkey Tree looked like it was never going to bud out!
This Is My GardenGirl Fig Tree When I received it it was in great shape. After I planted it, it lost all its leaves except for the one you see that is brown on the edges. But it has revovered very well! Thanks Gardengirl.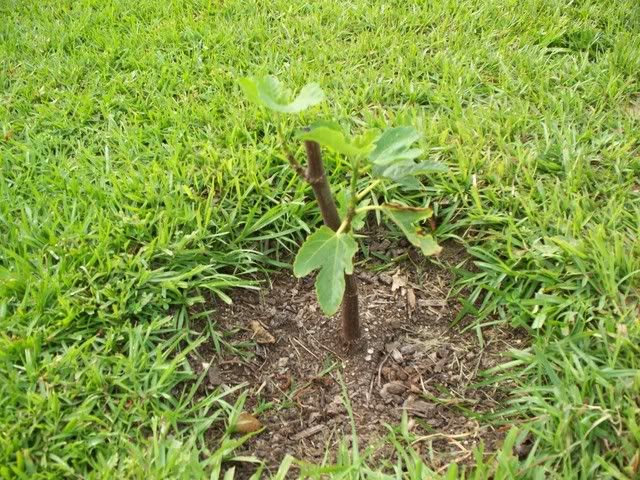 Cashmere's Fig Tree (actually a Cesestial Fig). It has been renamed "Cashmere" because a couple of hours after I had planted it she decided it was not in the right place and dug it up. I found her running around with it in her mouth, tossing it into the air and trying to catch it! She eventually heared me calling her and delivered her prize at my feet. As you can see it survived!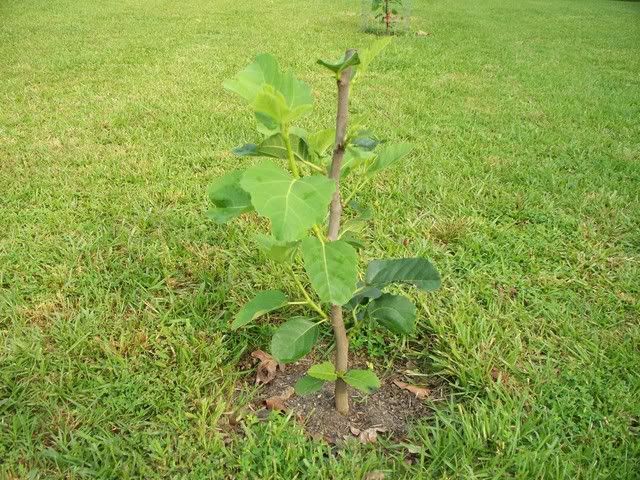 This Is My Black Jack Fig Tree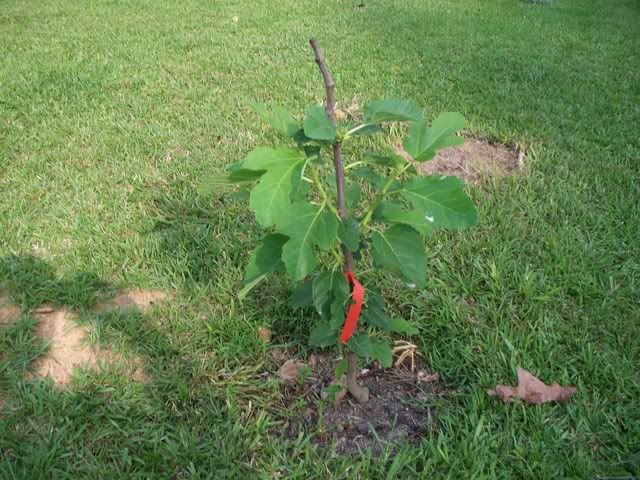 This Is My Brown Turkey Fig Tree .... IT HAS A BUD! After Gardengirl sent me a new Fig Tree I decided not to give up on my Brown Turkey Fig. So I replanted it in a container. About a week ago it decided to show some life! Yea! If you look closely you can make out the first bud. It is the second node down from the red ID label! There is another bud just above the the label on the left (if you have good eyes). The plants in the back ground are Elephant Ears.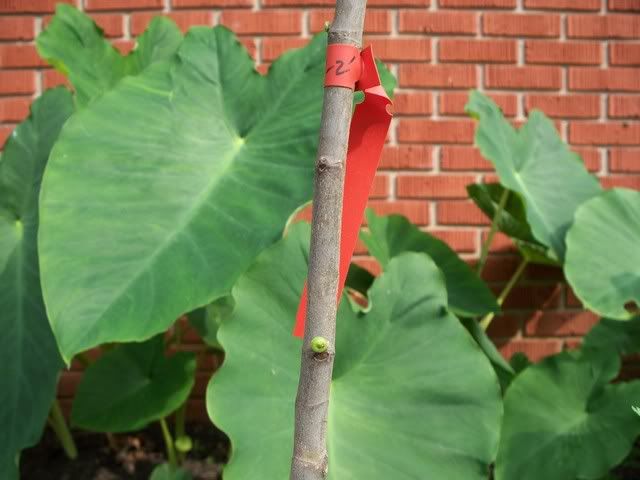 Now To The Pear Trees I never wanted Pear trees but when I received my Fig Trees they included a Hood Pear tree (I don't know why). So I planted it. Turns out the Hood Pear needs another special type Pear Tree, a companion, to pollinate and produce fruit. To make a long story short I found two locally ... a Pineapple Pear and a Baldwin Pear. I now have three pear trees thriving and growing that I never expected to have!
Pear Trees The one in the front is the Baldwin Pear the one behind it is the Pineapple Pear. I don't have a picture of the Hood Pear but it is off to the right way in the background kinda merging with the chain link fence.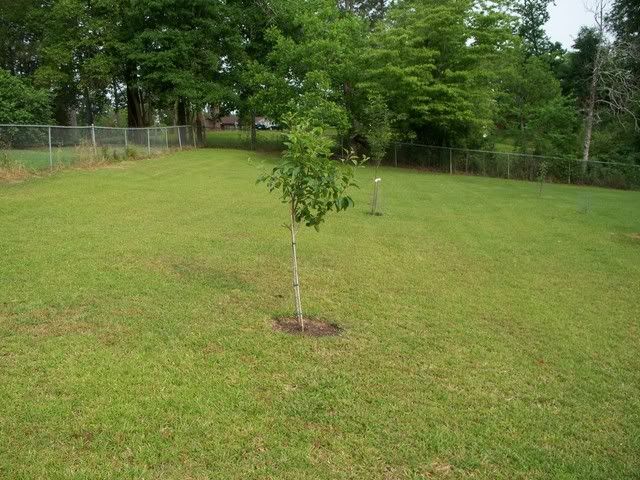 My Now 3/4 Depleted Compost Pile Boy is this some good stuff! Almost totally black when dug into and has a great earthy smell. This is about a quarter of what I had when I started the season. I distributed it between the raised beds, the new tilled tomato bed and the watermellon patch. Majority went to the tomato bed. It was all tilled into the soils about two weeks before I could plant because of the temps!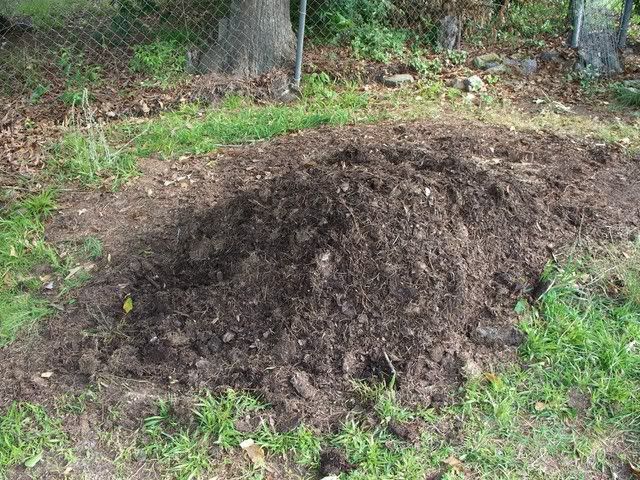 The pictures from the air were taken by me from an Air America Pilatus Porter aircraft my Father flew over in to pick me up for a weekend visit to my parent's home in Vientian, Laos. He got permission for me to make the visit to Laos Via the US Ambasador of Laos and the Marine Corps I don't know all the details on all he had to go through to get the permission. I just know I was on an Air America STOL to Vientian, Laos in civilian clothes for a weekend at home. These tents are similar to what you remember if you ever have watched the TV series Mash. They were constructed by the Navy SeaBees and housed from six to eight Marines. The buildings in the center were the Mess Halls.