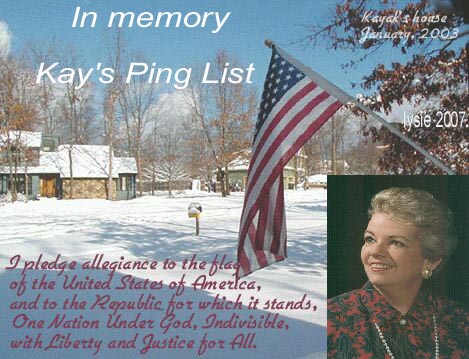 Kay's and Molly's ATRW Ping List
New # 1
ALL;A Citizen Reporter; ABG(Anybody but Gore); AFPhys; alwaysconservative; Angelwood; b4its2late; bamafour; bevlar; Billie; Bitwhacker; BlueAngel; bmwcyle;Borax Queen; Brad's Gramma; Carolinamom; CFW; CJinVA;Chairman_December_19th_Society; Citizen Soldier; CONSERVE; DallasGal; del4hope;DollyCali; duckbutt; EDINVA; Elkiejg; Foghat;4everontheRight; gardner; grannie9; Guenevere;gulfcoast6; Holding Our Breath; hoosiermama; Hotmetal;ICFN(ICan'tFixNothing); illstillbe; Iowa Granny; Iowan; JRandomFReeper;Jemian;JemiansTerror; JHENN22499; JohnHuang2; jtill; kassie; kayak; ken5050; LBKQ; lepton; LionsDaughter; lysie; M Kehoe; MetalHeadConservative35; milagro; Miss Marple; MNbelle; Molly Pitcher; MozartLover;Mrs.Liberty;Neets;NerdDad; NewsBee;Northern Yankee; Not gonna take it anymore; nw_arizona_granny; ohioWfan; okimhere; onyx; pollyshy; Prairiebreeze; Purdue Pete; Quix;Redleg Duke; rejoicing; ride the whirlwind; Rivendell; Ron C.; SittinYonder; SkyDancer;SnarlinCubBear; SoldierDad; Species8472; still lurking; sunshine state; Teacup; The Coopster; The Raven; TheyreGone2000;tillacum; TruthNtegrity; Two Thirds Vote Aye; Txsleuth; Utah Girl; W.; Yellow Rose of Texas;
Old #2: ALL;A Citizen Reporter; ABG(Anybody but Gore); AFPhys; alwaysconservative; Angelwood; b4its2late; backhoe; bamafour; bevlar; Billie; Bitwhacker; BlueAngel; bmwcyle; Brad's Gramma; Carolinamom; CFW; Chairman_December_19th_Society; Citizen Soldier; CJinVA;CONSERVE; DallasGal; DollyCali; duckbutt; EDINVA; Elkiejg; Foghat;4everontheRight; gardner; grannie9; Guenevere;gulfcoast6; Holding Our Breath; hoosiermama; Hotmetal;ICFN(ICan'tFixNothing); illstillbe; Iowa Granny; Iowan; JRandomFReeper;JemiansTerror; JHENN22499; JohnHuang2; jtill; kassie; kayak; ken5050; LBKQ; lepton; LionsDaughter; lysie; M Kehoe; MetalHeadConservative35; milagro; Miss Marple; MNbelle; Molly Pitcher; MozartLover;Mrs.Liberty;Neets;NerdDad; NewsBee;Northern Yankee; Not gonna take it anymore; nw_arizona_granny; ohioWfan; okimhere; onyx; pollyshy; Prairiebreeze; Purdue Pete; Quix;Redleg Duke; rejoicing; ride the whirlwind; Rivendell; Ron C.; SittinYonder; SkyDancer;SnarlinCubBear; SoldierDad; Species8472; still lurking; sunshine state; Teacup; The Coopster; The Raven; TheyreGone2000;tillacum; TruthNtegrity; Two Thirds Vote Aye; Txsleuth; Utah Girl; W.; Yellow Rose of Texas;
Old #3
05/06/07 A Citizen Reporter; ABG(Anybody but Gore); AFPhys; alwaysconservative; Angelwood; arazitjh; Azonie; b4its2late; backhoe; bamafour; bevlar; Billie; Bitwhacker; BlueAngel; bmwcyle; Brad's Gramma; Cammysmom; Carolinamom; CFW; Chairman_December_19th_Society; Chi-One; Citizen Soldier; Common Tator; CONSERVE; costking; DallasGal; dansangel; DJ88; DollyCali; dr.j'sfirst; duckbutt; EDINVA; Elkiejg; Foghat;4everontheright; gardner; Gengis Khan; Georgia on my mind; grannie9; grayson50;guenevere; gulfcoast6; habs4ever; Holding Our Breath;hoosiermama; Hotmetal ;Howlin; ICFN(ICan'tFixNothing); illstillbe; Iowa Granny;Iowan;ItsBacon;JRandomFReeper;Jemian; JemiansTerror; JHENN22499; JohnHuang2; Josephine; jtill; kachina; Kanell; kassie; kayak; ken5050; Kerretarded; Lady Jo;LantzALot ; LBKQ; lepton; LionsDaughter; LisaMalia; Lorena; Luis Gonzalez; lysie; M Kehoe; McLynnan; MetalHeadConservative35; milagro; Miss Marple; MNbelle; Molly Pitcher;MozartLover; Mrs.Liberty;Neets;NerdDad; NewsBee;Northern Yankee; Not gonna take it anymore; nw_arizona_granny; ohioWfan; okimhere; oldcodger; OldDominion; oldngray; onyx; Peach; pollyshy; Prairiebreeze; Pray4USA; Purdue Pete;Quix;Reaganomics; Redleg Duke; rejoicing; ride the whirlwind; Rivendell; Ron C.; Ryan Tiger; SittinYonder;SkyDancer;snarlincubbear; Snowtrill;snugs; SoldierDad; Sparta; Species8472; still lurking; stopem; suni;sunny48; sunshine state; tanglecreek; TBarnett34; Teacup; texianyankee; The Coopster; the invisible hand; The Raven; TheyreGone2000;tillacum; TruthNtegrity; Two Thirds Vote Aye; Txsleuth; Utah Girl;vendome; vzevm0ka;W.; WIMom; Yellow Rose of Texas
Important:GOP Lawmaker: Saddam Linked to 9/11 ['Evidence is Clear']
That Ragged Old Flag


Johnny Cash

I walked through a county courthouse square
On a park bench, an old man was sittin there.
I said, "Your court house is kinda run down,
He said, "No, it will do for our little town".
I said "your old flag pole kinda leaned a little bit,
And that's a ragged old flag you got hanging on it".
He said "have a seat", so I sat down,
He said, "is this your first visit to our little town"
I said, "I think it is"
He said "I don't like to brag, but we're kinda proud of
"That Ragged Old Flag"
"You see, we got a little hole in that flag there,
When Washington took it across the Delaware.
It got powder burned the night Francis Scott Key sat watching it, writing
"Oh Say Can You See"
It got a rip in New Orleans, with Packingham & Jackson
tugging at its seams.
It almost fell at the Alamo beside the Texas flag,
But she waved on tho.
It got cut with a sword in Chancellorsville,
Got cut again at Shiloh Hill.
There was Robert E. Lee and Beauregard and Bragg,
And the south wind blew hard on
"That Ragged Old Flag"
On Flanders Field in World War I,
She took a bad hit from a Bertha Gun,
She turned blood red in World War II
She hung limp and low by the time that one was through,
She was in Korea, Vietnam, She went where she was sent
by her Uncle Sam.
The Native Americans, The Black, Yellow and White
All shed red blood for the Stars and Stripes.
And here in her own good land,
She's been abused, burned, dishonored, denied and refused,
And the very government for which she stands
Has been scandalized throughout out the land.
And she's getting thread bare, and she's wearing kinda thin,
But she's in pretty good shape, for the shape she's in.
Cause she's been through the fire before
and she can take a whole lot more.
So we raise her up every morning
And we bring her down slow every night,
We don't let her touch the ground,
And we fold her up right.
On second thought
I do like to brag
Cause I'm mighty proud of
"That Ragged Old Flag"
Written by Johnny Cash

Pledge of Allegiance
(As originally recited on his TV show)
I've been listening to you boys and girls recite the Pledge of Allegiance all semester and it seems as though it is becoming monotonous to you. If I may, may I recite it and try to explain to you the meaning of each word?"
I -- me, an individual, a committee of one.
Pledge -- dedicate all of my worldly goods to give without self pity.
Allegiance -- my love and my devotion.
To the flag -- our standard, Old Glory, a symbol of freedom. Wherever she waves, there's respect because your loyalty has given her a dignity that shouts freedom is everybody's job!
United -- that means that we have all come together.
States -- individual communities that have united into 48 great states.
Forty-eight individual communities with pride and dignity and purpose; all divided with imaginary boundaries, yet united to a common purpose, and that's love for country.
And to the republic -- a state in which sovereign power is
invested in representatives chosen by the people to govern. And government is the people
and it's from the people to the leaders, not from
the leaders to the people.
For which it stands, one nation -- one nation, meaning "so
blessed by God"
Indivisible -- incapable of being divided.
With liberty -- which is freedom -- the right of power to live one's own life without threats, fear or some sort of retaliation.
And Justice -- the principle or quality of dealing fairly with others.
For all -- which means, boys and girls, it's as much your country as it is mine.

Since I was a small boy, two states have been added to our country
and two words have been added to the pledge of Allegiance...
UNDER GOD
Wouldn't it be a pity if someone said
that is a prayer
and that would be eliminated from schools too?


God Bless America!



>