Retired U.S. Army Chief Warrant Officer (W4)
Flew UH-1's in Vietnam, OH-58's in Germany, & the CH-47 Chinook in Korea & Texas
"Chinook's Haul Above All!"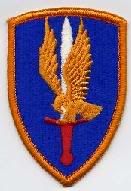 336th AHC part of the 1st Avn Bde
Served 20 years in U.S Army. Retired as a Chief Warrant Officer (CW4). Served as a Aircraft Commander/Pilot in Command in the 336th Assault Helicopter Company, 13th Combat Aviation Battalion, 164th Group, 1st Aviation Brigade, Soc Trang AAF, Republic of South Viet Nam from SEP 69 to SEP 70. Our AO (area of operations) was in IV Corps, the U Minh Forest, Nam Can Forest, MeKong Delta. Was also an instructor pilot at the United States Army Aviation School at Fort Rucker, Alabama in the UH-1D & H, OH-58A & C, and the CH-47B & C. Performed duties as an Aeroscout Instructor Pilot in the OH-58A and C, teaching the tactics and techniques employed by that aircraft in an Air Cavalry role. Served my last six years in the 11th Armored Cavalry Regiment in Fulda, Germany flying the OH-58A & C and in the 6th Cavalry Brigade at Fort Hood, Texas in the CH-47C & D.
Awarded the Master Aviator's Badge, Purple Heart, Bronze Star, 22 Air Medals (one for valor), Meritorious Service Medal, 3 Army Commendations Medals (1 for valor). Also received the U.S. Army Safety Center's Broken Wing Award when I was an Instructor Pilot for landing an OH-58 with no further damage after the engine came apart and was on fire during an Aeroscout training flight at Fort Rucker, AL.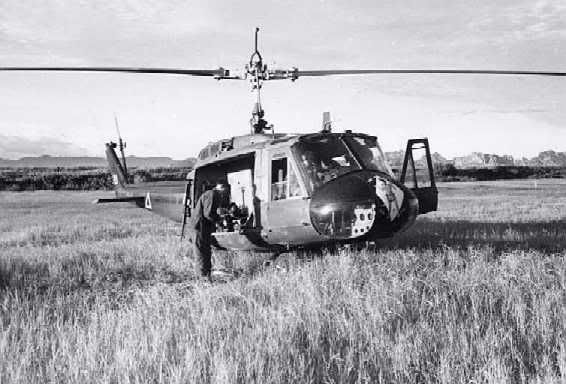 My UH-1 "Huey"; Warrior 29 of the 336th AHC, Republic of Viet Nam.
I later became an instructor in the UH-1's at Fort Rucker, Alabama.

The CH-47. Instructor qualified in the B's and C's. We got D's at Fort Hood just before I retired.

Hot refueling an OH-58C. Instructor qualified in the aircraft and instructor in Aeroscout/Air Cavalry tactics.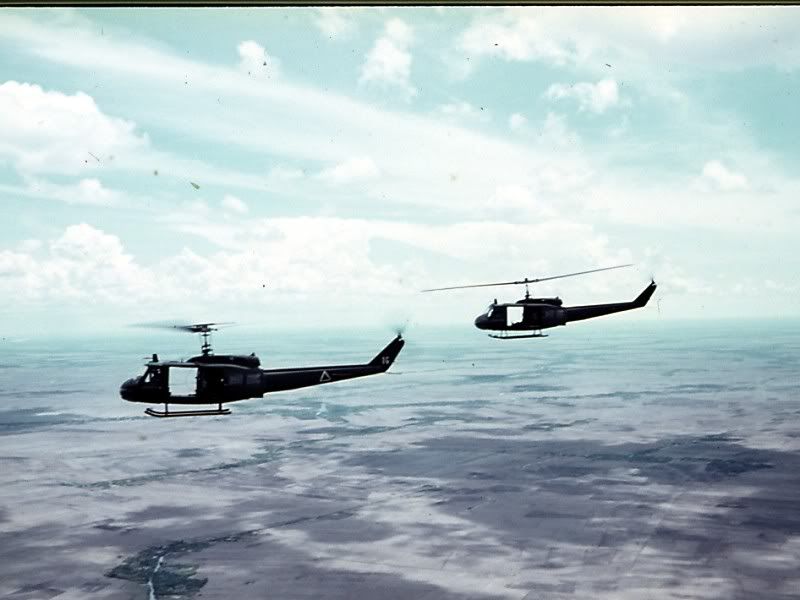 Flight of 2 336th Warriors RVN 1970
The Profession of Arms
"Yours is the profession of arms, the will to win, the sure knowledge that in war there is no substitute for victory, that if you lose, the Nation will be destroyed, that the very obsession of your public service must be Duty, Honor, Country."

General Douglas MacArthur
12 May 1962
------------------------------------------
Fiddler's Green
Halfway down the trail to Hell,
In a shady meadow green
Are the Souls of all dead troopers camped,
Near a good old-time canteen.
And this eternal resting place
Is known as Fiddlers' Green.
Marching past, straight through to Hell
The Infantry are seen.
Accompanied by the Engineers,
Artillery and Marines,
For none but the shades of Cavalrymen
Dismount at Fiddlers' Green.
Though some go curving down the trail
To seek a warmer scene.
No trooper ever gets to Hell
Ere he's emptied his canteen.
And so rides back to drink again
With friends at Fiddlers' Green.
And so when man and horse go down
Beneath a saber keen,
Or in a roaring charge of fierce melee
You stop a bullet clean,
And the hostiles come to get your scalp,
Just empty your canteen,
And put your pistol to your head
And go to Fiddlers' Green.
The origin and author of Fiddlers' Green is unknown. It was believed to have originated in the 1800's and was composed as a song, sung by the soldiers of the 6th and 7th Cavalry. Its first known appearance in published form was in a 1923 Cavalry Journal.
**************************************************
Me and my pride and joy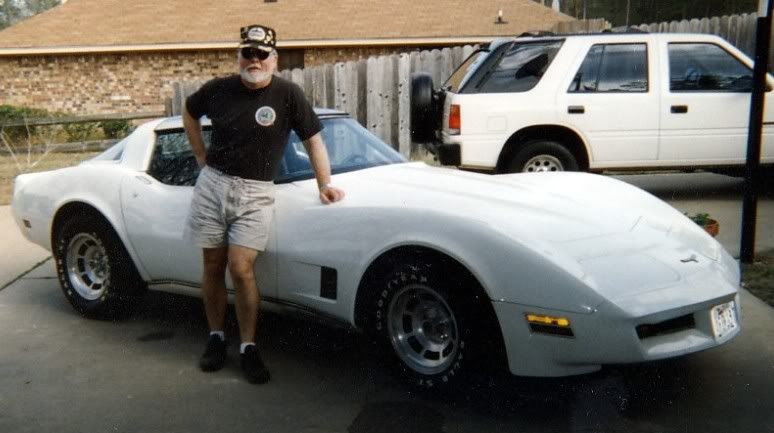 **************************************************
Been a conservative Republican since high school when Dick Nixon ran against John Kennedy.
Married Mrs. ladtx after one date although we had known each other for about a year. We married about two weeks before I went to Vietnam in 1969. We now have 3 grown boys. One an ex-Captain in the Air Force, (WSO on B1's, flew in Afghanistan and Iraq and at Pensacola, Florida was a nav instructor). He now sells and is a consultant for Medtronic implants. Our second son is in the Army Reserves and police officer in Lubbock, Texas. He served in Mosul, Iraq with the 101st. Our youngest son is a professional baseball and softball hitting instructor and coach for a nationwide baseball and softball training program. I'm also Leila Kay's and Ashley Elise's grandfather, probably the cutest little girls in the world, (not that I'm prejudiced).
Dabble in pen and ink, watercolor and some oils and acrylics. Have written an as yet unpublished novel "DREAMS OF QUIVIRA", I am trying to peddle with no luck so far. Also written some poetry based on Viet Nam experiences. Self-teaching the banjo (frustration extreme).
A sample of my poetry.
THE CHAPEL BELL'S LAST CLANG
It's night outside the chapel at Soc Trang.
A gentle wind stirs from the still airfield.
We all wait for the chapel bell's last clang.
Was from the heart, Amazing Grace we sang.
Silence falls, the chaplain rises, our soul's shield.
It's night outside the chapel at Soc Trang.
We began the day not fearing wars fang.
We had been wounded before but we healed.
We all wait for the chapel bell's last clang.
Some worked, some slept, at the club some sang.
While others flew and from Odins blows reeled.
It's night outside the chapel at Soc Trang.
We've tasted it; we all know it, fear's tang.
Bitter and sweet, that fruit of the battlefield.
We all wait for the chapel bell's last clang.
For the crew, we mourn, the chapel bell rang.
Taps in the darkness, no tear is concealed.
It's night outside the chapel at Soc Trang.
We all wait for the chapel bell's last clang.
Soc Trang Chapel