COLLECTIVE WAREHOUSE OF INFORMATIVE POSTS/LINKS AGAINST SOCIALISM
Not so much a message board , as it is a Storehouse of links that are invaluable in the fight
Please join NO to Socialism · Patriots Against the Progressive Agenda
LOGAN'S WARNING
On Free Republic we have Freeper's who have been dedicated to invaluable researching,translation,and many hours of dedication to be informative of potential threats from around the globe. While paying homage to our own Homeland Defense in every aspect. The volume of incoming intelligence on potential threats is massive, for we here must filter out the news that the broadcast media does not. While still protecting the premise of FR's policy Loose Lips Sink Ships We ask ,whats the threat & where is it come from, how credible is it, who is doing something about it? These days,in D.C., the threat crunching takes place at the Terrorist Threat Integration Center, or TTIC, created after Sept. 11, 2001, in an effort to bring together the FBI, the CIA, the Pentagon, the Department of Homeland Security, the National Security Agency, and any other relevant bodies that might have important information. And here at FR for what the public is not aware of backed by news media that is not afraid to report it and the loyal Freeper's on the daily TM thread who surf the net to bring it home to Free Republic!
Jamaat ul Fuqra and Compounds in the U.S.
According to one member of Jamaat ul Fuqra participating in a paramilitary exercise at an Islamic center in New York, we are getting ready. The Day of Atonement is close at hand.
MUST WATCH-New MOA Terror Training Video ~ Exposed
Knowledge Finder

Seeking Freepers for Jihadi Training Camp Observation and Information-Free Republic Jihadi Intel Thread
Islam is a 100% system of life (Scary stuff)
On 11/03/2003 many of us began our quest to help in the War on Terror by beginning this first thread and the threads to follow.
Al Qaeda again threatens New York, Washington and Los Angeles - Daily Terror Threat -
Al Qaeda again threatens New York, Washington and Los Angeles (thread 2) Daily Terror Threat - 6,847 posts
Al Qaeda again threatens America (Thread 3) Daily Terror Threat - 5,012 posts>
Threat Matrix- Daily Terror Thread (4)- 5,020 posts
Threat Matrix: Daily Terror Threat - Thread 5 - 5,009 posts
Threat Matrix: Daily Terror Threat - Thread 6 - 5,048
Daily Terror Threat - Thread 7 -5,027
Daily Terror Threat - Thread 8 - 5,088
Daily Terror Threat - Thread 9 - 4,246
Daily Terror Threat - Thread 10 - 4,241
Daily Terror Threat - Thread 11 - 4146
Daily Terror Threat - Thread 12 - 4.058
Daily Terror Threat -Thread 13 - 4,141
Daily Terror Threat - Thread 14- 3,911
Daily Terror Threat - Thread 15-4,115
Daily Terror Threat -Thread 16-4,012
Daily Terror Threat - Thread 17-4,095
CURRENT THREAD
Terror in the Skies: Why 9/11 Could Happen Again


Let me see if I understand all this...
IF YOU CROSS THE NORTH KOREAN BORDER ILLEGALLY YOU GET 12 YEARS HARD LABOR.
IF YOU CROSS THE IRANIAN BORDER ILLEGALLY YOU ARE DETAINED INDEFINITELY.
IF YOU CROSS THE AFGHAN BORDER ILLEGALLY, YOU GET SHOT.
IF YOU CROSS THE SAUDI ARABIAN BORDER ILLEGALLY YOU WILL BE JAILED.
IF YOU CROSS THE CHINESE BORDER ILLEGALLY YOU MAY NEVER BE HEARD FROM AGAIN.
IF YOU CROSS THE VENEZUELAN BORDER ILLEGALLY YOU WILL BE BRANDED A SPY AND YOUR FATE WILL BE SEALED.
IF YOU CROSS THE CUBAN BORDER ILLEGALLY YOU WILL BE THROWN INTO POLITICAL PRISON TO ROT.
IF YOU CROSS THE U.S. BORDER ILLEGALLY YOU GET A JOB, A DRIVERS LICENSE, SOCIAL SECURITY CARD, WELFARE, FOOD STAMPS, CREDIT CARDS, SUBSIDIZED RENT OR A LOAN TO BUY A HOUSE, FREE EDUCATION, FREE HEALTH CARE, A LOBBYIST IN WASHINGTON AND IN MANY INSTANCES YOU CAN VOTE.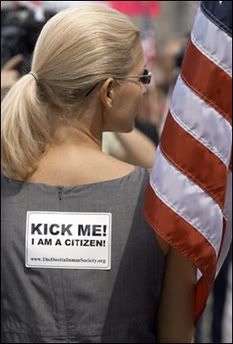 Mark Steyn: Speaking of sanctuary, where's ours?
In the first place we should insist that if the immigrant who comes here in good faith becomes an American and assimilates himself to us, he shall be treated on an exact equality with everyone else, for it is an outrage to discriminate against any such man because of creed, or birthplace, or origin. But this is predicated upon the man's becoming in very fact an American, and nothing but an American.
There can be no divided allegiance here. Any man who says he is an American, but something else also, isn't an American at all. We have room for but one flag, the American flag, and this excludes the red flag, which symbolizes all wars against liberty and civilization, just as much as it excludes any foreign flag of a nation to which we are hostile...We have room for but one language here, and that is the English language...and we have room for but one sole loyalty and that is a loyalty to the American people."
--Theodore Roosevelt, 1919
Lou Dobbs is another Hero on this issue
Lou's Top 5 List
5) Taxpayers will pay for the immigration lawyers for illegal aliens if working in agriculture.
4) Illegal aliens would be given legal status just one day after their application is filed even if a background check is not completed.
3) Gang members are eligible for amnesty if they renounce their gang status.
2) Borders do not have to be secure before the amnesty program begins.
1) $2,600,000,000,000 -- That is the cost the Heritage Foundation estimates to cover the retirement benefits of 12,000,000 illegal aliens if this amnesty bill becomes law.
Backlash tonight over a governor's order for state troopers to check the immigration status of the people they arrest. But Governor Matt Blunt of Missouri says, "we cannot wait for Washington to stop unlawful
Do you believe that President Bush should remind Mexico's President, Felipe Calderon, that his nation does end at our southern border?
Dobbs: Mexican president's blatant hypocrisy 9/5/07
Geraldo By Michelle Malkin Geraldo Rivera thinks I should be spit on because I believe citizens should inform law enforcement authorities if illegal aliens are living in their neighborhoods. If only someone had picked up the phone to let authorities know that criminal illegal alien Salvador Luna was living in their neighborhood, this monstrosity would not have taken place We need to support our Border Patrol Agents! They ARE the New American Homeland Defense Heroes!
That is what America is about people...OUR rights...OUR choice...not being a loyalist when our party is the one letting US down!
I will start off this thread with saying I believe we all need to contact our state representatives and those is our party who need to know this is not a one-horse issue that will go away.I have stated that all it takes is one issue to start a domino effect and the entire administration could fall apart. None of us wants that to happen. We also need to contact the media and make sure the democratic spin on this is not for political advantage. This issue is closely correlated with the War On Terror for terrorist's are using our open border's against us the same way they used commercial flights to attack us on 911.
Rough Ride - Protect Our Border's - Fight Illegal Immigration< Click here for Thread
PIPER PIPES IN
The Democrat's support allowing amnesty for illegals, they support any Guest Worker program. So clearly, any Guest Worker proposal by anyone other than Tancredo, who gets in the dirt at the border's and has a good plan, would rile the Democrat's, yes? How then can we say Bush's Guest Worker proposal is conservative and how can conservative Republicans support it in good conscience and side along with the Democrat's?
Is it me, or is this a 'massive' contradiction?
SABERTOOTH GROWL
"Although President Bush insists his proposal does not include amnesty, Jones said he thinks it does - because it would make illegal aliens who work in the U.S. for a number of years eligible for legal status and citizenship. That is de facto amnesty," President Bush has kissed his credibility goodbye, where Illegal Aliens are concerned
"I am going to enforce selective service enforcement -- including illegals," Arpaio said. "If they can receive all the benefits here, at least they can fight for this country."
Team Tancredo - Principled, Conservative Leadership. . . that works for ALL of us!
I urge you to use this authority immediately to bolster our border security. I hope you will strongly consider adding these important new tool to our nation's arsenal -
Immigration Reform -
Actively continued chairmanship of the Congressional Immigration Reform Caucus.
Introduced H.R. 3600, the National Border Security Agency Act.
Led effort in Congress to oppose further extensions of Section 245(i).
Chaired a hearing of the Congressional Immigration Reform Caucus.
Introduced H.R. 2712, the Mass Immigration Reduction Act of 2001.
Introduced H. Con. Res. 220, a resolution affirming the commitment of Congress to preserving the sovereignty of the United States and the integrity of its border.
Compiled a set of fourteen immigration reforms.
"The White House diligently avoided using the 'A' word in its announcement," Stein said. "But no matter how much Karl Rove wishes to torture the English language, a program that rewards millions upon millions of people who have cheated to get into this country, who have cheated by working off-the-books and avoided paying taxes, and who have cheated by using billions of dollars in public services ... is still an amnesty."
"I oppose amnesty, placing undocumented workers on the automatic path to citizenship. Granting amnesty encourages violation of our laws and perpetuates illegal immigration."
-President George W. Bush
"This plan is not amnesty," the president said of his plan to match workers with jobs. "I oppose amnesty because it encourages violation of our laws."-President Bush 1/12/04
In his book (1999), GWB wrote, "the most compassionate way to deal with illegals is to stop them at the border."
More than 90 Million People Have Been Added to the U.S. Since 1970. Census 2000 results indicate that there between 8 and 11 million illegal aliens living in the United States in 2000. The Center for Immigration Studies has reported that Census Bureau stats show that 700,000 to 800,000 new illegal aliens were settling in the U.S. during the late 1990s and that around 1 million settled in the most recent year of record.

WINKER'S CREED
No Person can be considered a "Contributor" to America un-less they are Identified,fingerprinted, placed on the Tax rolls and Social Security with a permanent Address making them a legal Tax paying Citizen; subject to all the rights and provisions this Country provides to its citizens. Otherwise they continue to be a scab and a botch "WE THE PEOPLE"are obligated to support.
This is a pay as you go society and not a free lunch. If you live here you work here speak the FIRST Language and swear allegiance to the Constitution then you get to share equally in a system "EVERBODY" Supports and pays into! Time to come out of the woodworks and live in the open or follow your noses back across the Borders!
In Memory of Carlie Bruchia
Let us give our children a Helping Hand
The original and definitive Child Lures Prevention home educational materials have taught millions of parents and children alike the essential personal safety and victimization prevention strategies
Parents should instruct their children to fight and resist abductors, even if the predator threatens them
Hilliary Clinton has no place in the White House, not even as janitoress! If it comes to this, I will move my family to Poland!
We expect that after your re-election this fall as junior senator from New York, you will dedicate yourself to seeking a higher office. But you're a pragmatist, Hillary, so we urge you to be satisfied with the Senate.
If you run for president, chances are good that you'll secure your party's nomination. But realistically, how do you think you can win the White House? You are the most polarizing figure in the Democratic Party, and your negatives among likely voters are prohibitively high. Many people simply don't trust you. You may share your husband's name, but what people liked about him is not transferable to you.
You are not the person to help define a party that needs to convince voters it can govern from the vital center.