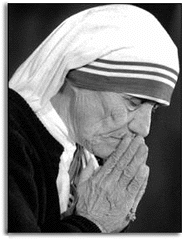 Success is counted sweetest
By those who ne'er succeed.
To comprehend a nectar
Requires sorest need.

Not one of all the purple host
Who took the flag to-day
Can tell the definition,
So clear, of victory,

As he, defeated, dying,
On whose forbidden ear
The distant strains of triumph
Break, agonized and clear.
----Emily Dickinson (1830-1886)
"First they ignore you, then they laugh at you, then they fight you, then you win."
- Mohandas K. Gandhi
"After the game, both the King and the pawn go into the same box."
-Unknown.
The person who has nothing for which he is willing to fight, nothing which is more important than his own personal safety, is a miserable creature, and has no chance of being free unless made or kept so by the exertions of better men than himself. -John Stuart Mill
You and I have a rendezvous with destiny. We will preserve for our children this, the last best hope of man on earth, or we will sentence them to take the first step into a thousand years of darkness. If we fail, at least let our children and our children's children say of us we justified our brief moment here. We did all that could be done. - Pres. Ronald Reagan