I am a proud Reagan Republican who believes that conservatives should continue to support the GOP as the best vehicle to advance our freedom agenda.
I believe in American Exceptionalism, and believe that our beloved Republic has been blessed by a higher authority.
RONALD REAGAN'S RAINBOW
On November 3, 1980, this double rainbow seems to end on top of the First National Bank where Ronald Wilson Reagan was born. The next day, Ronald Reagan was elected the 40th President of the United States by a landslide. This photo was taken by Lloyd McElhiney.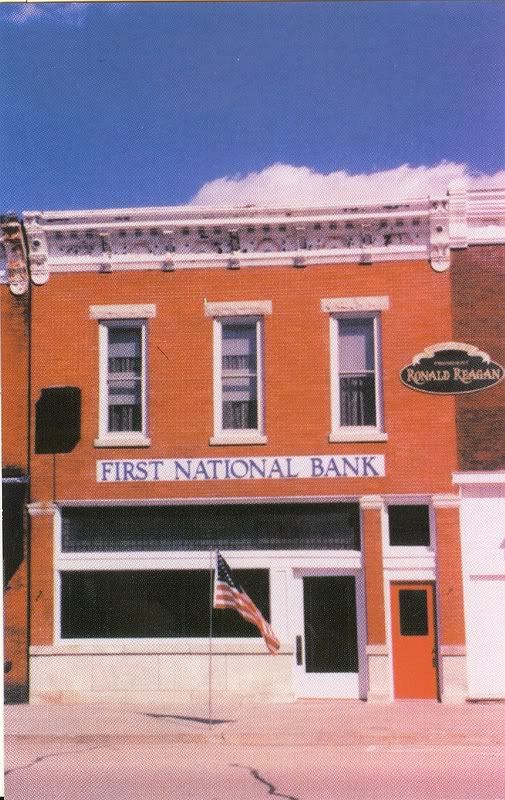 RONALD REAGAN'S BIRTHPLACE
Built in 1895 by Fred Harvey Seymour and later known as the Graham Building. The upstairs apartment was rented by Jack Reagan in September 1906. Both Reagan sons were born there. John Neil Reagan on September 16, 1908 and Ronald Wilson Reagan on February 6, 1911.
This picture of Ronald Reagan and Natan "Anatoly" Sharansky was taken at a CPAC Convention in the early eighties.
The Reagan Revolution was one of the defining moments of my life. Reagan restored our faith, and gave us hope for the future. Morning in America was no empty catchphrase, it was substantive, palpable, and it lead to almost twenty-six years of uninterupted economic growth, and the worldwide collapse of international socialism (bolshevism and it's variants). The Chinese have a proverb, "May you live in interesting times." All of us, because of Ronald Reagan's leadership, and its impact on America and the world, can say, that we indeed lived in very interesting times. BTW, the first picture was taken at the 1987 CPAC Convention. Many of you will recognize the person in the backgroud as David Keene, Chairman of the American Conservative Union (ACU). The second picture was taken at the 1988 CPAC Convention.
If the the late twentieth century can be called the "Age of Reagan," the late eighteenth century could have been appropriately referred to as the "Age of Hamilton." President John Adams called him the "bastard brat of a Scot pedlar," in large part because Hamilton, in 1796, had opposed Adam's candidacy for POTUS. Jefferson, no stranger to controversy himself, said Hamilton was "a man whose history, from the moment at which history can stoop to notice him, is a tissue of machinations against the liberty of the country." Not to be outdone by Adams and Jefferson, some critics reviled Hamilton as a "monarchist, an alien(born in the West Indies, and interestingly enough, had it not been for a hurricane ravaging StCroix and Nevis in 1772, Hamilton may not have made it to the American colonies, and thus, it's quite possible there would be no United States of America, as we know it today ), and illegitimate." Hamilton was also involved in the first US political sex scandal, and subsequently killed in a duel with the sitting VicePresident of the United States.
Most of the above being true, Hamilton was also brilliant, and as Justice Marshall (John, not Thurgood) said, next to Hamilton, I feel like "a candle beside the sun at noonday." Henry Cabot Lodge, Hamilton's biographer would say in his seminal work "Alexander Hamilton," that "force of intellect and force of will were the sources of his success." I would add tremendous courage, in the face of great danger, to Lodge's mix. Hamilton, during the Revolution, had two horses shot out from under him, and showed bravery, and valor, at Daviser's Ferry, escaping with three compatriots on a flat-bottomed boat, while surrounded by Redcoats. The boat was sprayed with repeated Brit volleys, killing one, and wounding another. Captain Henry Light-Horse Harry Lee (Robert E. Lee's father) witnessed it, and said of Hamilton that he displayed a "cool panache" piloting the boat while "struggling against a violent current..." When General Charles Lee was retreating in the face of an enemy attack at the battle of Monmouth, Hamilton rode to the front and shouted at Lee: "I will stay here with you my dear general, and die with you! Let us all die rather than retreat!"
While It has been said that Hamilton was the first American "nationalist," and since Hamilton was foreign born, it enabled him to look beyond the state as a means of identity. Thus, Hamilton wanted all the colonists to see themselves as Americans first, and residents of their respective states second.
"The Articles of Confederation are defective," wrote Hamilton. Hamilton wanted, among other things, a "proper government," an executive branch (a strong executive), and a judicial branch, to go along with a Congressional branch. To achieve those ends, Hamilton called for a Constitutional Convention. When the Constitutional Convention met, Hamilton was there with his pen, to provide the intellectual firepower to insure that two-thirds of the colonies would ratify the new Constitution. As Publius (In Roman times, Publius had been instrumental in helping create the Roman Republic,) Hamilton wrote over 50 articles, published in New York newspapers, supporting the new Constitution (John Jay and James Madison partnered in the Federalist Paper's project, writing 2 and just over 20, respectively.) If you look at Washington's "Farewell Address" to the nation, much of the language, rhetorical flourishes, have Hamilton's prints all over it, and according to Hamilton's wife, Hamilton wrote the draft.
Many Conservative Republicans, to this day, loath Hamilton for his support of "leviathan," the big government state. Secular progressives, liberal/leftist/socialist moonbats, and other assorted anti-American types despise Hamilton because of his steadfast committment to private property, the rule of law, and capitalism. What his critics cannot deny, however, are Hamilton's substantial contributions to the intellectual underpinnings, and the embryonic institutional development of the United States of America.
I would recommend, to those interested in Hamilton's life and times, the collected works of Fisher Ames, especially Volume I, pages 510 to 519, "A sketch of the character of Alexander Hamilton." This is a eulogy written after Hamilton was killed in the duel. Here are some excerpts:
Ames says the nation weeps in bereavement, as the Romans did over the ashes of Germanicus....since news of his death, the strange events of Europe have succeeded each other unregarded....no man, not the Roman Cato himself, was more inflexible on every point that touched integrity and honor....Such is the infirmity of human nature, it is very difficult for a man who is greatly superior of his associates, to preserve their friendship without abatement, yet though he could not possibly conceal his superiority, he was so little inclined to display it....that no jealousy or envy chilled his bosom, when his friends obtained praise. He was indeed so entirely the friend of his friends, so magnanimous, so superior, or more properly so insensible to all exclusive selfishness of spirit, so frank, so ardent, yet so little overbearing, so much trusted, admired, beloved, almost adored, that his power over their affections was entire, and lasted throughout his life. We do not believe that he left any worthy man his foe who had ever been his friend....his habits of investigation were very remarkable; his mind seemed to cling to his subject till he had exhausted it. Hence, the uncommon superiority of his reasoning powers..No man more promptly displayed truth; no man more clearly displayed it....fervid as Demosthenes, like Cicero full of resource, he was not less remarkable for the copiousness and completeness of his argument, that left little for cavil, and nothing for doubt....He not only disarmed his adversaries of their pretexts and objections, but he stripped them of all excuse for having urged them; he confounded and subdued as well as convinced....The name of Hamilton would have honored Greece in the age of Aristides. May heaven, the guardian of our liberty, grant that our country may be fruitful of Hamiltons, and faithful to their glory!
Communism is alive and well today among the unholy trinity of the antique mainstream media, hollowood, and academia. Our own homegrown bolsheviks are essentially Democrats in a hurry, a domestic axis of evil, marxist, weasels undermining America in every possible way. That Marx spoke to the nineteenth century, and has no relevance to the 21st Century means little to these fools. Nor does it matter that Marx's claims and predictions have been falsified by history.
Commie, pinko, progressive, RAT.

France is finished as a viable nation-state. It will be part of dar-al-Islam within twenty five years. The next Vichy will speak Arabic.
That was, of course, a conclusion reached pre- Nicholas Sarkozy. I'm hedging my bets here, so let's just say that the jury is still out.
COURTESY OF POTLATCH
Twenty-five years of Neville Chamberlain type appeasement toward radical Islam led to this. Jimmy Carter helped midwife this disaster, with his lack of leadership in the world, especially with regard to Iran. When the crazy cleric khomeini swept the ruling Pahlavi dynasty off the Peacock throne in February of 1979, it marked the first time, in the contemporary age, of radical Islam (of Shia vintage) gaining control of a modern state. Emboldened by the enfeebled Carter response to continuous khomeini provocations, including the illegal capture of our embassy in Teheran, and the taking hostage of our diplomats for 444 days, the Iranian theocratic entity soon metastasized into a virulent terroristic cancer. When America showed the world it lacked the will to defend itself from khomeini's attacks, it sent a message of weakness, and timidity, a very dangerous combination in an increasingly dangerous world. The unchecked spread of this fanatical khomeini contagion, soon spawned a sunni copycat (al-qaeda,) and the rest is history. Just as the Carter maladministration had mishandled the Iranian attacks, so a shameless Carter reprise(sometimes Americans are slow learners) in the form of the Clinton administration, fumbled away America's security (ie Gorelick wall, incompetent national security personnel) in the face of Al-Qaeda and Iranian attacks on American interests worldwide. While, we have been in a one-sided state of war with Iran (they have been attacking us, and we have been absorbing the blows) since the inception of the khomeini terrorist state in February 1979, many Americans(some reluctantly, and some not at all) have at least finally recognized the Al-Qaeda threat. Kudos to President Bush for taking the first steps in ending this sunni menace, once and for all. Hopefully, the next POTUS will be absolved from havinig to end the long running Iranian sponsored Casus Belli.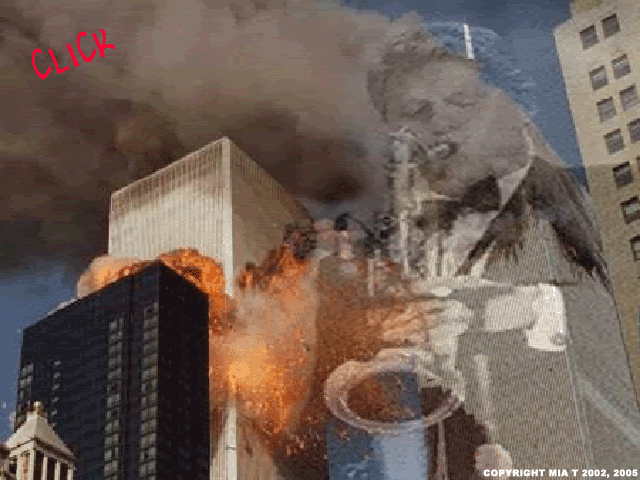 Clinton's real legacy. Try as they might, the omission commission couldn't whitewash this.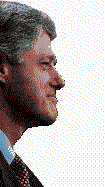 "I did all I could to get BinLaden. I never worked so hard on anything in all my life. Honest."
I have respect for sKerry's service to our Republic, but, three purple hearts in four months (one month was dedicated to training, so it was 3 months in combat resulting in 3 purple hearts,) and nary a visit to the hospital? If you extrapolated that forward, encapsulating the entire Vietnam War era, sKerry would have been the most decorated hero since Audie Murphy. Permission to come aboard, indeed!
When all is said and done, and the history is written, we will have found that John Francois' reluctance in releasing his form 180, was grounded in his fear that the American people would learn that he had brought his typewriter with him, during his stint in Vietnam. Many Americans, familiar with skerry's penchant for dissembling,deceit, and dishonor, will not be terribly surprised to find out that sKerry was the author of the after action reports, which detailed sKerry's "heroism," that resulted in a plethora of medals, enough medals to fill a "lucky" hat.
UPDATE
The three hundred pound gorilla in the Democrat primary will probably be the RAT standard bearer in 2008. We must unite in opposing this mountebank. She is divisive, polarizing, and a totalitarian at heart. Purloigning FBI files are just the tip of the iceberg of what this heartless shrew is capable of.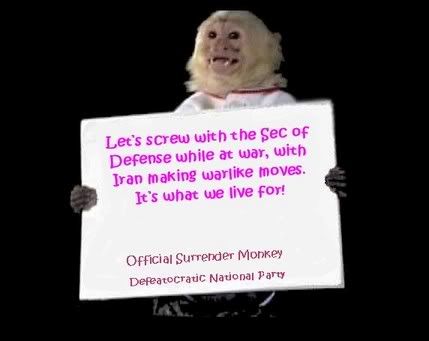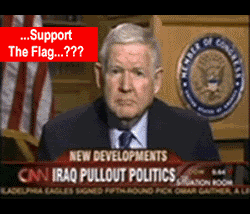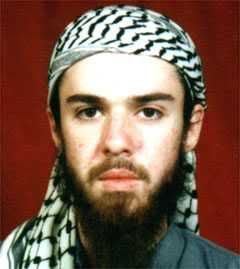 One of Marin counties finest, Johnny "Taliban" Walker. A constituent of BelaPelousy, the botox queen of Marin.
Although I have never served in the military, I have a deep and abiding respect for those that have. They are our heroes, including my father who was a CW-4 in the US Navy. He served his country for 23 years, and during WWII was involved in 22 different battles(earning 11 battles stars) in the Pacific Theatre. He was awarded the Purple Heart, the Bronze Star with the Combat V for Valor, numerous other medals (he claims he is most proud of his good conduct medal) and 2 Presidential Citations for service in the Pacific. My father's ship, the USS Bunker Hill (CV-17)was hit by two kamikazes, and it was during that strike that my father was wounded twice. Forgive me if it sounds like braggadocio, it's not, for I love my father, and I am very proud of him. He is one of the countless WWII Vets who, steadfast in their endurance of pain and grief, quietly, and with little fanfare, did their duty when their country called. My father is so modest, that when my brothers and I tried to get him a "Purple Heart Recipient" Vehicle license tag, he said he would not put it on his car (Dad will be 91 soon and he negotiates the roads like a middle-aged man) under any circumstances, saying, "Son don't you understand. I am not a hero."
Recently my father handed me an envelope with ten official photographs taken by the Bureau of Aeronautics, of the kamikaze attacks on the USS Bunker Hill, and to my knowledge these pictures have never been made public. These photographs were taken on May 11, 1945. When my father handed me the envelope, he told me, misty-eyed, that to this day, he is haunted by the sounds of incoming Japanese Zeros.
If you would like to see those ten pictures, and some other pictures of the Bunker Hill that are part of the official record, scroll to the end, but I have to warn you that some of the pictures are very graphic, and may be disturbing to the viewer.
If the RATs conduct American foreign policy the way they play Stratego, America will lose to its opponent every time.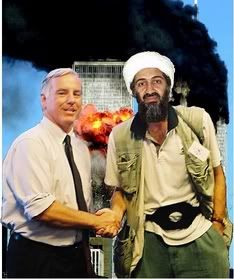 Another proud Deaniac. And of course Howard Dean has said that his buddy Obama, I mean Osama, should "get a fair trial." At the same time he thinks Tom DeLay should go straight to jail.
May God Bless all our men and women in uniform. May they be as proud when they return home, as we are of them for their service to the Republic.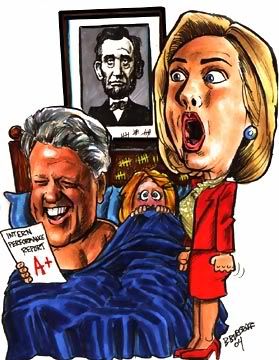 These tobacco-road types continue to be a national disgrace, a shame to our beloved Republic.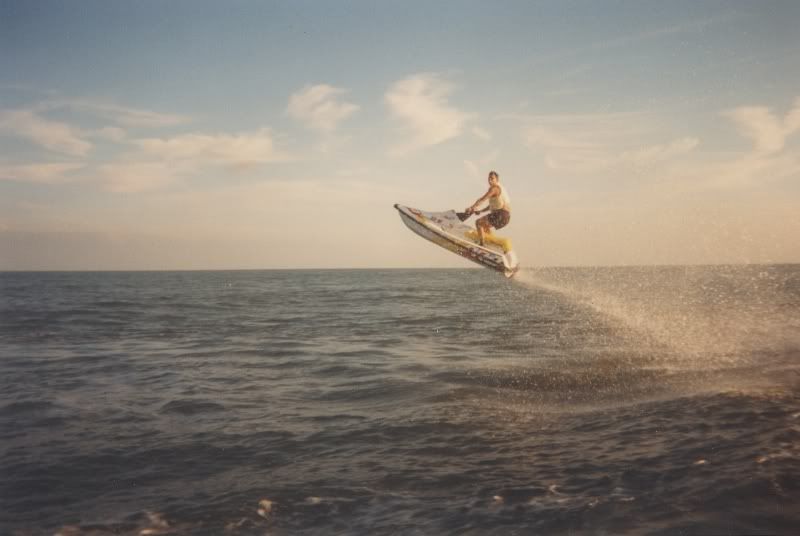 p>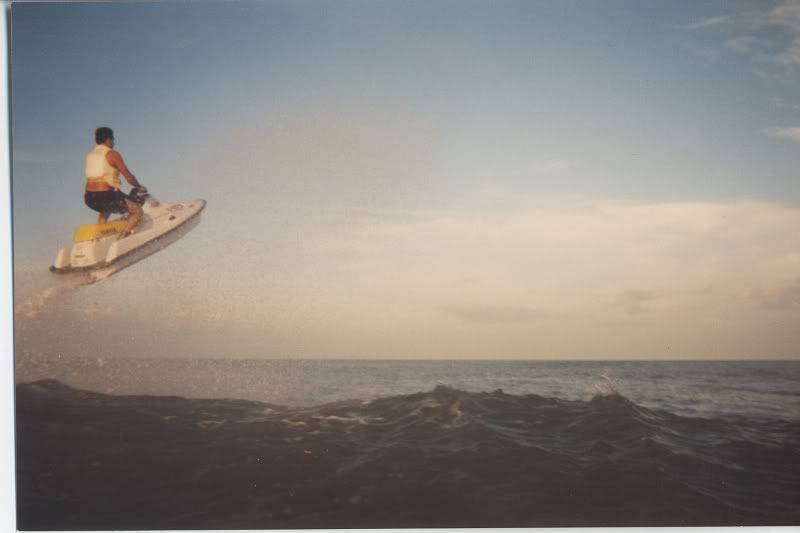 Enjoying another quiet day at the beach, riding my Yamaha VXR Pro Waverunner.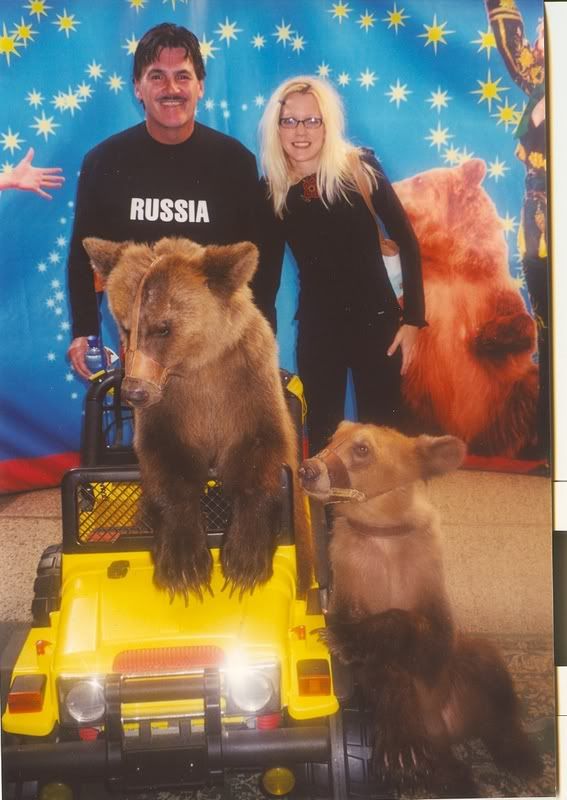 My wife and I at the Moscow Zoo in late 2002. You'd never guess that my wife's paternal grandmother is a full-blooded Cherokee raised on an Oklahoma Cherokee reservation.
I brought this "lenin" ruble back from Russia when I was there during the time-of-troubles of 1993. For those of you that don't remember, the embattled President of the Russian Federation, the late Boris Yeltsin, beset by an unholy red/brown coalition of unreconstructed leninists, neo-bolsheviks, and rabid, xenophobic, chauvanistic, Russian nationalists, submitted four questions to the Russian voters for an up-or-down, yes-or-no vote ( the Yeltsin campaign's commercial was 'da-da-nyet-da' set to a harmonious tune.) Yeltsin went on to win the election handily, but leftist degenerates challenged the results of the ballot initiative in the streets, keeping to the finer anarcho/bolsheviki terroristic traditions of Kropotkin, Bakunin, Lenin, and Trotsky.
As for the "lenin" ruble, it met the same fate as some of the more violent leftists who took to the streets in that unsuccessful red/brown putsch. The lenin rubles were eventually recalled, and as one Russian pundit opined, in the "Moscow News," the notes had to be pulled out of circulation because they were a dagger aimed at the heart of the Yeltsin government.
From the Finland Station to the ruble paper-shredder, what a fitting end to this dreaded chapter in Russian history. The 75 years of bolshevik, atheistic, communist misrule, left the puny ruble valued at 1000 glorious "lenins" equal to one George Washington. The currency was as worthless as Lenin. And who knew that the light at the end of this horrendous tunnel, of this diabolical experiment on the great Russian people, was the shared misery of mass deprivation? Vlad promised a workers paradise, but instead, delivered one big nationwide gulag, a veritible concentration camp.
And now Obama and his regressive friends in Congress, have set the stage, with their massively wasteful federal spending, to do to the American dollar what the leftist regressives in Moskva had done to the ruble. Proving once again the old political bromide that the Communists are nothing more than Democrats in a hurry.

visited 49 states (98%)
Create your own visited map of The United States or determine the next president

visited 47 states (20.8%)
Create your own visited map of The World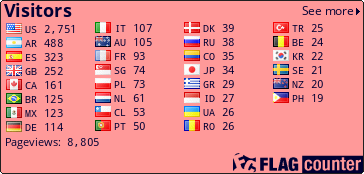 WARNING, THE FOLLOWING PICTURES, AND FIRST HAND ACCOUNTS OF COMBAT, DEPICT THE REALITY OF WAR AND COULD BE DISTURBING.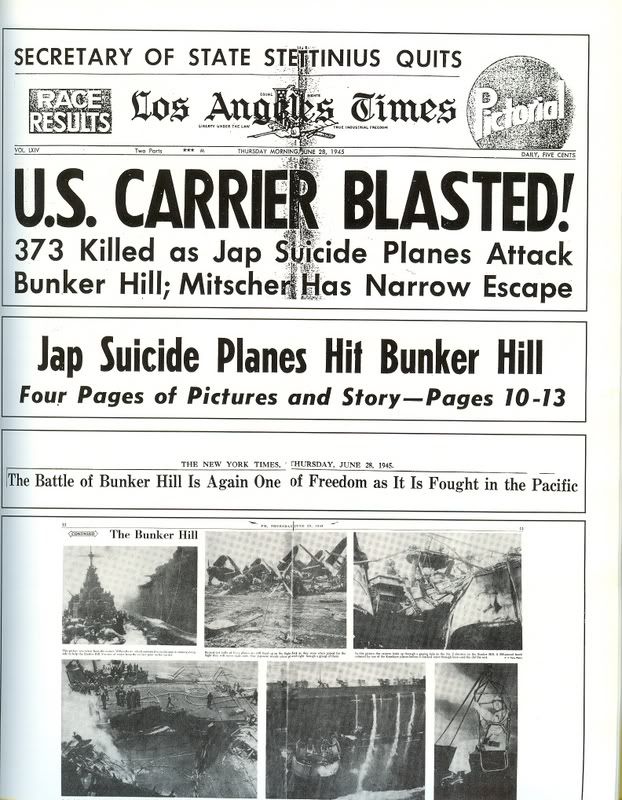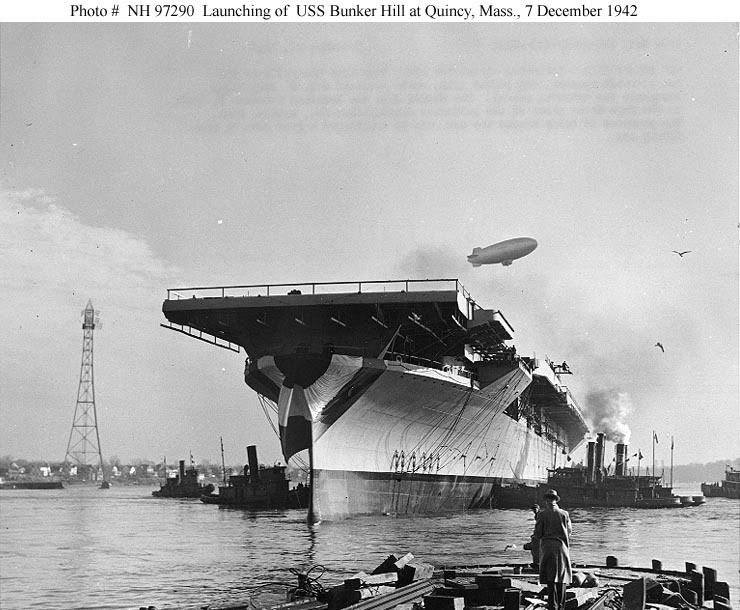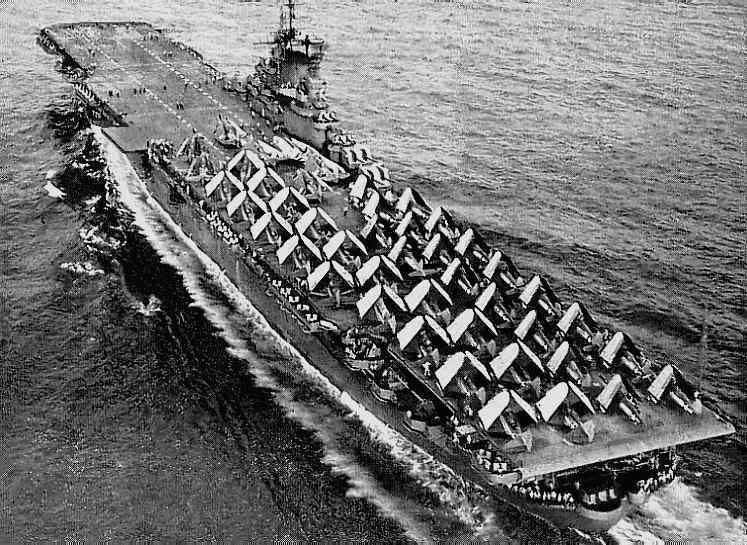 The U.S.S. Bunker Hill CV-17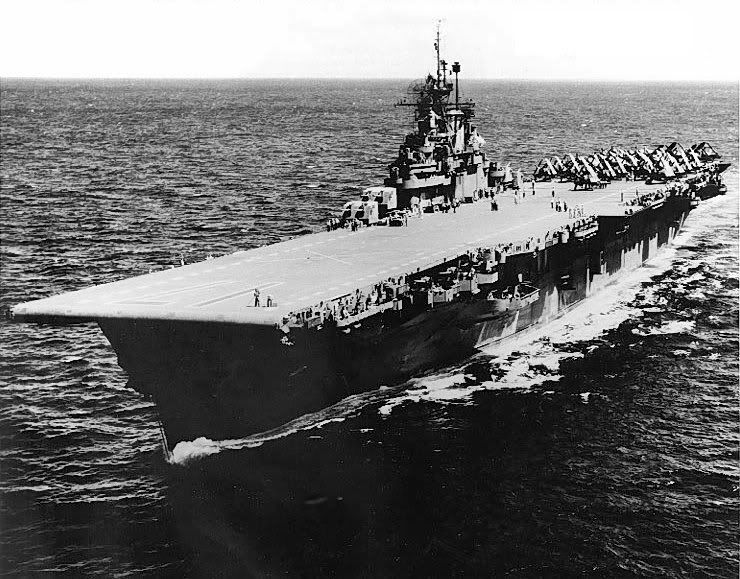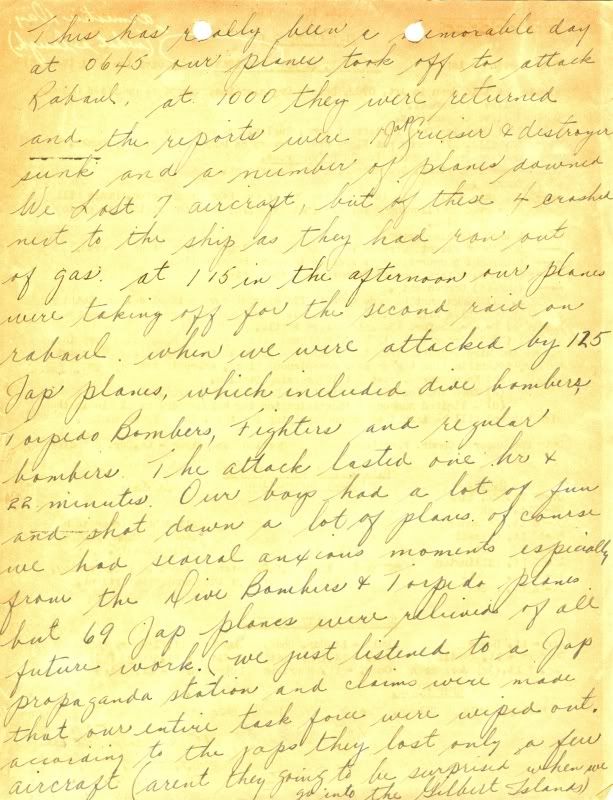 This was my father's first hand account of the November 11, 1943 Rabaul strike against the Japanese navy supplying the 110,000 Japanese troops that held the island. Interestingly, after we crushed the Japanese naval forces, we proceeded to bypass the island, as we leapfrogged toward Japan. The Japanese still occupied Rabaul when they surrendered in August of 1945.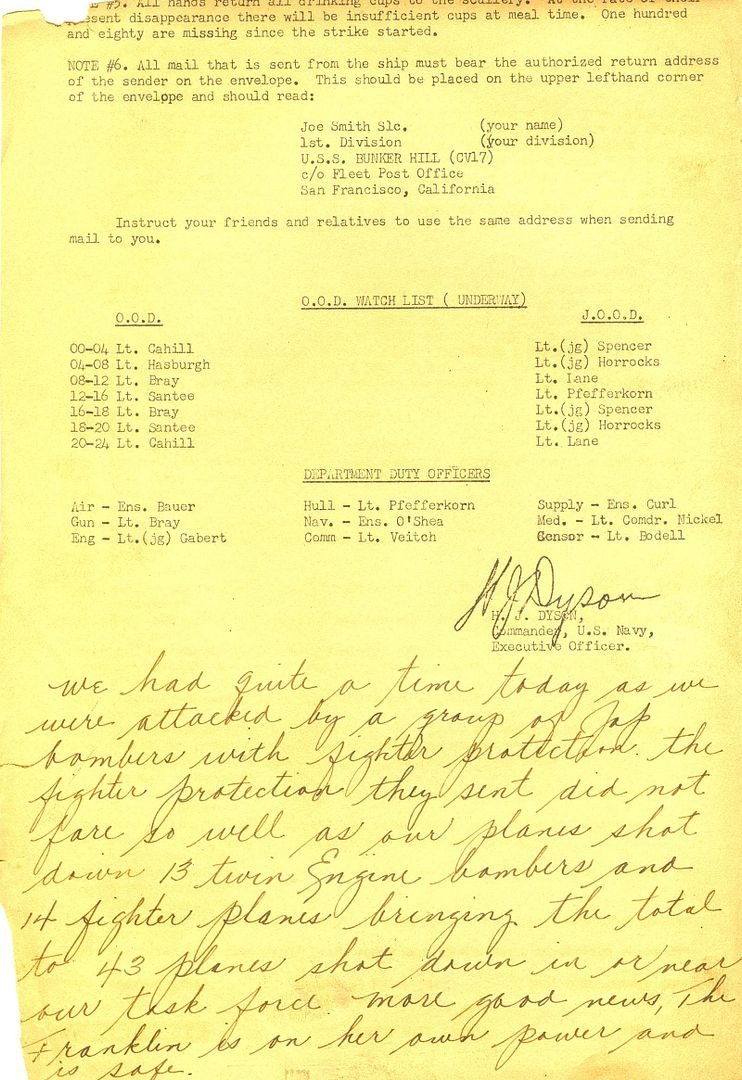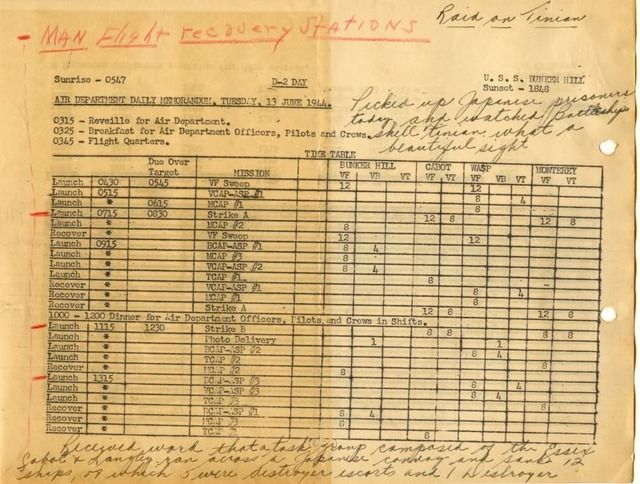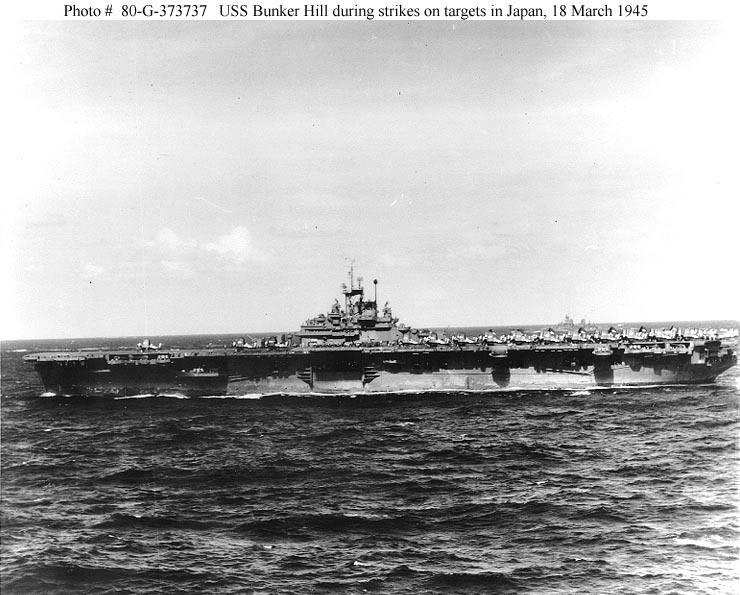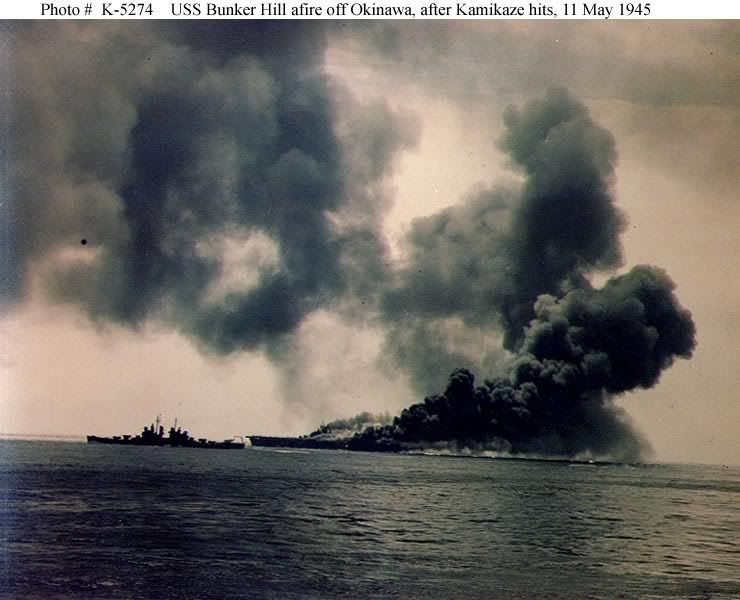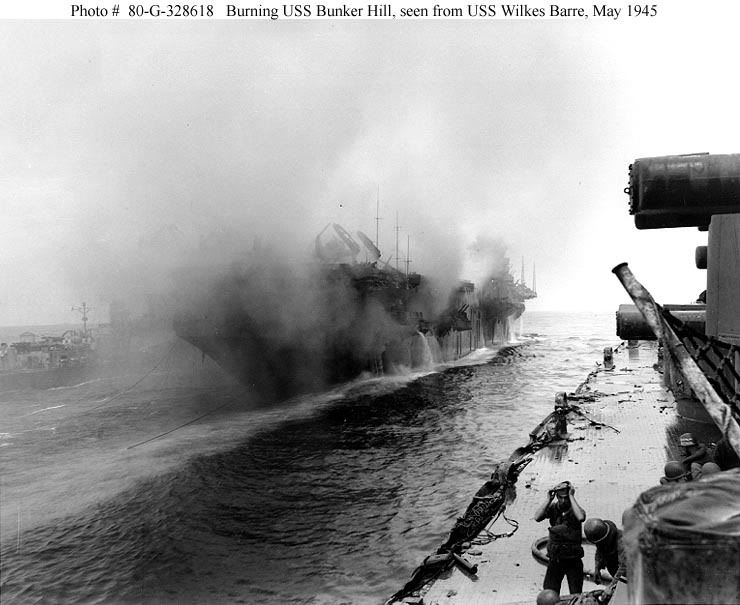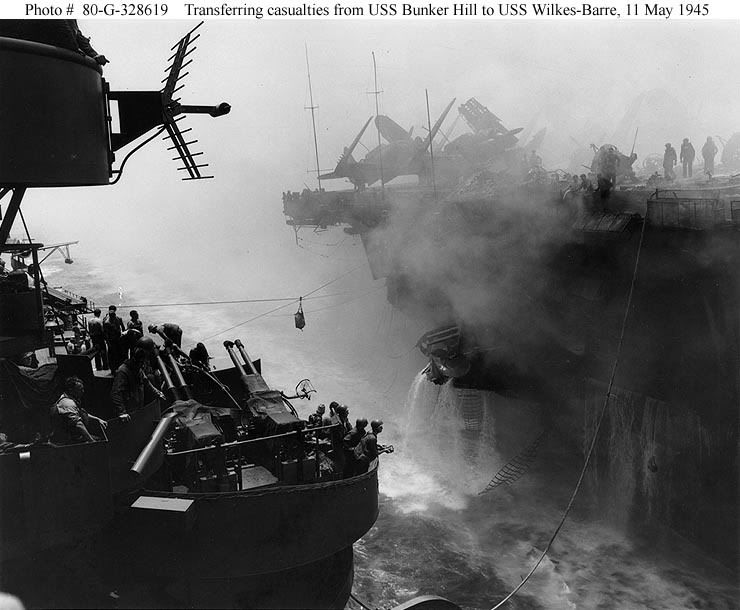 1945
During the remaining months of World War II the USS Bunker Hill participated in the Iwo Jima operation and the 5th Fleet raids against Honshu and the Nansei Shoto (15 February–4 March); and the 5th and 3d Fleet raids in support of the Okinawa operation. On 7 April 1945 Bunker Hill's planes took part in a Fast Carrier Task Force attack on a Japanese naval force in the East China Sea. The enemy battleship Yamato, one cruiser, and four destroyers were sunk.
On the morning of 11 May 1945, while supporting the Okinawa invasion, Bunker Hill was hit and severely damaged by two suicide planes. A Japanese Zero fighter appeared from a low cloud, dived onto the flight deck and dropped a 250-kilogram bomb, which went through the vessel and exploded in the sea. The Zero then crashed onto the flight deck, destroying parked planes full of fuel, causing a massive fire. The remains of the Zero went over the deck and dropped into the sea. Then, a scant 30 seconds later, a second Zero, piloted by Ensign Kiyoshi Ogawa, plunged into a suicide dive. The Zero went through the AA fire, dropped a 250-kilogram bomb, and crashed into the flight deck near the control tower as Kamikaze were trained to aim for near the island superstructure (as was the case with the USS Sangamon). The bomb penetrated Bunker Hill's flight deck and exploded. Gasoline fires flamed up and several explosions took place. The ship suffered the loss of 346 men killed, 43 missing, and 264 wounded. This was the single most deadly Kamikaze attack on a US ship during WWII. Although badly crippled she managed to return to Bremerton via Pearl Harbor. This picture was courtesy of Wikipedia, and the article was from answers.com.
ON THAT FATEFUL DAY IN MAY, THE BUNKER HILL GAVE AS GOOD AS SHE GOT. BLOODY BUT UNBOWED, SHE LIMPED BACK TO BREMERTON TO LICK HER WOUNDS, ALL THE WHILE GIVING UP THE REMAINS OF HER MANY HEROES TO THE SEA. JOHN PAUL JONES WOULD HAVE BEEN PROUD OF HER FIGHTING SPIRIT. SURRENDER, HELL, THE BUNKER HILL HAD JUST BEGUN TO FIGHT!!!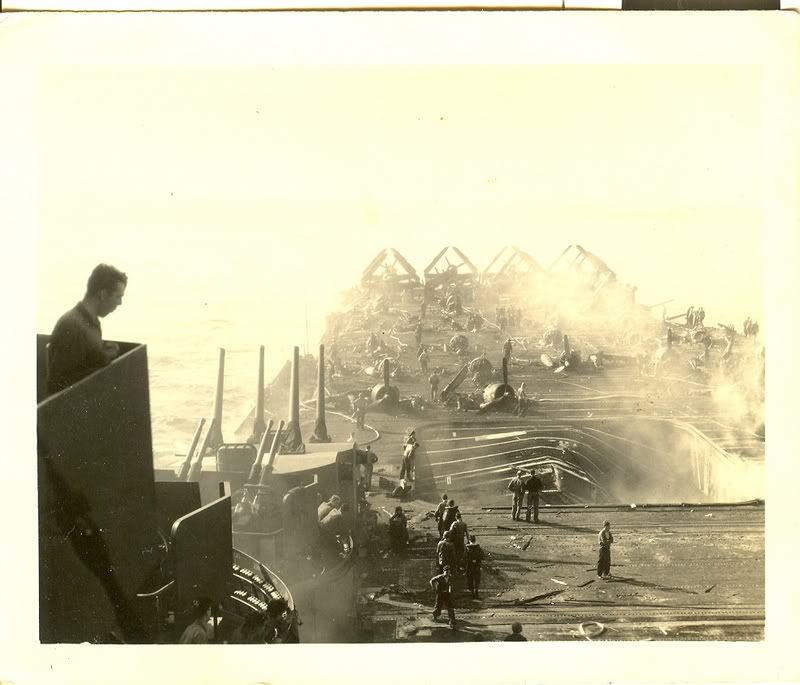 The pilots, and the planes.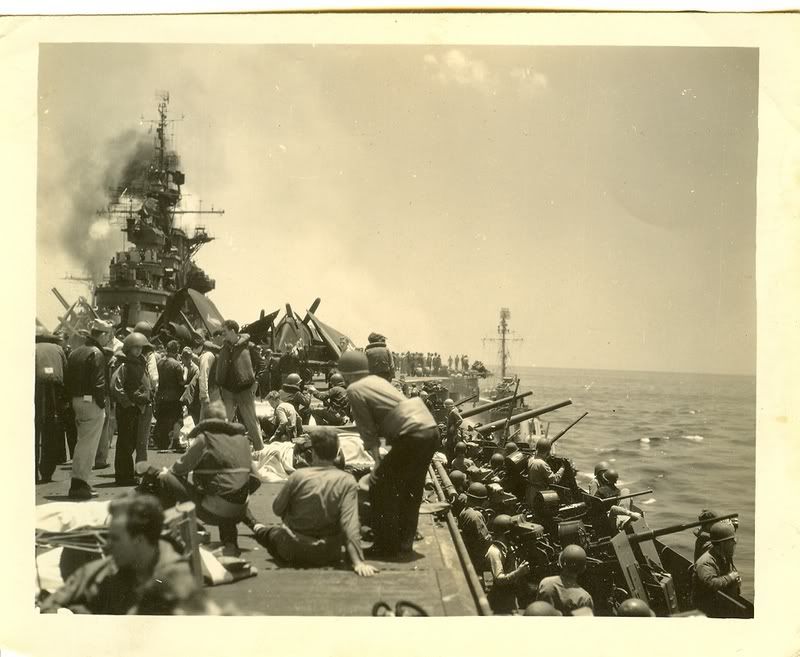 Battle dressing station, and anticipation of more kamikaze raids.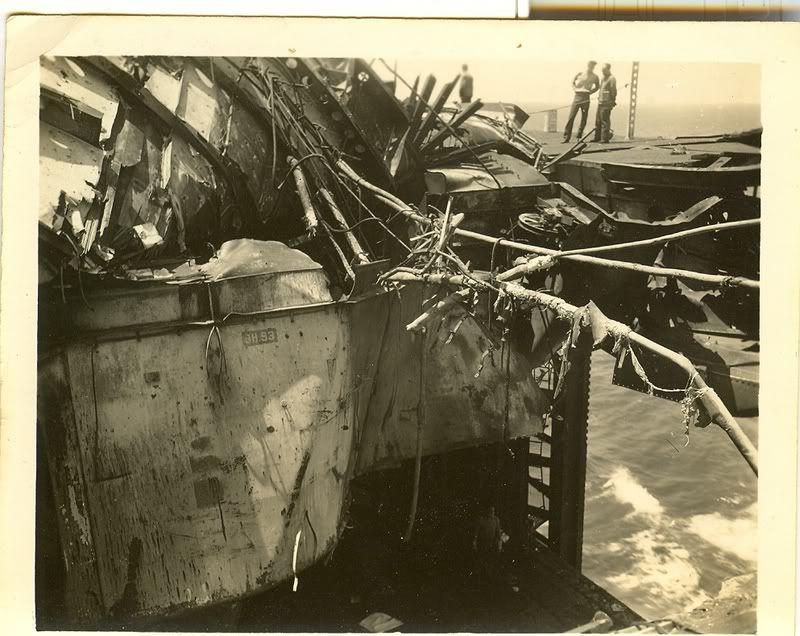 My dad said that everyone in the Ready Room perished.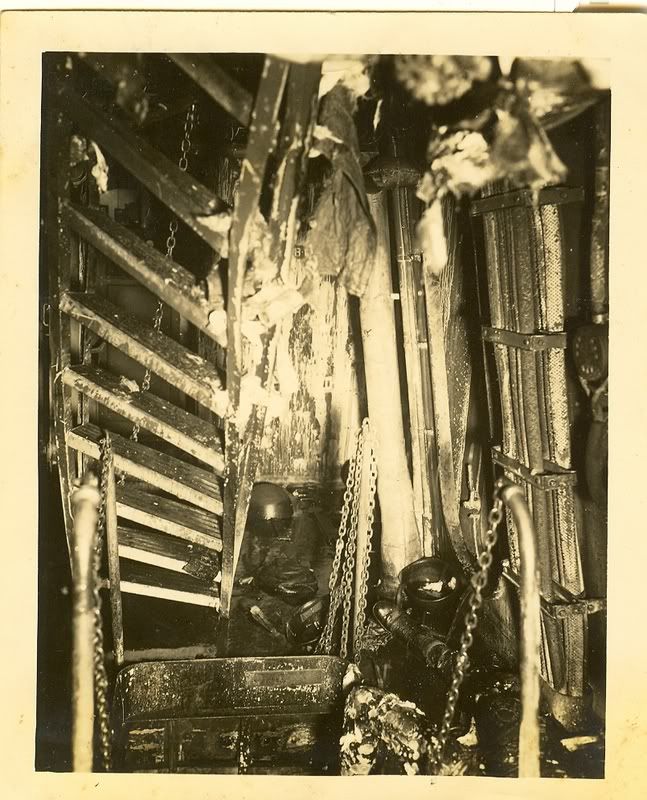 Fire and blast damage to ladder leading to the deck.
Marine living space where all hands were lost.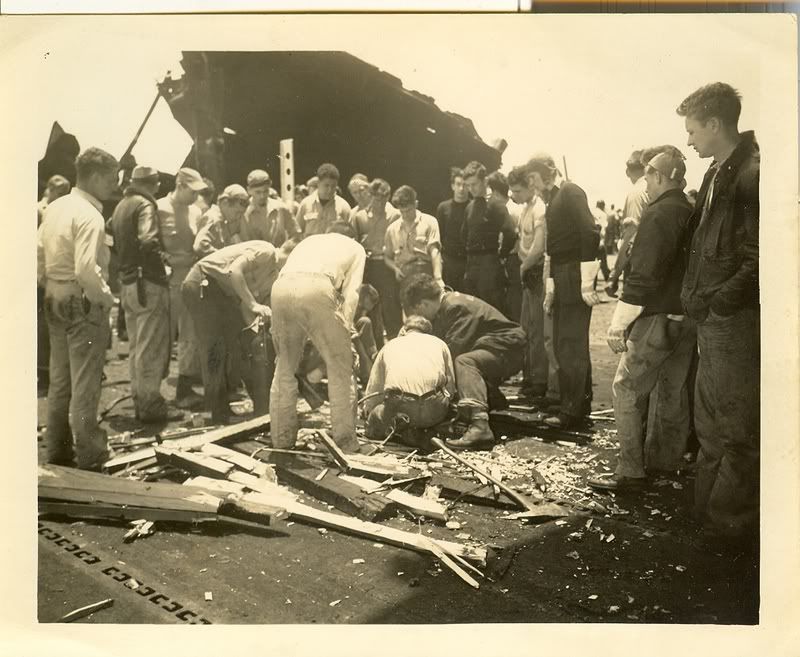 My father is at a loss as to how he survived that day. When he regained consciousness, all his friends around him had been killed.
As flagship of Task Force 58, the USS Bunker Hill was also active in the big operation, to capture Okinawa, and provided aircraft for the massive effort to sink the Japanese battleship Yamato on 7 April. While off Okinawa on 11 May, Bunker Hill was hit by two enemy "Kamikaze" suicide planes, losing nearly 400 crewmen killed in the resulting explosions and fires. Despite severe damage, the carrier was able to return under her own power to the U.S. for repairs.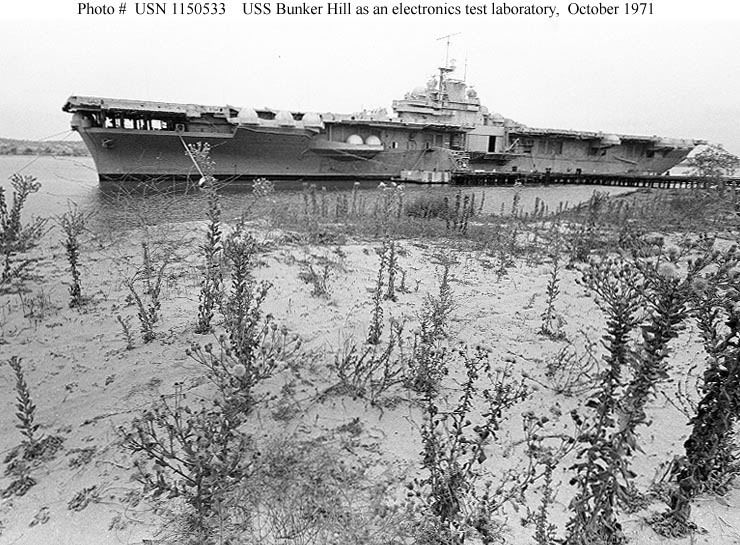 My father departed this life on March 6, 2009 at the age of 92. During the last year of his life he suffered from constant bouts of pneumonia. When we had his lungs x-rayed at the local hospital, the radiologist in charge asked us what had happened to Dad's lungs. He said he had never seen lungs as badly damaged as Dads. We explained to him that during WWII, Dad's ship, the USS Bunker Hill, had been successfully hit by two Japanese kamakazis during the Battle of Okinawa. We further explained that Dad had been below deck when the attack began, and while trying to escape through the hatch, the fireball consumed the lower deck. Trapped, Dad breathed in the heated toxic fumes, damaging his lungs irreparably.
My Dad lived another 64 years before his lungs finally collapsed. In essence, Dad was the last casulty of the Battle of Okinawa.
MAY GOD BLESS ALL THOSE BRAVE AMERICAN WARRIORS, OF THE USS BUNKER HILL, WHO FOUGHT FOR OUR BELOVED REPUBLIC. AND FOR THOSE THAT MADE THE ULTIMATE SACRIFICE, MAY THEY REST IN ETERNAL PEACE.