MountainDad

Since Feb 10, 2005



Air Force Vet from the late 70's and Army Guard in the 80's. Crew Chief on C-141's . Diesel truck technician for last 40 years
Married father of a 10th Mountain Division Infantry SSGT who's back from Iraq after a 3rd tour.
I live out in the country with my black Lab and Siberian Husky's. . And.... my "shotgun, a rifle and a 4 wheel drive." (Hank Williams Jr.)
....A country boy can survive!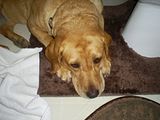 My yellow lab, Bailey. RIP, good girl.