Rabid rightwing radical Reagan republican.

Proudly voted for Barry Goldwater for his last Senate term.

Internet junkie extraordinaire.

Mostly FR lurker because one learns more with open eyes and ears and a closed mouth.

Stuck on the left coast, missing the right. Not born in the south but getting there as fast as I can.

Lover of Key West and South Florida.

Researcher on book in progress about the War Between the States.

"A writer who steals the work of another is called a plagiarist.
One who takes from the works of many is called a researcher."
~ G. Edward Griffin

Click HERE for the finest music on the planet:


Hugo Duarte 2/15/55 - 11/7/14
RIP, my friend -- love always.








Got bored one night and did this: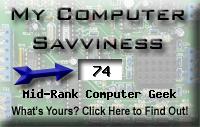 Your Power Bird is an Eagle
You are spiritual and able to soar to great heights.
You are a true inspiration, and many people look to you for guidance.
And you are quite demanding in relationships... but you're worth it.
People know that you will become even greater than you imagine.
You Are 88% California
You're totally Cali. Sweet!
You Belong in San Diego
Laid back and friendly, you were meant to live most of your life on the beach.
You usually think everything is "all good"... except when the weather dips under 60F.
You stay classy - especially when you're in El Cajon because you wouldn't be caught dead in Tijuana!
Orange County
You're rich, pretty, and living a charmed life. (Or you seriously wish you were.)
From Disneyland to Laguna Beach, you're all about living the California dream life.
Just make sure to marry rich - so you don't have to work for it!
You Are a Chocolate Shake
You are a total hedonist. You are drawn to pleasure.
You are an expressive, over the top person. You're naturally dramatic.

You're the type of person who always chooses quality over quantity.
Life's too short to not have optimal experiences. You're proud of being picky.
You Are Internal - Realist - Powerful
You feel your life is controlled internally.
If you want something, you make it happen.
You don't wait around for things to go your way.
You value your independence and don't like others to have control.

You are a realist when it comes to luck.
You don't attribute everything to luck, but you do know some things are random.
You don't beat yourself up when bad things happen to you...
But you do your best to try to make your own luck.

When it comes to who's in charge, it's you.
Life is a kingdom, and you're the grand ruler.
You don't care much about what others think.
But they better care what you think!
You Are 81% American
You're as American as red meat and shooting ranges.
Tough and independent, you think big.
You love everything about the US, wrong or right.
And anyone who criticizes your home better not do it in front of you!
Your Personality is Somewhat Rare (ISTP)
Your personality type is reserved, methodical, spirited, and intense.

Only about 6% of all people have your personality, including 3% of all women and 8% of all men
You are Introverted, Sensing, Thinking, and Perceiving.
Your Political Profile:
Overall: 95% Conservative, 5% Liberal

Social Issues: 75% Conservative, 25% Liberal

Personal Responsibility: 100% Conservative, 0% Liberal

Fiscal Issues: 100% Conservative, 0% Liberal

Ethics: 100% Conservative, 0% Liberal

Defense and Crime: 100% Conservative, 0% Liberal
Your Ideal Pet is a Bird
You're both very smart, very expressive, and very temperamental.
You're as likely to bite your bird as it is to bite you.
You Would Be a Pet Bird
You're intelligent and witty, yet surprisingly low maintenance.
You charm people easily, and they usually love you a lot more than you love them.
You resent anyone who tries to own or control you. You refuse to be fenced in.

Why you would make a great pet: You're very smart and entertaining

Why you would make a bad pet: You're not interested in being anyone's pet!

What you would love about being a bird: Flying, obviously

What you would hate about being a bird: Being caged
You are a


Social Conservative
(38% permissive)



and an...


Economic Conservative
(66% permissive)



You are best described as a:



Republican





Link: The Politics Test on OkCupid.com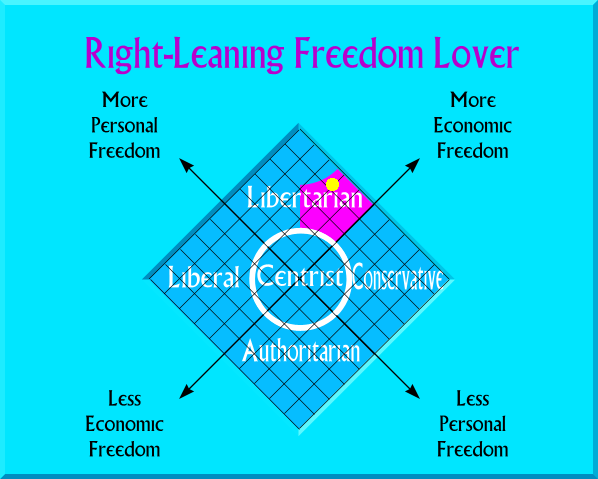 Description:

You desire substantially less government control of economic activity and somewhat less government control over personal activity than is presently the case in the U.S. I used to classify this area as part of "Moderate Libertarian" but got many objections; I guess calling you a moderate libertarian is akin to calling a liberal Democrat a "Moderate Communist."

Your views would be best represented by a mix of Libertarian and Republican representatives—, assuming that it was possible to get a significant number of Libertarians elected. The Libertarian Party is still dominated by people far more radical than you though there is an ongoing effort to make the LP more inclusive and less radical. If you have the patience and willingness to deal with infighting, you may want to join this effort. Or, you might find my proposed new party more to your liking.

Approximately 8% of the takers of this quiz scored in this area.





Your Gift is Intellect
You are a big thinker, and you're always playing with new ideas.
You are curious about the world. You enjoy learning and developing new theories.

You enjoy researching, analyzing, and solving problems. Thinking hard feels good!
You're the type of person who finds most mental tasks to be easy. You love to stretch your brain.
You Are a Smart American
You know a lot about US history, and you're opinions are probably well informed.
Congratulations on bucking stereotypes. Now go show some foreigners how smart Americans can be.
You Are Logical
You tend to be rational to the point of driving other people crazy. You are all about the facts.
You don't like to make a big deal out of anything. You take both good and bad news in stride.

You believe that the simplest approach is often the best approach. Why complicate things?
You know how to get down to business and figure out what needs to be done. You're good at processing information.
You Are FAQ
For you, the internet is like your personal library. And you know more facts than fifty normal humans.
Your brain is basically lot a computer at this point. You have a lot of information stored up there.

You spend hours looking up obscure information and learning things. If you have question, you always Google it.
You can't help but be a bit of a know-it-all. You can answer everyone's frequently asked questions.
You Are a Thinker
You tend to have your feet on the ground. You think about what's actual, and you love facts.

You are a rational person. You like to think through ideas, and you like the thoughts that books spark.

You are a person with a few deep interests. If you're drawn to something, you learn everything about it.

You are a person who loves to acquire possessions. You can't resist a sale, and you own a lot of things.
Your Creative Power is Your Logic
You're the type of person who is great at execution. You don't just dream about ideas - you make them happen!
You are idealistic and determined, but you are also a realist. You only undertake projects you're pretty sure you can finish.

You are a natural problem solver, and you actually think better when you're being challenged.
You do best when you work by yourself or when you're in charge. You ideas are big, dramatic, and the best.
My Conservative Identity:
You are an Anti-government Gunslinger, also known as a libertarian conservative. You believe in smaller government, states' rights, gun rights, and that, as Reagan once said, "The nine most terrifying words in the English language are, 'I'm from the government and I'm here to help.'"
Take the quiz at www.FightLiberals.com



visited 8 states (16%)
Create your own visited map of The United States or another interesting project

Your result for Which Supreme Court Justice Are You Test...
You are Justice Samuel Alito
You agreed with Alito 100% of the time.
Samuel Anthony Alito, Jr. (born April 1, 1950) is an Associate Justice of the Supreme Court of the United States. Appointed by President George W. Bush, Alito is generally considered a fairly conservative jurist with a libertarian streak (especially on First Amendment issues). Educated at Princeton University and Yale Law School, Alito served as U.S. Attorney for the District of New Jersey and a judge on the United States Court of Appeals for the Third Circuit prior to joining the Supreme Court. He is the 110th justice.
Justice Alito delivered his first written opinion on May 1, 2006 in the case Holmes v. South Carolina, a case involving the right of criminal defendants to present evidence that a third-party committed the crime. (Since the beginning of the Rehnquist Court, new justices have been given unanimous opinions to write as their first majority court opinion, often done as a courtesy "breaking in" of new justices, so that every justice has at least one unanimous, uncontroversial opinion under his/her belt with which to battle critics). Alito wrote for a unanimous court in ordering a new trial for Bobby Lee Holmes due to South Carolina's rule that barred such evidence based on the strength of the prosecution's case, rather than on the relevance and strength of the defense evidence itself.
In his first term, Alito voted fairly conservatively. For example, in the three reargued cases (Garcetti v. Ceballos, Hudson v. Michigan and Kansas v. Marsh), Alito created a 5-4 majority by voting with four other conservative Justices — Chief Justice Roberts and Justices Scalia, Kennedy, and Thomas. He further voted with the conservative wing of the court on Sanchez-Llamas v. Oregon and Rapanos v. United States. Alito was also a dissenter in Hamdan v. Rumsfeld, alongside Justices Scalia and Thomas.While Alito's voting record is conservative, he does not always join the most conservative Justices on the Court. On February 1, 2006, in Alito's first decision sitting on the Supreme Court, he voted with the majority (6-3) to refuse Missouri's request to vacate the stay of execution issued by the Eighth Circuit for death-row inmate Michael Taylor; Chief Justice Roberts and Justices Scalia and Thomas were in favor of vacating the stay. Missouri had twice asked the justices to lift the stay and permit the execution.
On the abortion issue, it appears that Alito believes some restrictions on the procedure are constitutionally permitted, but has not signaled a willingness to overturn Roe v. Wade. In 2003, Congress passed the Partial-Birth Abortion Ban Act, which led to a lawsuit in the case of Gonzales v. Carhart. The Court had previously ruled in Stenberg v. Carhart that a state's ban on partial birth abortion was unconstitutional because such a ban did not have an exception in the case of a threat to the health of the mother. The membership of the Court changed after Stenberg, with John Roberts and Samuel Alito replacing William Rehnquist (a dissenter in Roe) and Sandra Day O'Connor (a supporter of Roe) respectively. Further, the ban at issue in Gonzales v. Carhart was a federal statute, rather than a state statute as in the Stenberg case. On April 18, 2007, the Supreme Court handed down a decision upholding the constitutionality of the Partial-Birth Abortion Ban Act. Justice Anthony Kennedy wrote for the five-justice majority that Congress was within its power to generally ban the procedure, although the Court left the door open for as-applied challenges. Kennedy's opinion implied but did not absolutely reach the question whether the Court's prior decisions in Roe v. Wade, Planned Parenthood v. Casey, and Stenberg v. Carhart were valid, and instead the Court said that the challenged statute is consistent with those prior decisions whether or not those prior decisions were valid. Alito joined fully in the majority as did Chief Justice Roberts. Justice Thomas filed a concurring opinion, joined by Justice Scalia
Moreover, despite having been at one time nicknamed "Scalito," Alito's views have differed from those of Scalia (and Thomas), as in the Michael Taylor case cited above and various other cases of the 2005 term. Scalia, a fierce critic of reliance on legislative history in statutory interpretation, was the only member of the Court in Zedner v. United States not to join a section of Alito's opinion that discussed the legislative history of the statute in question. In two higher-profile cases, involving the constitutionality of political gerrymandering and campaign finance reform (LULAC v. Perry and Randall v. Sorrell), Alito adopted narrow positions, declining to join the bolder positions advanced by either philosophical side of the Court. According to a scotusblog.com analysis of 2005 term decisions, Alito and Scalia concurred in the result of 86% of decisions (in which both participated), and concurred in full in only 75%. (By scotusblog.com's reckoning, this is less agreement than between Scalia and Kennedy, O'Connor and Souter, or Stevens and Ginsburg.) On the recent abortion ruling, Alito simply joined Anthony Kennedy's opinion rather than join Scalia in Thomas's stronger assertion.In the 2007 landmark free speech case Morse v. Frederick, Alito joined Roberts' majority decision that speech advocating drug use can be banned in public schools, but also warned that the ruling must be circumscribed that it does not interfere with political speech, such as the discussion of the medical marijuana debate.Alito's majority opinion in the 2008 worker protection case Gomez-Perez v. Potter cleared the way for federal workers who experience retaliation after filing age discrimination complaints to sue for damages. He sided with the liberal block of the court, inferring protection against retaliation in the federal-sector provision of the Age Discrimination in Employment Act despite the lack of an explicit provision concerning retaliation.
Take Which Supreme Court Justice Are You Test at HelloQuizzy
And speaking of Supreme Court Justices:

RIP Justice Scalia (1936-2016)
Big brother is counting you!


All this will come right in the end.
~Robert E. Lee, 1863