---
To: Arrowhead1952
She just doesn't like cops.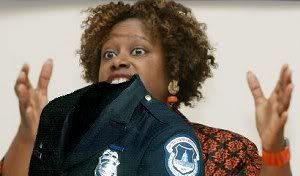 ---
To: clearcarbon
I got this in an email, and it is probably accurate. I rest my case.

---
Today's Quote Of The Day
"Don't condemn the gangbangers, they've got guns that are trafficked - that are not enforced, that are straw purchased and they come into places even that have strong gun laws. Why? Because we don't have sensible gun legislation."
- Rep. Sheila Jackson Lee.

---
If you can figure out what the heck she's talking about, you've got us beat.
---
What a disgrace that this bigot is from Texas! Maybe she should sponsor legislation that will put the "gangbangers" into the lethal injection gurney instead of supporting and championing them. Geez, what an idiot she is, but the welfare bangers of houston love her.
I'm sure that she thinks eric holder did a great public service when he and obama concocted the Fast and Furious operation to provide the automatic weapons to the mexican war lords. Maybe that's why obama can't tell the difference between auto and semi-auto!
50
posted on
04/16/2013 9:29:58 PM PDT
by
Arrowhead1952
(For Jay Carney - I heard your birth certificate is an apology from the condom factory.)
---
FreeRepublic.com is powered by software copyright 2000-2008 John Robinson