---
To: Future Useless Eater; All
Gingrich Fans: There is evidence in the polls, that the ABC SLIME JOB - "Marianne", was launched too close to the SC primary for it to be effective there. But they WILL continue to POUND this story before Florida, hoping for it to take more effect there. And remember that EARLY VOTING has already begun in Florida...

So supporters SHOULD BE AWARE of these additional PBS 'facts' regarding the "Marianne" story...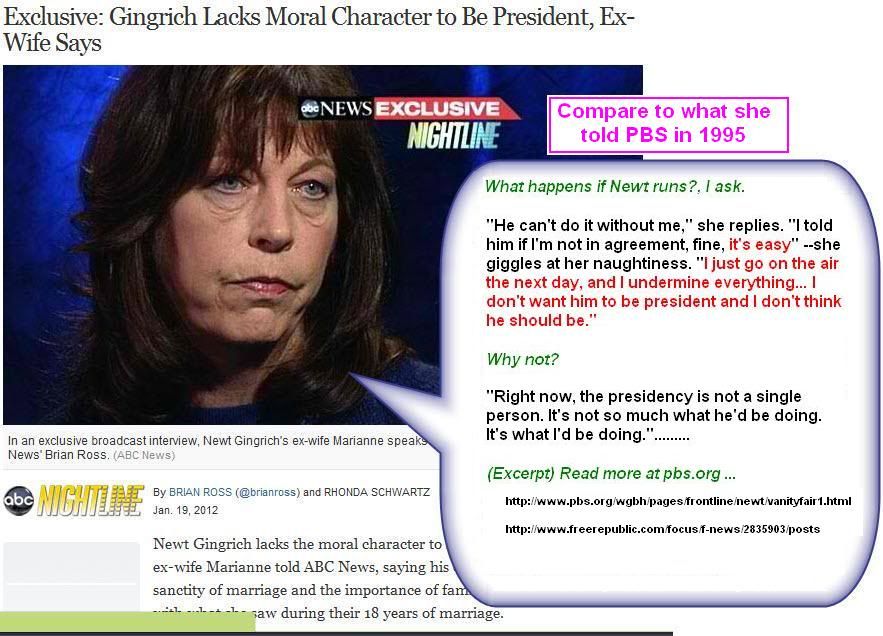 The Romney/MSM/Elite(R) camp will also be DESPERATE to launch something ELSE that will stick and sink Newt in Florida within the next four or five days. They ONLY have nine slime-days left before the FL winner-take-all primary and that is Mitt's "MUST WIN" state.

We should have a count-down like they do for Christmas... (Remaining slime-Newt days till Florida)
221
posted on
01/22/2012 2:17:32 AM PST
by
Future Useless Eater
(Chicago politics = corrupted capitalism = takeover by COMMUNity-ISM)
---
To: Future Useless Eater
The women looks extremely ill in the mind . Life is no fun for her.

---
Fox News ONLINE coverage of the SC results had three commentators who all seemed depressed because they preferred Romney.


But Ed Rollins said something interesting about Romney...

..........commentator1: Do you think that Romney could not only turn this around, but win pretty handily?
Rollins:  
I think he could. But he could also collapse. 
I think we're right at a critical point here, where he's ahh...
I mean, Here's what he's accomplished:

Having run non-stop for six years... 
and this is where he got chased out four years ago...
after THIS race, he was gone.

He got EXACTLY the same votes, 30 thousand, as what he got four years ago
after spending another ten million dollars in Iowa. 

 ........(both commentators surprised: "Oh wow! really?...")

He won his HOME state, 
that he was EXPECTED to win LAST time, 
where he had four or five houses in New Hampshire, 
and McCain basically went and LIVED in New Hampshire
and beat him there. 

He was supposed to do well in South Carolina, and got clobbered. 

..........so whats the problem for Mitt Romney?

He just doesn't connect with voters.
I mean, he's got a great resume...

..........commentator1: do you think somebody is going to tell him that?

Well, its hard to tell a candidate. 
Having been a reality-check in a lot of campaigns, its not, ah...
Its a very painful process. Its ah...
They either listen to you, or they basically throw you out of the room. 

.......commentator2: And he doesn't seem to listen very well because governor Christie made it
                     very clear, put your taxes out there, he didn't listen to him, 
                     you see his speech, and it looks like he has two black eyes, 
                     he's NOT looking well, I think this was the first time he was tested, 
                     and he didn't stand up well.
224
posted on
01/22/2012 2:29:09 AM PST
by
Future Useless Eater
(Chicago politics = corrupted capitalism = takeover by COMMUNity-ISM)
---
FreeRepublic.com is powered by software copyright 2000-2008 John Robinson