---
[Barf Alert] Pete Buttigieg: Pope Francis Endorsement 'Most Coveted' in Primary Race
Breitbart ^ | January 25, 2020 | Charlie Spiering


Posted on 01/25/2020 7:12:18 PM PST by ebb tide
[Barf Alert] Pete Buttigieg: Pope Francis Endorsement 'Most Coveted' in Primary Race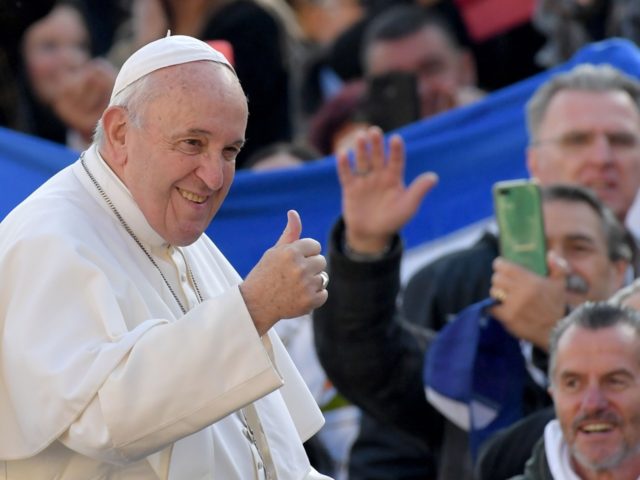 Former Mayor Pete Buttigieg said Thursday that he wanted the endorsement of Pope Francis over all others in the Democrat primary race.
Buttigieg commented on political endorsements during a podcast interview with CEO of IMPACT Strategies Angela Rye at Claflin University.
"Your most coveted endorsement in the race is who?" Rye asked.
Buttigieg paused, but ultimately said, "The Pope, I want the endorsement of the Pope."

(Excerpt) Read more at breitbart.com ...
---
TOPICS: Catholic; Moral Issues; Religion & Politics
KEYWORDS: 2ndamendment; abortion; antipope; banglist; buttgag; buttgiggity; buttigieg; flamingqueen; francischism; genderdysphoria; homos; homosexualagenda; indiana; infanticide; medicareforall; mikepence; nra; obamacare; petebuttigieg; politicalpope; popefrancis; romancatholicism; secondamendment; southbend
---
Navigation: use the links below to view more comments.
first 1-20, 21-40, 41-43 next last
---
---
---
---
---
---
---
---
---
---
---
---
---
---
---
---
---
---
---
---
---
Navigation: use the links below to view more comments.
first 1-20, 21-40, 41-43 next last
---
---