---
---
To: netmilsmom; thefrankbaum; Tax-chick; GregB; saradippity; Berlin_Freeper; Litany; SumProVita; ...
One poster's comment sums up my view. They write:
You could argue that anti-Christians are only entertaining themselves. With Thursday, Friday, Saturday and Sunday church services, I had no time to read trash, and the radio is only my alarm clock. TV? Surely you jest!
Judging from the majority of catholic freepers in this forum posted throughout Holy Week, I'm guessing the same is true for them.

2
posted on
04/01/2013 6:35:40 AM PDT
by
NYer
(Beware the man of a single book - St. Thomas Aquinas)
---
To: NYer
People who write these hateful things about Jesus and Mary are scared (out of their wits) that Jesus and Mary are exactly as WE believe. These frighted folks publish screeds to make themselves feel better. They HOPE that other frightened non-believers and Christ-haters will join them in their screeds.
They are fools who fool themselves; no need for Satan to give them hints or help; they condemn themselves. They are to be greatly pitied.

---
To: NYer
Mel Gibson set the bar quite high when he produced "The Passion of the Christ."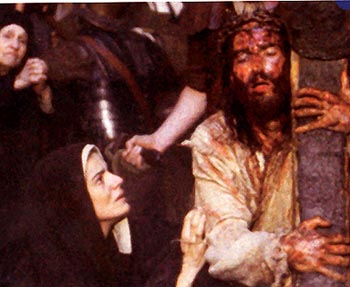 It has enabled people with Faith to more easily weed out the impostors.

---
FreeRepublic.com is powered by software copyright 2000-2008 John Robinson