---
To: Libloather
This is the real Pussy Grabber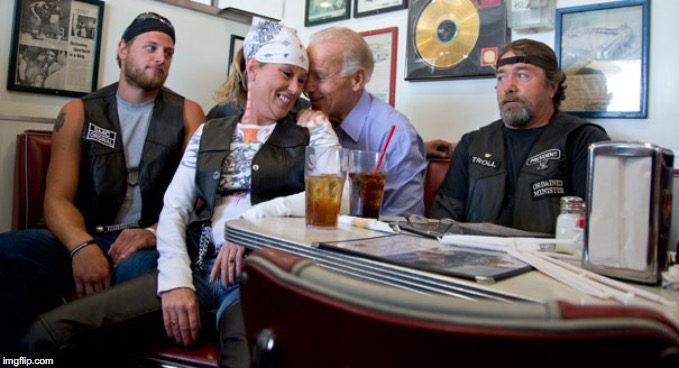 ---
To: realcleanguy
Absent the SS, Dirty Uncle Joey would have got a beat down by a couple of bikers...
14
posted on
09/06/2019 4:41:49 PM PDT
by
elteemike
(Light travels faster than sound...That's why so many people appear bright until you hear them speak)
---
To: realcleanguy
I always crack up when I see that picture and the looks on the faces of the two bikers.
THEY know what he's up to and they look like they want to take care of it SOOOOO bad.......
16
posted on
09/06/2019 4:42:39 PM PDT
by
metmom
( ...fixing our eyes on Jesus, the Author and Perfecter of our faith...)
---
To: realcleanguy
This is the real Pussy Grabber
I have always thought the Biker on the right has much the same expression as that LEO whose leg Joe once put his hand on.

---
To: realcleanguy
The biker on the right is an ordained minister, like the patch on his vest says. Biden is disgusting.
40
posted on
09/06/2019 5:40:06 PM PDT
by
dainbramaged
(If you want a friend, rescue a pit bull.)
---
To: realcleanguy
---
FreeRepublic.com is powered by software copyright 2000-2008 John Robinson