---
To: Magnatron
This is all anyone ever needed to know about the New York Times: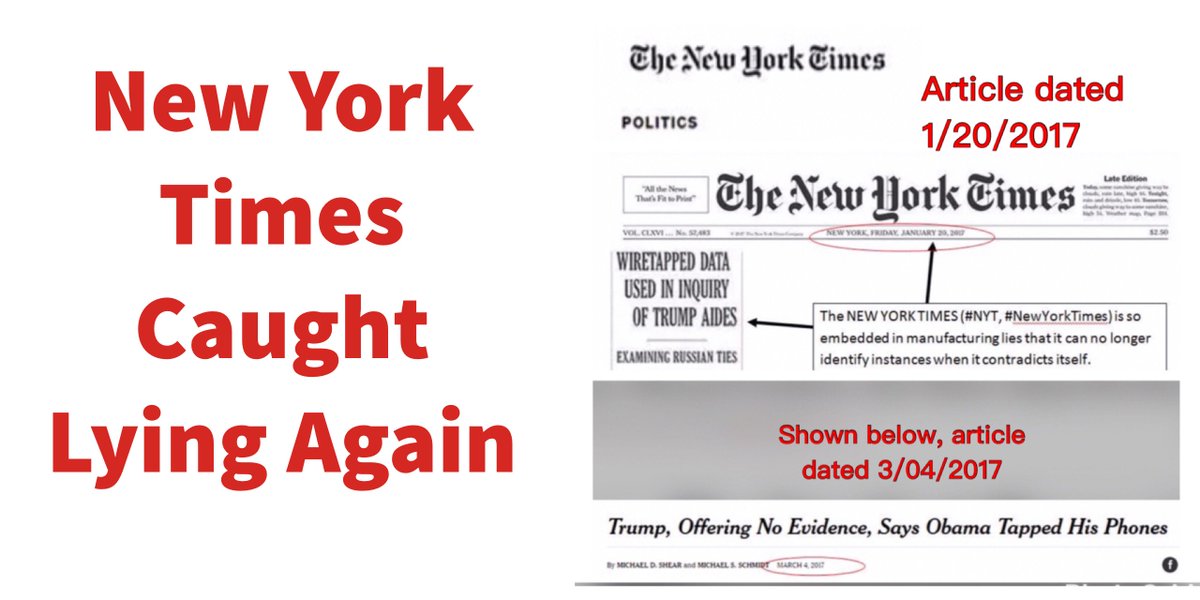 1. They ran a story on January 20, 2017 about the FBI using wiretaps in their investigation of the stupid "Russia collusion" narrative.
2. After Trump accused the Obama administration of "wire tapping" him in early March, the NYT ran a story on March 4, 2017 claiming that Trump had no evidence for this accusation.
3. What this graphic doesn't show you is that at least one NYT reporter (Michael Schmidt) is listed on BOTH stories.
"All the news that fit to print?" LMAO. The NYT staff demonstrates clearly right here that they themselves believe its own news shouldn't even be considered accurate.

51
posted on
05/19/2018 5:35:36 AM PDT
by
Alberta's Child
("I saw a werewolf drinking a pina colada at Trader Vic's.")
---
To: Alberta's Child
76
posted on
05/19/2018 6:38:06 AM PDT
by
ptsal
( Get your facts first, then you can distort them as you please. - M. Twain)
---
To: Alberta's Child
Related:
Sen. Mark Warner (D-Va.) warned Republican lawmakers on Friday not to expose the identity of top-secret FBI informant, saying that to do so would be "irresponsible" — and potentially illegal.
"It would be at best irresponsible, and at worst potentially illegal, for members of Congress to use their positions to learn the identity of an FBI source for the purpose of undermining the ongoing investigation into Russian interference in our election," Warner, the top Democrat on the Senate Intelligence Committee, said in a statement.
"Anyone who is entrusted with our nation's highest secrets should act with the gravity and seriousness of purpose that knowledge deserves," he added.
Top Intel Dem warns Republicans: Don't try to out FBI source

---
FreeRepublic.com is powered by software copyright 2000-2008 John Robinson