---
Trump wants Texas to set the standard for disaster relief: 'This is the way to do it'
Washington Examiner ^ | Aug 29, 2017, 1:28 PM | by Melissa Quinn |


Posted on 08/29/2017 12:27:22 PM PDT by HokieMom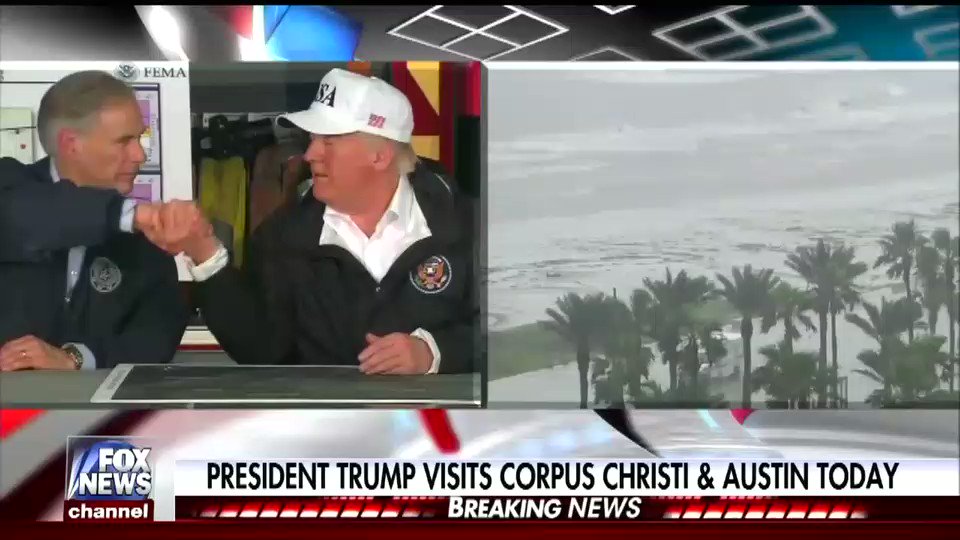 President Trump said Tuesday he wants the recovery efforts from Hurricane Harvey to be looked at in the next decade as an example of how to appropriately respond to a national disaster.
"We want to do it better than ever before," Trump said Tuesday during a briefing on Hurricane Harvey relief efforts in Corpus Christi, Texas. "We want to be looked at in five years and 10 years from now as, this is the way to do it. This was of epic proportion. No one has ever seen anything like this."
"I just want to say in working with the governor and his entire team has been an honor for us," he said.

(Excerpt) Read more at washingtonexaminer.com ...
---
TOPICS: US: Texas
KEYWORDS: abbott; biggovernment; hurricaneharvey; trumpfema

Video at link.

---
To: HokieMom
We have a real President who loves ALL the American people. Who would ever have thought?
2
posted on
08/29/2017 12:36:10 PM PDT
by
E. Pluribus Unum
( "If fascism ever comes to America, it will be called liberalism." --Ronald Reagan)
---
To: E. Pluribus Unum
3
posted on
08/29/2017 1:40:21 PM PDT
by
HokieMom
(Pacepa : Can the U.S. afford a president who can't recognize anti-Americanism?)
---
To: HokieMom
I love the fact that he took the time to talk to the people outside
4
posted on
08/29/2017 1:42:36 PM PDT
by
McGavin999
("The press is impotent when it abandons itself to falsehood."Thomas Jefferson)
---
To: McGavin999
Some great pics on instagram and twitter.
5
posted on
08/29/2017 2:01:06 PM PDT
by
HokieMom
(Pacepa : Can the U.S. afford a president who can't recognize anti-Americanism?)
---
To: HokieMom
Yeah, but didn't Melanie wear high heels? That negates everything, right? 🤣🤣🤣🤣

---
FreeRepublic.com is powered by software copyright 2000-2008 John Robinson