---
At gala in Richmond, GOP's Ted Cruz says Paris attacks show threat ISIS poses to U.S.
Richmond Times-Dispatch ^ | Saturday, November 14, 2015 | Jim Nolan


Posted on 11/15/2015 4:28:21 PM PST by Isara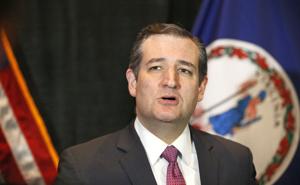 GOP presidential candidate Sen. Ted Cruz speaks with the media before addressing the Family Foundation of Virginia's 30th annual gala at the Greater Richmond Convention Center Saturday, November 14, 2015. (Alexa Welch Edlund)

Sen. Ted Cruz, R-Texas, in Richmond to boost his presidential bid in the commonwealth, said Saturday that the terrorist attacks in Paris underscore the threat the Islamic State poses to the United States.

"I want to express solidarity with the people of France, with the people of Paris - all across America, Americans are lifting them up in our prayers, we are standing with our friends and allies," Cruz told reporters before remarks at the 30th annual Family Foundation of Virginia gala at the Greater Richmond Convention Center.

"At the same, these terror attacks underscore the menace that we face," he continued. "President Obama may think that we're not at war, but the radical Islamic terrorists who attacked Paris yesterday, they didn't get the message. They're at war with us."

Cruz added: "This attack that we just saw in Paris, mark my words, ISIS intends for this to come here."

He criticized the number of airstrikes being devoted to combating the Islamic State - often called ISIS or ISIL - in the Middle East, advocating for "overwhelming air power." Cruz also said the U.S. should be arming the Kurds with sufficient firepower and modern weapons to fight ISIS, saying they are, in "a very practical sense, our boots on the ground."

But the senator stopped short of his Republican rivals - including Ben Carson - in suggesting that U.S. troops should be part of the effort at this time.

When it comes to his political battles for the GOP nomination, however, Cruz said he has the ground troops to win in the commonwealth and unify conservatives around his candidacy.

"Virginia is a tremendously important state in this Republican primary. I'm incredibly encouraged by the team we have on the ground," he said. He noted that unlike other candidates, he has volunteers, not professional signature gatherers, who are going to put him on the ballot in the commonwealth for the March 1 primary.

In March, Cruz held his presidential campaign announcement at Liberty University in Lynchburg. He said Virginia has "common-sense conservative values. ... The people of Virginia are tired of campaign conservatives - people who talk a good game ... but haven't walked the walk."

He said this time around the typical Republican Party election script of recent presidential elections has flipped and moderates are fighting among one another while conservatives are unifying.

"This election, there are four or five or six moderates that are slugging it out like crazy - they're completely divided. They're going to spend millions of dollars ripping each other apart," Cruz said. "The moderates are acting like conservatives normally act."

Despite conservative support, Cruz would have an uphill general election fight in Virginia if the election were held today.

A Christopher Newport University poll taken in mid-October had Democratic front-runner Hillary Rodham Clinton defeating him in Virginia, 49 percent to 41 percent.

Among fellow Republicans, Cruz was in sixth place in Virginia, polling at 5 percent, behind Donald Trump (23), Carson (17), Sen. Marco Rubio of Florida (14), former Hewlett-Packard CEO Carly Fiorina (13) and former Florida Gov. Jeb Bush (9).

Cruz could not have picked a better event to corral conservatives than the annual gala of the Family Foundation - a faith-based, socially conservative nonprofit "pro-family public policy" organization that wields considerable influence in the General Assembly, advocating for religious freedom in public life and against abortion and gay marriage, among other issues.

More than 1,000 people attended the event, which attracted a constellation of current and former conservative stars, including U.S. Rep. Dave Brat, R-7th; former Attorney General Ken Cuccinelli; and former Gov. Bob McDonnell, who sported a beard.

Attendees paid $99 a ticket, with sponsorships costing $400 to $25,000 for the organization's main fundraiser for the year.

The gala has been a popular stop for conservatives seeking to curry favor in Virginia, having hosted several members of the GOP's 2016 presidential field, long before they became candidates.

Carson was the keynote speaker last year; Cruz also came to Richmond in 2013. Former Pennsylvania Sen. Rick Santorum spoke at the gala in 2012, and former Arkansas Gov. Mike Huckabee appeared in 2009.

Cruz stepped in for Wisconsin Gov. Scott Walker as the headline speaker this year, after Walker announced Sept. 21 that he was dropping out of the presidential contest.

This time Cruz's father, the Rev. Rafael Cruz, joined the senator to discuss the importance of family and fatherhood.

---
TOPICS: News/Current Events; Politics/Elections; US: Virginia; War on Terror
KEYWORDS: bobmcdonnell; brat; cruz; cuccinelli; davebrat; familyfoundation; isis; kencuccinelli; mcdonnell; parisattacks; richmond; tcruz; tedcruz

FYI

---
To: Isara
2
posted on
11/15/2015 4:31:31 PM PST
by
Travis McGee
(www.EnemiesForeignAndDomestic.com)
---
To: Travis McGee
3
posted on
11/15/2015 4:32:06 PM PST
by
Travis McGee
(www.EnemiesForeignAndDomestic.com)
---
To: Isara
4
posted on
11/15/2015 4:38:52 PM PST
by
FourPeas
("Conservatism's worked every time it's been tried." -Rush)
---
To: Isara
VA was once arguably the most Republican state in the South; now it's the most Democrat.
5
posted on
11/15/2015 7:16:30 PM PST
by
Theodore R.
(Liberals keep winning; so the American people must now be all-liberal all the time.)
---
FreeRepublic.com is powered by software copyright 2000-2008 John Robinson