---
To: Buckeye McFrog
Hi, Ed. This is Jim in Langley, Virginia. Where are you? Can you post some exact GPS coordinates? Thx.
Hi Jim. I am sitting here in the lounge at KGB headquarters with my new best pal, Vlad. We are going over old reports of just where to land nukes on Langley. Oh, and we KNOW the exact GPS coordinates. Smile.

34
posted on
01/23/2014 1:33:51 PM PST
by
RetiredArmy
(I am proud to be a Christian and follower of my Lord Jesus Christ. Time is short for U to know Him!)
---
To: All
@mperkel #ASKSNOWDEN They say it's a balance of privacy and safety. I think spying makes us less safe. do you agree?
Intelligence agencies do have a role to play, and the people at the working level at the NSA, CIA, or any other member of the IC are not out to get you. They're good people trying to do the right thing, and I can tell you from personal experience that they were worried about the same things I was.
The people you need to watch out for are the unaccountable senior officials authorizing these unconstitutional programs, and unreliable mechanisms like the secret FISA court, a rubber-stamp authority that approves 99.97% of government requests (which denied only 11 requests out of 33,900 in 33 years http://www.motherjones.com/mojo/2013/06/fisa-court-nsa-spying-opinion-reject-request. They're the ones that get us into trouble with the Constitution by letting us go too far.
And even the President now agrees our surveillance programs are going too far, gathering massive amounts of private records on ordinary Americans who have never been suspected of any crime. This violates our constitutional protection against unlawful searches and seizure. Collecting phone and email records for every American is a waste of money, time and human resources that could be better spent pursuing those the government has reason to suspect are a serious threat.
I'm going to stop here. My deepest thanks to everyone who sent questions, and whether or not we agree on where the lines should be drawn, I encourage you to contact your members of congress and tell them how you feel about mass surveillance. This is a global problem, and the first step to tackling it is by working together to fix it at home.
If you'd like to more ideas on how to push back against unconstitutional surveillance, consider taking a look at the organizations working together to organize https://thedaywefightback.org/ .
---
To: RetiredArmy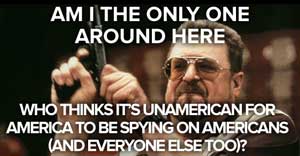 ---
FreeRepublic.com is powered by software copyright 2000-2008 John Robinson