---
To: All
JUST A REMINDER---THE DUMMYCRATS HATE THE RICH
---but don't mind wearing high fashion and diamonds, vacaying at the rich's fave resorts, spending and spending and spending the taxpayers' dime ON THEMSELVES. THE OBAMA'S MOTTO---"NOTHING FOR THEE---EVERYTHING FOR ME. " But as Mrs O whined, "America is basically a downright mean sort of place," ...... so kid's WH tours will just have to go what with those Repubs forcing sequestration cutbacks on "tolerant and compassionate" Dems (sob).
=============================================
REFERENCE "Tolerant and compassionate" Democrat Minority Leader Nancy Pelosi recently told Chris Wallace on Fox News, "It is almost a false argument (made by Repubs) to say that we have a spending problem (WRT sequestration)."
(TRANSLATION "And besides, we need trillions to subsidize all our "new citizens" who will vote---and make me Majority Leader, again---not to mention the billions in foreign aid we plan to give to all the countries on the other side of the border.")
MAKING THE DEALS IN EXCHANGE FOR ILLEGALS' VOTES--- L-R--Sen. Robert Menendez , (D-NJ); Dr Salomon Melgen, VOXXI Chman of the Board; Rep Nancy Pelosi (all dolled up in the latest fashion); Francisco J. Sanchez, Under Secy of Commerce for Intl Trade, and Emilio Sanchez, Pres/CEO of VOXXI at the Ntl Assoc of Latino Elected and Appt Officials Gala in DC. (Photo/ Voxxi---Melgen's web site)
=================================================
Rich-hater Michelle Ohaha appears on the cover of Vogue and opens up about what she says is her biggest priority -- maintaining a happy and tight-knit family. "Our job is, first and foremost, to make sure our family is whole,"
I'm surprised Mrs O did not wear for the Vogue cover, the pricey diamnod bangles she sported at a DNC fund-raiser last Sept attended by "tolerant and compassionate" Dems....raised big bucks to keep Mr O in office so he could work for "the poor."
Musta wowed all the "tolerant and compassionate" Dems who hate the rich and support endless tax-paid programs "for the poor."
The Gothic cuff was priced at $15,350 set with 2.17 carats in diamonds and the Quatrefoil bracelet at $11,800 set with 1.73 carats in diamonds. (Excerpt) Read more at houston.culturemap.com
================================================
Family togetherness--- that's a laugh. They took separate vacays few weeks ago. Been estimated he's spent some 800 hours golfing. All those shots of him on the greens never show the kiddies and wifey in tow. That's togetherness?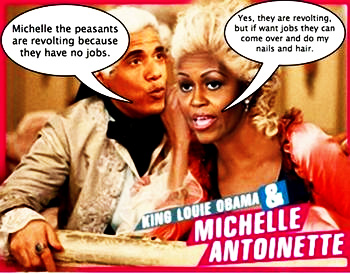 ---
To: All
HOW TO LIVE LARGE ON THE TAXPAYERS' DIME FOREVERMORE
FOURTEEN TRILLION DOLLARS Behind The Real Size of the Bailout; A guide to the abbreviations, acronyms, and obscure programs that make up the $14 trillion federal bailout of Wall Street
SOURCE motherjones.com
Mon Dec. 21, 2009 12:23 PM PST
The price tag for the Wall Street bailout is often put at $700 billion—the size of the Troubled Assets Relief Program. But TARP is just the best known program in an array of more than 30 overseen by Treasury Department and Federal Reserve that have paid out or put aside money to bail out financial firms and inject money into the markets.
To get a sense of the size of the real $14 trillion bailout, see our chart at web site. Below, a guide to the pieces of the puzzle:
Treasury Department bailout programs
(Remember that Obama put his COS in charge at Treasury. His then-COS Rahm Emanuel was a onetime Wall Street operator---and G/S lobbyist---who once worked for Clinton)
Money Market Mutual Fund: In September 2008, the Treasury announced that it would insure the holdings of publicly offered money market mutual funds. According to the Special Inspector General for the Troubled Asset Relief Program (SIGTARP), these guarantees could have potentially cost the federal government more than $3 trillion [PDF].
Public-Private Investment Fund: This joint Treasury-Federal Reserve program bought toxic assets from banks and brokerages—as much as $5 billion of assets per firm. According to SIGTARP, the government's potential exposure from the PPIF is between $500 million and $1 trillion [PDF].
TARP: As part of the Troubled Asset Relief Program, the Treasury has made loans to or investments more than 750 banks and financial institutions. $650 billion has been paid out (not including HAMP; see below). As of December 21, 2009, $117.5 billion of that has been repaid.
Government-sponsored enterprise (GSE) stock purchase: The Treasury has bought $200 million in preferred stock from Fannie Mae and another $200 million from Freddie Mac [PDF] to show that they "will remain viable entities critical to the functioning of the housing and mortgage markets."
GSE mortgage-backed securities purchase: Under the Housing and Economic Recovery Act of 2008, the Treasury may buy mortgage-backed securities from Fannie Mae and Freddie Mac. According to SIGTARP, these purchases could cost as much as $314 billion ---SNIP---.
LONG READ---go to web site to read more and checkout the shocking financial charts.
SOURCE http://motherjones.com/politics/2009/12/behind-real-size-bailout
========================================================
"Hi there, Americans. Obama put me in charge of the trillion dollar stimulus. My son and brother are gonna help me disperse the money. "
================================
Offshore Fraudster had links to offshore fund run by VP's relatives
Reuters on Yahoo | 2/23/09 | BY Ajay Kamalakaran
(Reuters) – A fund of offshore hedge funds run by two members of VP Joe Biden's family was marketed exclusively by offshore firms controlled by Texas financier Allen Stanford, charged by regulators with an $8 billion fraud, the Wall Street Journal said.
The Bidens $50 million fund was jointly branded between the Bidens' Paradigm Global Advisors LLC and the offshore Stanford Financial Group entity headquartered in Antigua, and was known as the Paradigm Stanford Capital Management Core Alternative Fund, the paper said. Stanford-related offshore companies marketed the Biden fund to investors and also invested about $2.7 million of their own money in the fund, the paper said, citing a lawyer for Paradigm.
Paradigm Global Advisors is owned through a holding company by the vice president Biden's son, Hunter, and Joe Biden's brother, James, according to the WSJ. Paradigm's attorney, Marc LoPresti, who represents Hunter Biden and James Biden, as well as Paradigm, told the paper he did not know which Stanford entity invested the roughly $2.7 million. (Excerpt) Read more at news.yahoo.com ...
NOTE A lawyer for Hunter Biden and James Biden told reporters the Bidens NEVER met or communicated with Stanford. (/snicker)
Stanford is in jail for 110 years---but the Bidens got off scot-free.

---
To: Liz
That's what really gets me - the separate vacations and the endless time away from his kids, yet he and the First Woman go on and on about caring for the children of everyone else. His half-brother lives in a shack, too. Yet he had the gall to attack Mitt Romney's compassion?
20
posted on
03/29/2013 7:15:23 AM PDT
by
PghBaldy
(12/14 - 930am -rampage begins... 12/15 - 1030am - Obama's advance team scouts photo-op locations.)
---
FreeRepublic.com is powered by software copyright 2000-2008 John Robinson