---
Exclusive: The Woodward, Sperling emails revealed
Politico ^
Posted on 02/28/2013 7:59:15 AM PST by Sub-Driver
Exclusive: The Woodward, Sperling emails revealed By: Mike Allen and Jim VandeHei February 28, 2013 08:30 AM EST
POLITICO's "Behind the Curtain" column last night quoted Bob Woodward as saying that a senior White House official has told him in an email he would "regret" questioning White House statements on the origins of sequestration. The official in question is Gene Sperling, economic adviser to the president. The White House has since pushed back, saying the exchange was far more innocuous than Woodward claims.
We have obtained, exclusively, the exchange. Here it is:
From Gene Sperling to Bob Woodward on Feb. 22, 2013
Bob:
I apologize for raising my voice in our conversation today. My bad. I do understand your problems with a couple of our statements in the fall — but feel on the other hand that you focus on a few specific trees that gives a very wrong perception of the forest. But perhaps we will just not see eye to eye here.
But I do truly believe you should rethink your comment about saying saying that Potus asking for revenues is moving the goal post. I know you may not believe this, but as a friend, I think you will regret staking out that claim. The idea that the sequester was to force both sides to go back to try at a big or grand barain with a mix of entitlements and revenues...

(Excerpt) Read more at politico.com ...
---
TOPICS: Front Page News; News/Current Events; Politics/Elections
KEYWORDS: bobwoodward; bobwoodword; genesperling; obama; partisanmediashills; sequester; whabuse; whmediarelations; woodward
---
Navigation: use the links below to view more comments.
first previous 1-20, 21-40, 41-44 last
---
To: kevkrom
Yup. Pure Alinsky tactics. They jump on the "old man" and say he's losing his marbles in order to discredit him.
This administration is in it to win it. They have their constituents so wrapped around their fingers, I think if they sent them poisoned Kool-Aid, they'd all drink it right about now.
---
To: Sub-Driver; All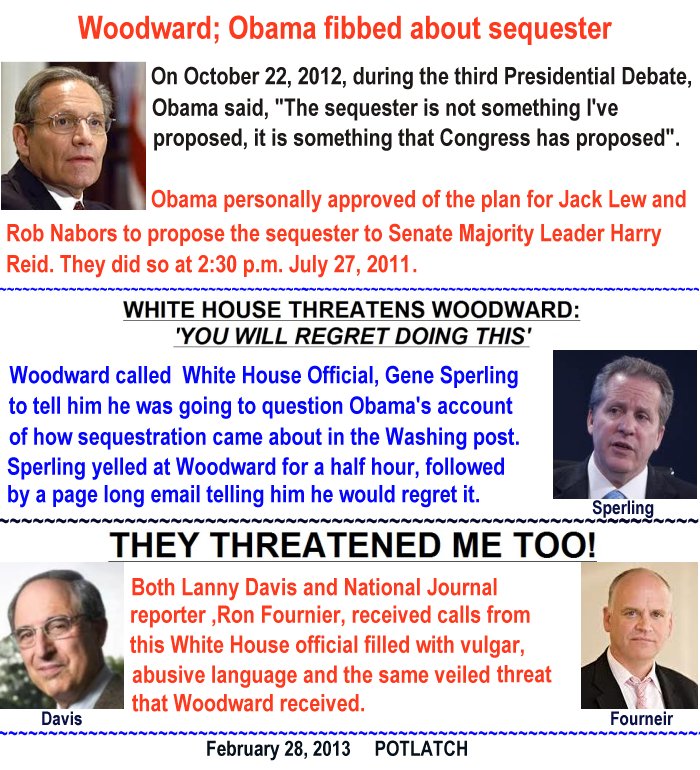 ---
To: Sub-Driver
Sperling doesn't know how to spell very well does he?
---
To: reagandemocrat
Who writes page-long emails after screaming on the phone for half an hour?
Control freaks that believe that the "recipient" didn't hear the screams the first time.

---
Navigation: use the links below to view more comments.
first previous 1-20, 21-40, 41-44 last
---
---
FreeRepublic.com is powered by software copyright 2000-2008 John Robinson